From vinyl and steel to wood and stone, the siding options available on the market seem endless. However, if environmental impact is essential to you, your options become much narrower. Whether you're building a new home or need to replace your siding and you are looking for a distinctly eco-friendly option, engineered wood siding is for you. Not only is engineered wood siding made from real wood that is engineered to perform better, but it's cheaper, more durable, and, when you purchase the right brand, looks just as good.
If you want to learn more about engineered wood siding and why it's a sustainable siding solution, read on.
What Is Engineered Wood Siding?
Simply put, engineered wood siding is a composite material made of wood and resin. There are numerous popular brands like LPSmartSide, Catawba, and TruWood. Although each has some unique characteristics, they all claim a technological and qualitative advantage over real wood. Engineered wood siding is designed to:
Eradicate flaws
Increase durability
Be inexpensive to install
Be inexpensive to maintain
How is Engineered Wood Siding Made?
Manufacturers coat the wood fibers with wax to make them water-resistant. Then, they add binders and heat-press the materials to ensure structural integrity. To resist fungal decay and insects, it is treated with zinc borate. This compound is safe for people, pets, and the environment.
Once the wood has been pressed and treated to form one big core, it's cut into planks, panels, shakes, trim, and accessories. Then, a resin-saturated, water-resistant overlay embossed with an authentic wood grain texture is glued to the top of each piece, creating a strong moisture barrier. All of these elements come together to create SmartGuard, which produces a product that is durable, strong, and resistant to fungus and decay.
Why Is It Eco-Friendly?
This siding is the eco-friendly siding option for two main reasons.
Engineered wood siding is a popular alternative for real wood siding. As the demand for real wood siding diminishes, so does the need to clear cut forests for the building materials.
Some of the wood fibers used in the manufacturing process are recycled. TruWood and LP SmartSide are two brands that have a sustainability-centric approach to manufacturing their products. This guarantees their practices follow their supply chain standards' environmental and social requirements and that their wood is sourced locally to each facility.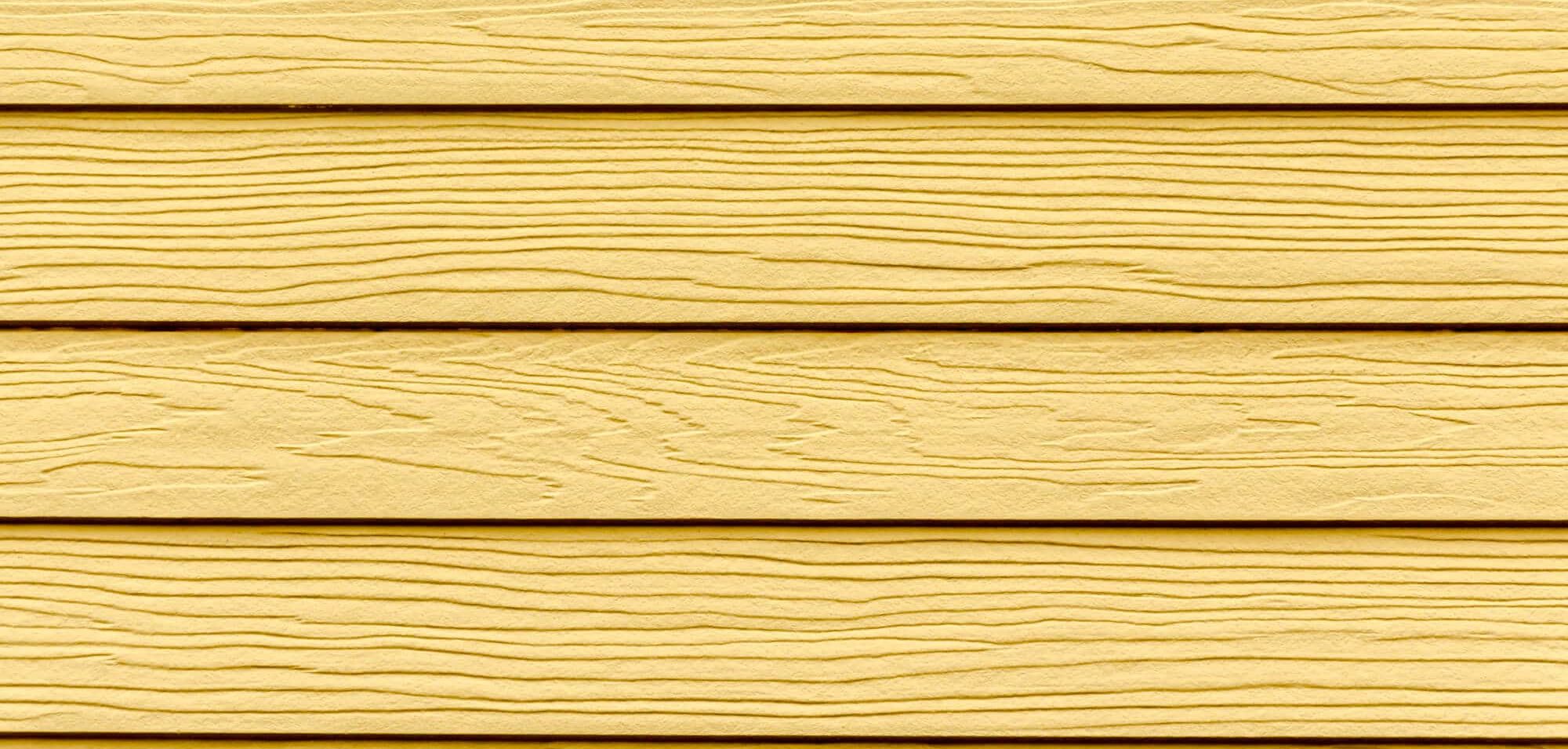 The Benefits of Engineered Wood Siding
Why choose engineered wood siding over real wood? Why does it win every time folks compare vinyl vs. engineered wood siding? Well, it's a fantastic product that offers a whole lot of benefits.
Although most siding products should last for the anticipated lifespan if you maintain them properly, some require a lot more maintenance and expensive care than others. Engineered wood siding is not one of these. Among many other things, it's known for being low-maintenance and long-lasting. Manufacturers, wholesalers, and consumers rave about engineered wood siding for many reasons, such as:
Installation is inexpensive and easy
Durable
Low-maintenance
Resistant to water damage, weather damage, warping, fungus, pests, mold, and mildew
Chip- and peel-resistant
Withstands temperature fluctuations
Comes in various colors, textures, and finishes
Cheaper and lower-maintenance alternative to real wood
Made from recyclable materials
Repaint only every ten years
Lasts for 20-30 years
Long-term warranties
Engineered wood siding offers so many advantages. It can be hard to understand why a person would choose any other siding. It's crucial to mention — if you're in the market for new siding, you've got to do your homework. For example, engineered wood siding is low maintenance, but if you want the most low maintenance option on the market, you might consider vinyl siding.
Engineered Wood Siding FAQs
Engineered wood siding has been around for decades, but because it's a composite material, folks still have many questions. We've answer some common questions about this type of siding below, so you can get all the facts and information you need to learn if engineered wood siding is right for you.
What is the best engineered wood siding?
There are several engineered wood siding brands, but at Advantage Construction, we think LP SmartSide is the best choice. Their products are built to last. They offer superior strength, durability, and quality for any project. We enjoy working with them, and customers love the results. One common mistake that people make with composite siding is improper installation. Thanks to LP SmartSide and our expert installers, we get the job done right every time.
How does engineered wood siding hold up against damage?
Thanks to the wood fibers coated in wax and the moisture barrier, engineered wood siding is resistant to water, rot, mold, and fungus. It's extremely difficult to chip or peel. This siding holds up great against storms, pests, and any other causes of siding damage all year round.
Is engineered wood siding better than real wood?
Unless you love high-maintenance and expensive siding, engineered wood siding is better than real wood. It's eco-friendly, lower maintenance, and cheaper. Unlike engineered wood, real wood is exceptionally prone to rot, termites, and other critters finding a home in your siding.
Does engineered wood siding last?
Yes. This type of siding is incredibly durable. In fact, durability is one of the most significant advantages of engineered wood siding. Thanks to the SmartGuard process, this siding has been proven to stay strong and beautiful season after season. It doesn't matter where you live. Whether it's a dry desert, humid wetlands, or the cold north; engineered wood siding can withstand it all.
Are You Interested in Eco-Friendly Siding?
A home's siding doesn't just define first impressions. It also reveals a lot about the homeowner. It speaks to how much work you're willing to put into maintaining your home, how you feel about the environment, and how well you take care of your property.
If it's time to replace your siding and you're interested in sustainable, low maintenance materials that look amazing, talk to your local siding contractor about engineered wood siding. You can explore all of the colors and textures available to find the perfect combination for your home. Browse our project gallery for some inspiration and contact our residential siding experts when you're ready to learn more.