Save Your Foundation With Seamless Gutters for Townhomes
Gutter systems are integral to any high-functioning home or facility, helping protect the foundation from degradation. Just like homes and commercial buildings, townhomes need the best gutter solutions too. The gutter installation experts at Advantage Construction can assist with installations, maintenance, and more, to make your townhome ready for the rain and snow each season.
We offer custom-cut seamless gutters for townhomes, plus a range of useful gutter cover solutions. Select Advantage Construction as your preferred townhome gutter contractor and receive everything you need to protect your townhome. Contact us today to get started with seamless townhome gutters.
Protecting Your Townhome
At Advantage Construction, we always recommend seamless gutter installations for every townhome. Seamless rain gutters add protection to your townhome, diverting water away from the foundation to avoid any water damage. Work with the residential gutter contractors at Advantage Construction to find the right rain gutter system for your townhome today and receive a comprehensive range of benefits, including:
Fewer leaks
Less debris buildup
Low-maintenance options
Fast, affordable installations
Custom-cut materials
Erosion control
Adequate drainage
Reduced appearance of pooling water on your property
And so much more
Speak with a seamless gutter installation specialist at Advantage Construction to see why this custom option is so popular among our townhome-owning clients.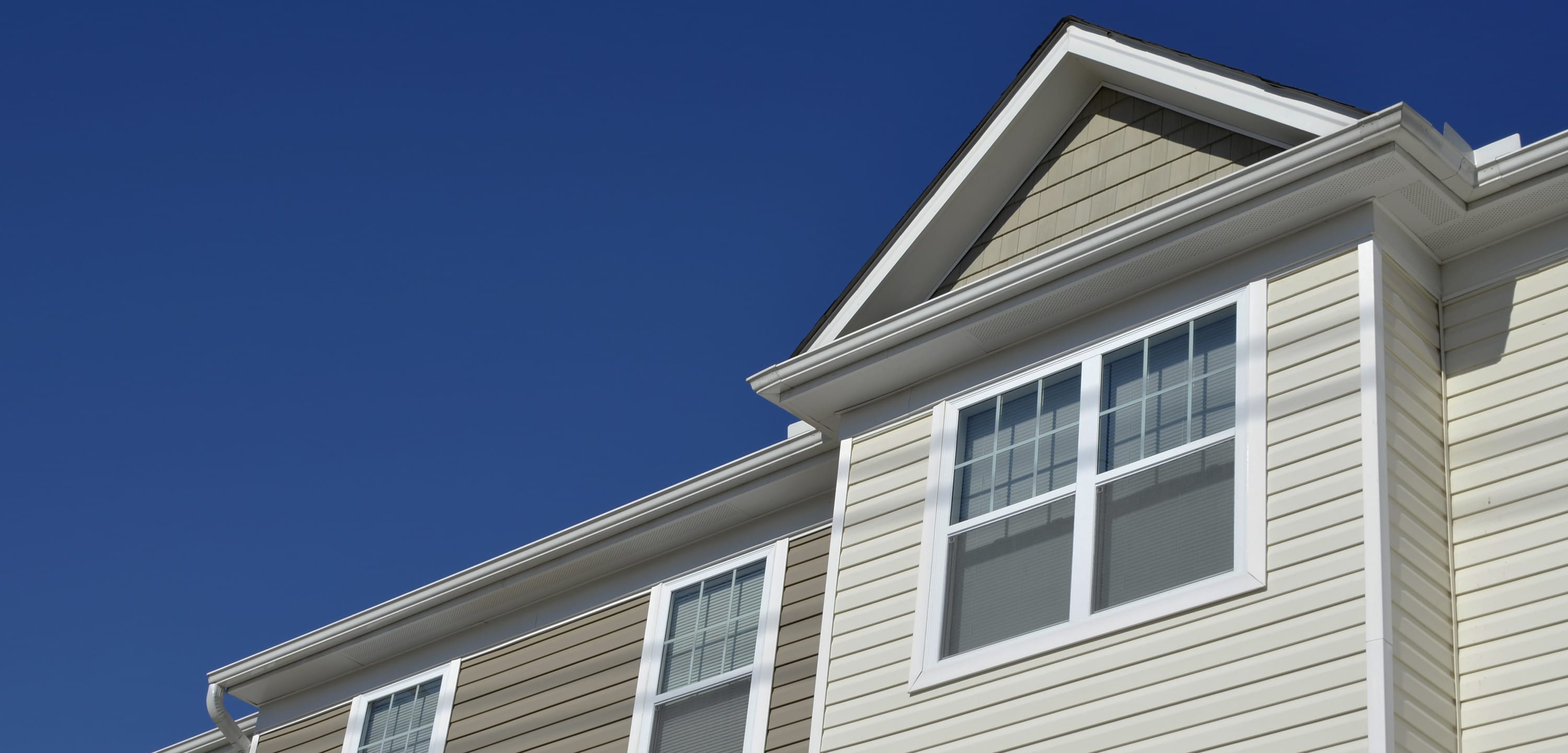 Seamless Gutter Solutions for Townhomes
Rainwater damage can wreak havoc on your townhome's foundation. Pooling water around your property's foundation and potential leaks into the basement can be a huge headache, with high repair costs for townhome owners. Seamless rain gutter systems can be a great addition to your townhome, adding protection from potential damage during or after storms and snowmelt or in unusually rainy seasons.
Advantage Construction offers custom-cut seamless gutters for townhomes and houses. Our experienced gutter contractors can assess your townhome and create a seamless gutter solution that saves you time, money, and hassle. Since we can install seamless rain gutters right on site, this essential service is highly affordable.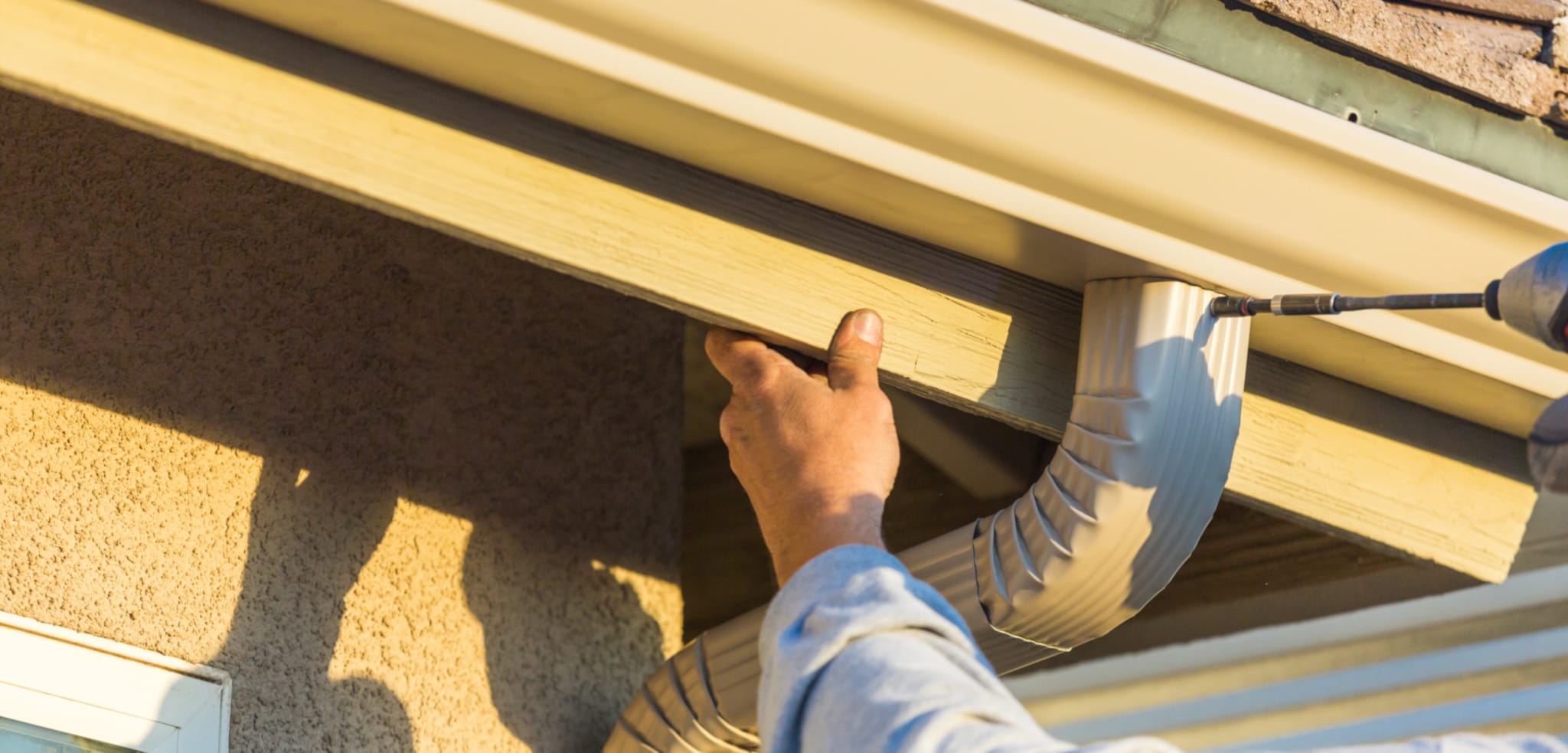 Onsite Townhome Gutter Installations
You can count on Advantage Construction to provide a quick, clean custom gutter installation right onsite. We will take our truck-mounted metal fabricating machine straight to your townhome to install seamless gutters in just a few short hours.
Our specialized equipment allows us to fabricate aluminum gutters from a heavy .032 gauge metal, cutting sections to the exact lengths required for your townhome's roof. We utilize heavy-duty brackets during installation, so your seamless gutters withstand snow and ice buildup throughout the winter.
Ask about the premium "K" style gutters available at Advantage Construction. This popular gutter system option comes in a range of sizes for residential and commercial applications. The aluminum gutter materials are resistant to corrosion and come in over 30 unique colors and shades to suit your townhome perfectly. Contact Advantage Construction now to learn more about our aluminum rain gutters for townhomes.
---
---
Never Clean Your Gutters Again With Townhome Gutter Covers
The great thing about our selection of seamless gutters for townhomes is their compatibility with gutter covers. Adding gutter protection like a cover or screen prevents leaves and other debris from clogging your gutters in the spring and fall. You'll find a wide variety of choices at Advantage Construction so you can easily stay within your budget. Call Advantage Construction today to discuss the different gutter cover options available for your townhome, including:
Reverse curve covers: These gutter covers will direct water downwards into your gutter system through small slits, stopping leaves and debris from collecting and instead force them to fall to the ground below.
Mesh gutter covers: Mesh sheets make a great gutter cover material since the small holes sift out excess debris while water still falls through. Mesh covers attach to roof shingles for extra stability through each season.
Bottle brush guards: Bottle brush gutter guards are great for townhome owners struggling with birds' nests and other pest infestations. The upright bristles are effective at deterring pesky wildlife while still allowing water to flow through the system.
Nylon gutter guards: We recommend nylon gutter covers for colder climates where a lot of snow and ice accumulate in the winter months. The specialized design prevents excess snow and ice buildup, minimizing the chances of any damage to your roof or gutters.
Non-gutter covers: An alternative option uses angled thin louvers or horizontal slats to replace an existing gutter system, diverting excess rainwater away from your townhome's interior and foundation.
Contact Advantage Construction to discuss the different leaf guard and gutter cover options available. We can find a solution for your townhome that will prevent water damage or foundation failure in whatever environment your townhome lies within. Give us a call to learn more about leaf guards and get started installing seamless rain gutters and covers for your townhome.
Always Go With Advantage for Your Townhome Gutter Needs
Whether you recently bought a brand new townhome or notice your townhome's existing gutter system failing, you can find the right townhome gutter solutions to suit your needs at Advantage Construction. Call us today or go online to schedule an initial consultation to learn more about our custom-cut seamless gutter systems for townhomes of every size. Advantage Construction is always on your to supply high-quality gutter systems and efficient exterior renovation services. Contact Advantage Construction today to get started protecting your townhome with seamless gutters.
Free Home Inspections,
Schedule Today!
We Are Proud of
What We Do