Easy Cost Savings with Attic Insulation
Having the proper amount of insulation in your attic is one of the easiest and most affordable ways to stop energy loss, save money, and maintain even temperatures throughout your home year-round.
Advantage Construction offers reliable and efficient attic insulation services to keep your bills low. The insulation we use provides complete energy performance for the life of the home. It is non-combustible, non-corrosive, non-conducive to moisture retention, formaldehyde-free, and resistant to fungus and mold growth.
Make Your Home Comfortable in All Seasons
A fast, affordable way to increase your home's comfort is to install proper insulation in your attic. Did you know that 40% of the heat in your home escapes from there? Well, with the right help from Advantage Construction, you can keep the cold out and the savings in. We can stop attic leaks around pipes, wires, and outlets, plus add the recommended amount of insulation you need to keep even temperatures throughout the home year-round.
Advantage Construction has partnered with Owens Corning to use the AttiCat® Blown-In Insulation system. This system creates a quick and effective way to save up to 15% on your home's heating and cooling bills*, without going through a big construction hassle or costing you too much money.
*Savings vary. Find out why in the seller's fact sheet on R-values. Higher R-values mean greater insulation power.
Call Advantage Construction today to schedule a free attic insulation inspection. Don't keep letting all the money you spend heating your home just escape right through your attic.
Why Advantage Construction?
We know that home repairs or installations can be a headache — which is why we take every step possible to ensure a seamless and stress-free process. We remove inconveniences and go the extra mile to ensure that your attic insulation installation is completed in a timely manner. We make sure to protect your property throughout the installation process, giving you peace of mind that your home is in good hands.
Our team is highly trained and experienced in all areas of residential construction. We take a proactive approach, helping correct issues before they become devastating to your home. As an Owens Corning Roofing Platinum Preferred Contractor, your property is in capable and caring hands.
Give Your Home a Healthy Attic
Your house needs fresh air ventilation in the attic to stay healthy. Yes, it seems odd to add insulation for warmth and then ventilate the attic to allow cold air to enter, but this combination is the key to a healthy and energy-efficient home.
During winter, allowing a natural flow of outdoor air to ventilate the attic helps keep it cold, which reduces the potential for ice damming. Ice dams can cause significant issues to your home's infrastructure, as water will back up and cause pools of water to form. Over time, these pools leak into the home, causing severe water damage, stains, and even mold on your walls, woodwork, ceilings, drywall, insulation, and stud walls.
Proper insulation and air sealing will keep attics cold in winter by blocking the entry of heat and moist air from below — preventing ice dams and keeping your home free from costly water damage.
In summer, the natural airflow of a well-vented attic moves super-heated air out of the attic, protecting roof shingles from overheating and removing moisture. The insulation also keeps your home cooler by resisting heat transfer into the house.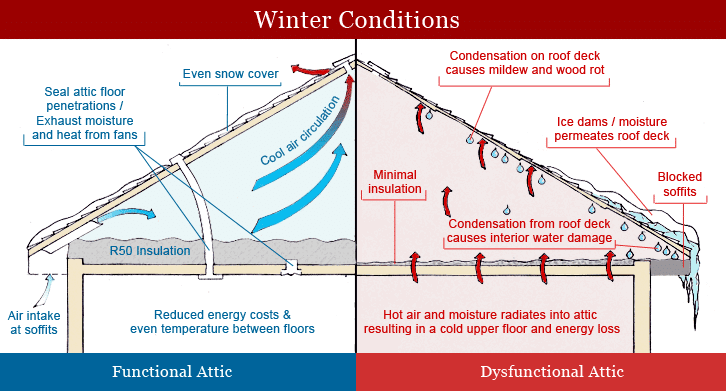 Attic Insulation You Can Trust
Advantage Construction offers reliable attic insulation to prevent energy loss and save you money. Our attic insulation is made to last, giving your home robust energy performance day in and day out. We take advantage of high-quality materials that are free from corrosion, combustion, conduciveness to moisture retention, formaldehyde, and even resistance to mold and fungus.
We're familiar with Minnesota homes and know how to tackle issues before they start. We help homeowners take a proactive approach to energy savings and comfortable temperatures all year round. A healthy home starts at the top. Contact us today for a free attic inspection from Advantage Construction.
Call Advantage Construction for your FREE ATTIC INSPECTION!
Free Home Inspections,
Schedule Today!
We Are Proud of
What We Do