Improving Your Curb Appeal and Impacting Customers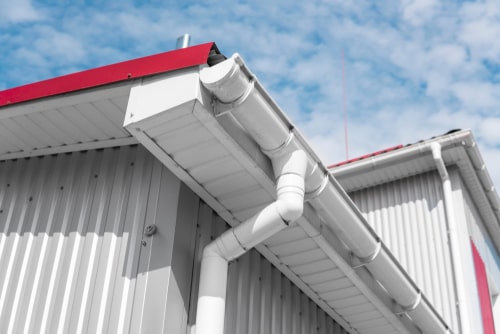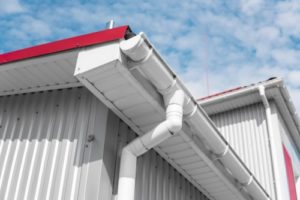 Are you looking for commercial gutter installation or having trouble with your existing commercial gutters? Unfortunately, if your property's gutters are not draining properly, you may easily end up with stagnant water on your flat roof system. This compromises your commercial building's structural integrity. It also leads to potential water damage.
On the other hand, without gutters on your commercial property, water streams down your walls and building, leading to equally costly damage. This is where Advantage Construction comes in. As an expert contractor and leading construction company, we have provided commercial gutter services to clients across cities.
From commercial gutter installation to inspection, repair, maintenance, and replacement, we have got you covered. Advantage Construction ensures your system continuously works seamlessly to eliminate the risk of replacing your commercial gutters prematurely. We can help you schedule a commercial gutter inspection, consultation, or service provision.
Protect Your Commercial Building With Gutter Installation
Water tends to cause structural damage, especially to a building's walls, floors, and ceiling. Unfortunately, without a gutter system, water flows down your roof to your walls and floors. Consequently, this compromises your foundation and wall integrity.
We install high-quality commercial gutter systems that easily direct water from your building. Commercial gutter installation helps to avoid unnecessary erosion issues and possible foundation problems.
Moreover, without a properly installed gutter system, rainwater will spill off your roof and onto your clients and employees. Avoid such embarrassments and possible loss of clients by installing a commercial gutter system. Keeping your clients and employees dry as they enter and exit your commercial premises contributes positively to employee and customer experience.
Our gutters ensure water does not pool on your roof and leak down to your ceiling and interior space. Rest assured, installing gutters helps to prolong your roof's and commercial building's longevity.
Enjoy a Considerable Return on Investment
A professional commercial gutter installation provides your business beyond simple functionality. We understand your need to avoid regular gutter damage and repair. As such, we guarantee a professional installation that will last for years to come. Since we install commercial gutters that protect your building and surrounding property, you will enjoy an attractive return on investment. Call us to help you start saving money on business repair costs with our commercial installation.
Choose Your Ideal Commercial Gutter Installation Option
At Advantage Construction, we understand that clients and their buildings differ. Each has individual needs that should be matched to avoid inconvenience. We custom install your commercial gutters based on different aspects.
We do not advocate for just any gutter installation. Your property size is elemental when it comes to commercial gutter installation. For instance, we install large gutter models if you own a sprawling structure.
Fortunately, we install commercial gutters in almost every size, all of which hold more rainwater than residential gutters. Additionally, we install commercial gutters that effectively allow debris to pass through without causing any clogs and blockages.
Because we install commercial gutters differently from residential gutters, water won't come into contact with any surrounding wood surface. As a result, you won't need to repair any decaying wood on your commercial property. Reach out to us for top-quality commercial gutter installation services.
#1. Gutter Material
Generally, the 24 galvanized heavy aluminum or steel is considered the most durable. While steel offers amazing durability, steel guttering is heavy and should be installed professionally. On the other hand, aluminum is lighter and comes in varying thicknesses and gauges. It is also rust-free.
#2. Gutter Size
We custom-make commercial gutters onsite to fit your building perfectly. Our experts use a truck-mounted metal-fabricating tool to precisely fold continuous coiled metal rolls into long seamless gutter sections.
Additionally, our experts make aluminum gutters from heavyweight .032 gauge metals to the precise lengths required. We provide and install the premium K-style gutter that comes in 5″ width for commercial installation and 6″ for residential installation.
Other factors we consider when sizing up your commercial gutters include downspout size and possibly your preferences. However, we advise you accordingly in case your preference may not generally conform with codes' general installation requirements.
#3. Gutter Colors
Are you looking to customize your gutter system to match your property's current curb appeal? We install corrosion-resistant gutters available in over 30 options to complement your commercial property's exterior appeal.
#4. Gutter Code Requirements
Generally, codes vary across states. However, due to the size of commercial properties, gutter systems are typically covered under building regulations. Such requirements typically involve gutter size and materials used.
Restrictions may also include the direction of the running water to avoid flooding sewer systems and nearby property. At Advantage Construction, we have studied all building codes and regulations. Rest assured, we install commercial gutters while keeping you compliant with the law.
In addition to the basic gutter system installation, we install gutter covers to keep surrounding trees from dropping debris such as twigs and leaves into your gutters to avoid blockage.
Commercial Gutter Repair
Besides collecting debris, a commercial gutter system is also prone to gradual damage. Whether your commercial gutter is starting to show signs of old age or you need help with gutter damage repair as a result of storm damage, you can rely on Advantage Construction to help you decide accordingly. Gutter damage can be caused by several factors such as:
Age and lifespan
Poor installation
Debris accumulation
Ice dams
We conduct thorough gutter inspections to determine the real cause of gutter damage. We then recommend appropriate remedies and solutions to fix your gutter system. Alternatively, we implement these solutions ourselves with the aid of our expert commercial gutter repair contractors. We repair all types and sizes of commercial gutter systems.
We also replace existing damaged or worn-out commercial gutters, especially if you are nearing a rainy season. Advantage Construction also provides commercial gutter maintenance. Regular inspection and accompanying maintenance services are elemental to ensure good shape and functionality.
Why Hire Advantage Construction for Your Commercial Gutters?
We use high-quality gutters made with strong and durable materials. You don't need to worry about replacing your commercial gutters every few months. Our installation and repair team is highly trained and skilled at performing a wide range of services.
At Advantage Construction, our services complement your needs. We match your building's specifications when installing perfectly-sized commercial gutters.
Our agents are available 24/7 to provide client support and answer all your questions pertaining to your commercial gutters and our pertinent services. We are dedicated to guaranteeing your satisfaction, whether it is our interactions, services, service techniques, or project materials we use.
Free Home Inspections,
Schedule Today!
We Are Proud of
What We Do