Somehow, people have come to think that the general rule of thumb for gutter maintenance is to clean them two times per year — once in the late spring and once in the early fall. If you do this biannual cleaning routine, you're in the clear, and your gutters will be perfect, right? Unfortunately, this is not the case. There is a lot more to maintaining your gutters (and, by extension, your house) than a simple cleaning. To get the most out of your gutters and to protect your home, there are things you can do to maintain your gutters throughout the year.
Let's explore general gutter maintenance, cleaning best practices, and seasonal maintenance opportunities you might be missing out on.
Gutter Maintenance 101
Folks are often turned off by the idea of maintaining any external parts of their home because it can be a lot of work or require a professional to come in for expensive services. When it comes to your gutters, this does not have to be the case. If you stay on top of your gutters, light, DIY seasonal gutter maintenance is all you will need.
By failing to maintain and repair your gutters, you're welcoming a host of problems that often lead to costly repairs, such as:
Leaky gutters and mold – Clogged gutters and downspouts cause stagnant water and overflow. The water combined with dead and decomposing leaves creates mold, which makes your gutters sag. Sagging gutters are weak and prone to cracks and leaks. If the mold in your gutters gets in your home, it can be dangerous to your health and expensive to clean.
Leaky roof and basement – Clogged gutters cause water to pool on the roof, where it soaks through shingles. This leads to costly roof repairs or an even more costly roof replacement. If your downspouts are clogged, aren't connected to your gutters, or drain too close to your house, water can leak into the basement, which is extremely problematic.
Compromised foundation. Water and ice damage create cracks in the foundation and are very expensive to repair.
Bugs and critters – Bugs, squirrels, birds, mice, and other little animals love the damp, warm environment of dirty gutters. Once these pests are in your gutters, your home is the next stop.
In addition to timely gutter maintenance and repair, installing seamless gutters is another excellent way to prevent gutter issues. Seamless gutters look great, last long, and reduce maintenance issues.
How to Clean Your Gutters in 7 Steps
Cleaning your gutters is a cheap, easy, and essential piece of gutter maintenance that should be done in the warmer months. Utilizing proper gutter cleaning techniques will keep your gutters spick and span and extend their life for a low cost. Follow these seven simple steps for spotless gutters:
Place your ladder at a proper, stable angle.
Put on your gloves and place your tools in the bucket you bring up with you.
Remove gutter covers and set them on the roof.
Remove the lighter top layer and the heavier bottom layer of debris.
Scrape the bottom sediment out with your hands or a spoon.
Take your bucket of tools back down to the ground, turn on the hose, and take the hose back up the ladder to rinse the gutters.
Check to make sure all your downspouts are clear of debris.
Gutter Cleaning Tools
To make the gutter cleaning process smooth and straightforward, you'll want to equip yourself with a few basic tools.
Heavy rubber gloves
Gutter trowel
Extension ladder
Hose
Garbage bags and bucket
Safety Precautions
There are several safety precautions you need to take into account when you clean your gutters. Although the process is cheap and easy, it can be dangerous if you don't pay attention to what you're doing. Remember these safety tips:
Don't go on the roof. Use a ladder.
Use an extension ladder (an A-frame is not sturdy enough).
Make sure the ladder is on even ground.
Keep one hand on the ladder at all times.
Use a ladder stabilizer.
If you are unable to clean your gutters or just don't feel safe doing so, many companies offer gutter cleaning services that you can take advantage of.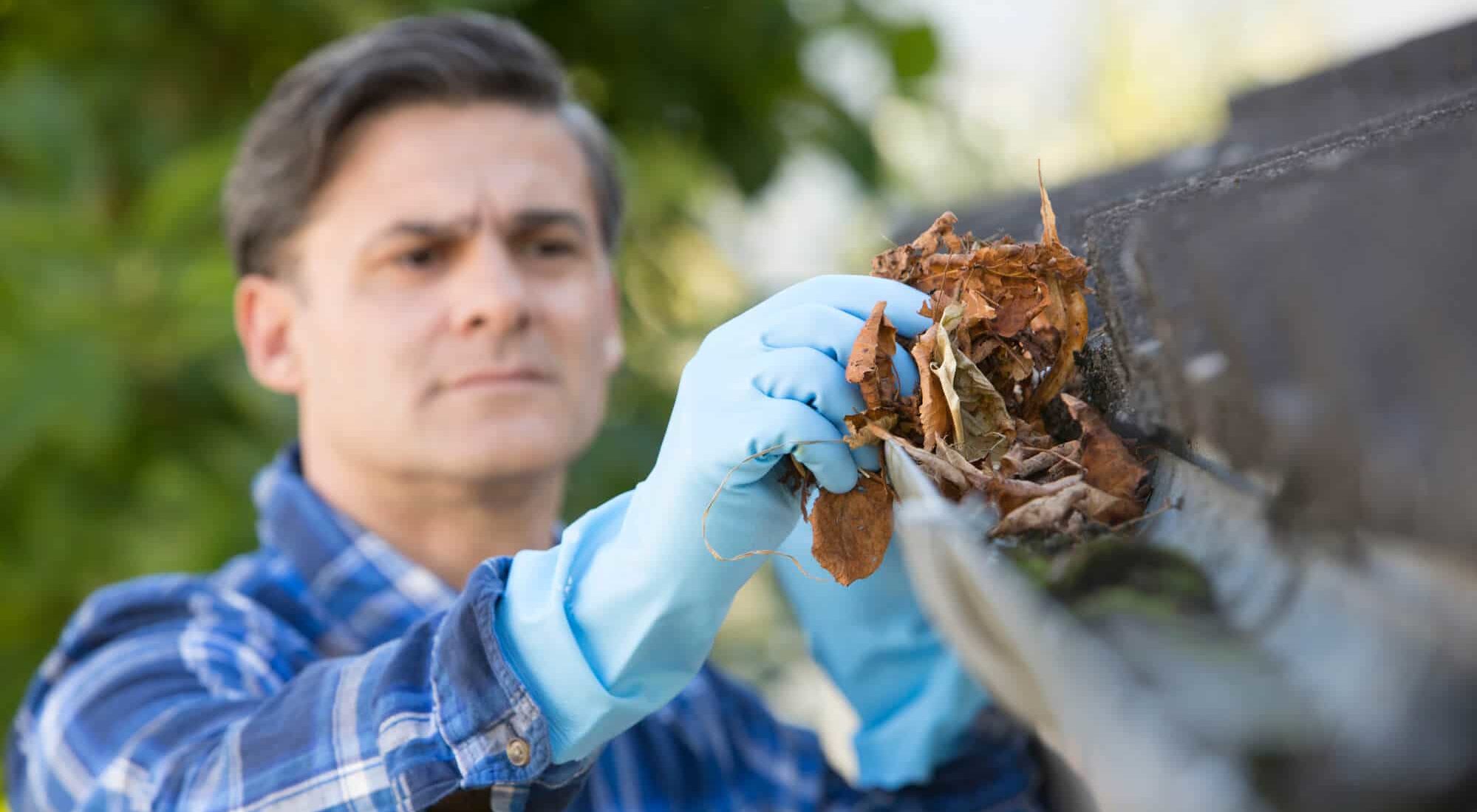 Gutter Maintenance by Season
Contrary to popular belief, properly maintaining your gutters year-round actually lightens your maintenance workload and makes your gutters far less susceptible to damage. Instead of making gutter maintenance a huge, dreaded fall project, do a few things every couple of months, and by the time fall comes around, all you have to do is a simple cleaning.
Summer
A beautiful summer day is a perfect opportunity to get up on a ladder and repair your gutters and downspouts. Throughout the year, loosened or dented gutter guards and shields are pretty much unavoidable. Depending on their condition, reattach the old or purchase and install new ones. You should also brush out any debris.
Fall
Once all the leaves have fallen, clean your gutters. Do this before everything has frozen over. Otherwise, your gutters may be clogged with frozen debris all winter long, which can lead to ice damming.
Winter
Winter is a dangerous time to be outside on a ladder. This is the season for observation. Keep an eye out for icicles and ice dams, and get rid of them immediately. Learn what causes icicles and ice dams and how to get rid of them. You can do it yourself or hire a professional.
Spring
This is the time to inspect your gutters for winter damage like cracks and sags. Check out your roof and your downspouts to make sure water isn't pooling in places it shouldn't be.
Take Care of Your Gutters
By maintaining your gutters, you're actually protecting and maintaining your entire home. Don't just do the bare minimum. Go the extra mile; you'll be glad you did. Keeping up on seasonal gutter maintenance will lighten your maintenance workload and decrease the likelihood of costly damages.
If you're looking for a trustworthy gutter service provider, Advantage Construction has you covered. From custom gutter installation to repairs, our team of experts can help you choose the best plan of action to get the most out of your gutters and make sure they defend your home. Visit our website to learn more about our gutter services today.