Save Money With Energy-Efficient Windows
Advantage Construction is your trusted destination for unparalleled window installation and repair in Coon Rapids. Step into a world of transformation by embracing energy-efficient windows. Not only do they elevate your home's aesthetics, but they also amplify its value while reducing your monthly utility expenses. Experience the multitude of advantages that energy-efficient windows bring, including enhanced visual appeal and heightened curb appeal. These remarkable windows work to maintain indoor comfort without overburdening your heating and cooling systems, all while withstanding the test of time and the elements, courtesy of advanced technology.
And that's not all – our energy-efficient windows are champions of protection. They expertly deflect infrared and ultraviolet light, ensuring your interior decor remains shielded from potential harm. What's more, these windows are meticulously engineered to minimize air leaks, translating to less energy waste and maintaining consistently pleasant indoor temperatures. Whether you're upgrading, renovating, or addressing storm damage or mechanical concerns, replacing your windows comes with a treasure trove of benefits. Advantage Construction understands that new windows aren't just a cosmetic upgrade; they also ensure comfort for both guests and residents. If you're contemplating window installation or replacement in Coon Rapids, our dedicated team is at your service, guiding you through each step of the process.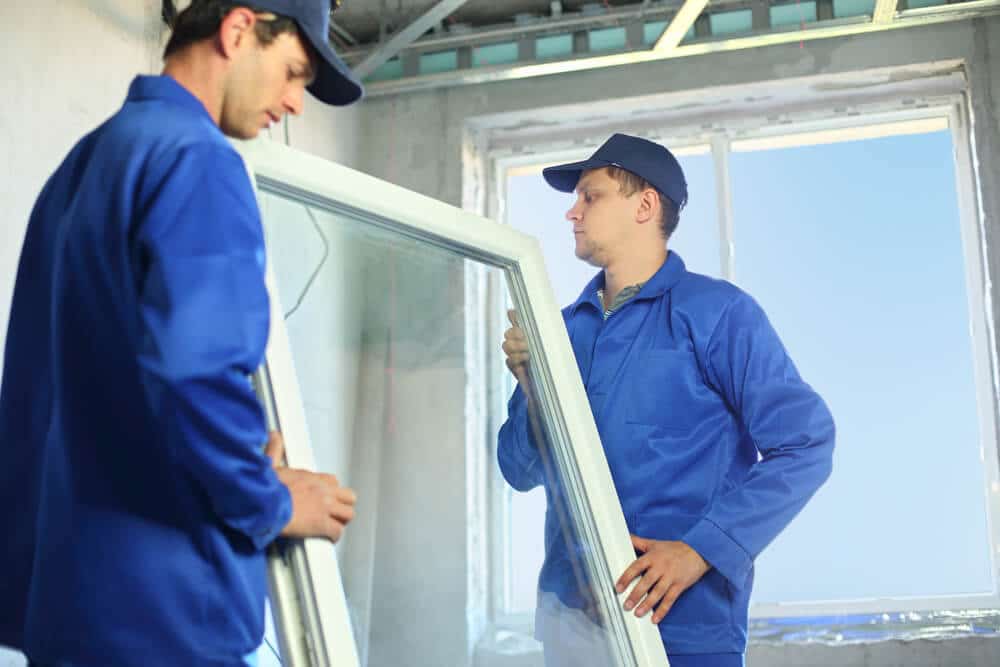 Why Replace Your Windows?
There are myriad reasons why homeowners opt for window replacement, each one contributing to the overall improvement of their living space. Whether you're in need of an upgrade, pursuing a remodel, addressing broken mechanics, or dealing with storm damage, the decision to replace your windows is an investment that yields lasting benefits.
Home Window Replacement Cost
Window installation or repair costs can fluctuate based on multiple factors. Our seasoned window experts specialize in helping you make informed choices that align with your unique budget and requirements. When evaluating the cost of window installation in Coon Rapids, factors such as:
Size

Style

Brand

Home location

Existing damage

Number of windows needing replacement
Benefits of New Window Installation
Investing in new windows or repairing existing ones isn't just a financial decision; it's a commitment to a more comfortable, efficient, and visually appealing home environment.
Increased Resale Value + Curb Appeal
Investing in window installation or replacement goes beyond immediate visual improvements. It's a strategic move that can significantly enhance the resale value and curb appeal of your Coon Rapids home. The impact of updated windows on potential buyers is remarkable – modern, well-designed windows create a positive first impression, often becoming a focal point that adds character to your property. Advantage Construction offers an extensive range of window styles, colors, and designs, allowing you to choose options that seamlessly blend with your envisioned home design.
Noise Reduction
Living in Coon Rapids brings you the charm of suburban life, but it also means contending with potential noise disturbances. Whether it's the bustling sounds of city streets or the hum of nearby highways, achieving tranquility within your home is essential. Advantage Construction's window technology incorporates innovative features such as insulated frames and triple-pane glass. This advanced design significantly reduces exterior noise, creating a serene and peaceful environment that lets you unwind and enjoy the comforts of your home undisturbed.
Improved Energy Efficiency
Embrace a more sustainable and environmentally friendly living environment through energy-efficient windows. These windows are available in various designs, including wood, fiberglass, and vinyl, all designed to regulate indoor temperature and reduce the strain on your heating and cooling systems. By choosing energy-efficient windows, you not only decrease utility costs but also enhance the overall comfort of your Coon Rapids home. Experience the benefits of a consistently comfortable indoor environment while making a positive impact on your carbon footprint.
Enhanced Security + Safety
The safety and security of your home and loved ones are of paramount importance. Outdated or malfunctioning windows can compromise these essential aspects. Advantage Construction's modern window designs prioritize your peace of mind by incorporating enhanced security features. Advanced locks and security sensors provide an added layer of protection, ensuring your home remains a sanctuary where you can relax without worry.
Optimal Home Comfort
Upgrade your home's comfort level with Advantage Construction's window replacement solutions. Our air-tight seals prevent unwanted air from infiltrating or escaping, effectively maintaining a consistent indoor temperature. This not only creates a cozy living space but also reduces strain on your climate control systems. Say goodbye to drafts, temperature fluctuations, and discomfort – say hello to a home that truly feels like a haven, no matter the weather outside.
Window Styles for Every Home
Advantage Construction proudly offers a diverse array of window designs tailored to homes of all sizes and styles. Our skilled window experts are poised to discuss your preferences and needs, guiding you toward the perfect window to complement your dream home.
Double-Hung Windows:

A refined take on single-hung windows, this style combines practicality with enhanced functionality. The bottom sash slides upward while the top sash slides downward, giving you the flexibility to customize ventilation and maintain indoor comfort.
Single-Hung Windows:

A budget-friendly and straightforward option, single-hung windows present a clean design that strikes a balance between aesthetics and affordability.
Picture Windows:

Illuminate your interiors with abundant natural light and captivating views.

While they don't open, picture windows infuse your spaces with sunlight, creating an inviting and visually pleasing atmosphere.
Awning Windows:

Ideal for rainy areas or spaces craving optimal ventilation, awning windows open outward, allowing fresh air circulation while keeping water out.
Slider Windows:

Known for their modern aesthetics and smooth operation, slider windows glide horizontally on a track, offering wider views and ample natural light.
Casement (Hinged) Windows:

Embrace scenic beauty and superior ventilation with casement windows. Hinged on the side, they open outward via a crank mechanism, allowing precise control over airflow.
Bay Windows:

Add character and charm to any room with bay windows, featuring a central window flanked by angled side windows that extend outward, creating an inviting alcove and panoramic views.
Hopper Windows:

Perfect for areas requiring efficient ventilation, hopper windows open from the bottom and are particularly beneficial for basements and lower-level spaces.
Egress Windows:

Enhance safety with egress windows, which serve as emergency exits, especially in basement areas.
Glass Block Windows:

Prioritize privacy without sacrificing natural light. Thick, opaque glass blocks allow filtered light to enter while ensuring privacy.
The Brands We Offer
Advantage Construction collaborates with renowned window brands, including:
Pella

Kolbe + Kolbe

Marvin

Anderson
Choose Advantage Construction for Your Next Window Project
As your local experts, Advantage Construction is deeply rooted in the distinct weather patterns and temperature fluctuations that define Coon Rapids and the Midwest. Our unwavering commitment to quality windows ensures year-round comfort and peace of mind, safeguarding your home against the elements. By choosing Advantage Construction, you're not just investing in windows – you're investing in a more beautiful, efficient, and secure home. Don't wait – connect with us today, and let's embark on a journey to elevate your home with window installation and repair services in Coon Rapids.
Free Home Inspections,
Schedule Today!
We Are Proud of
What We Do