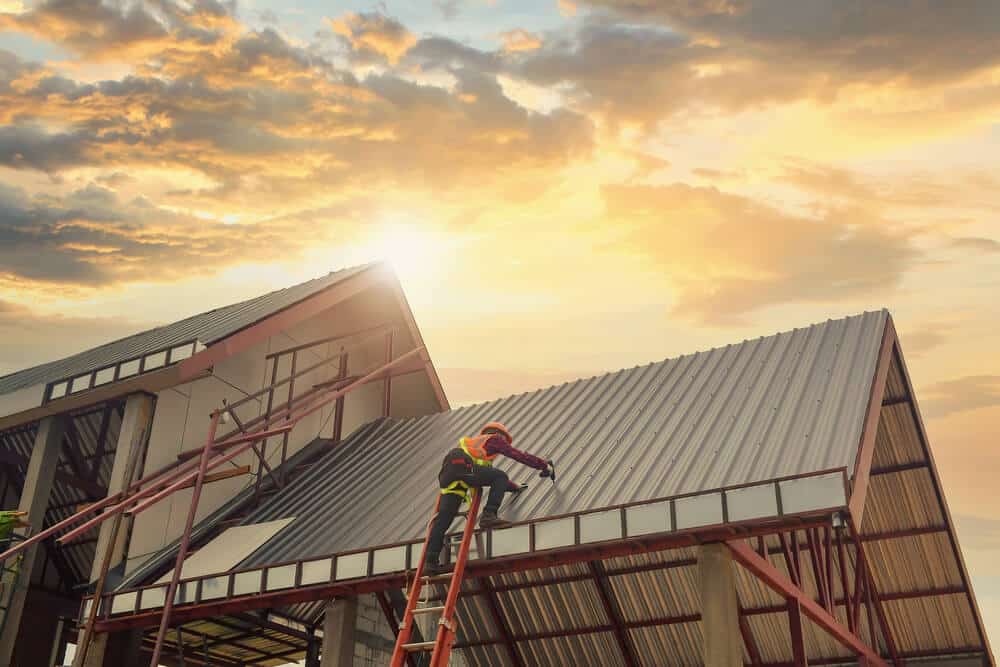 A Dependable Townhouse Roofing Contractor in New Brighton, MN
Townhouse owners in New Brighton, MN, understand the adversity of living in a location prone to extreme weather conditions. The potential for heavy snowfall, ice storms, and other inclement weather can wreak havoc on the condition of a townhouse's roof. That's why it's important to ensure the roof is regularly maintained and necessary repairs are made promptly. You need a competent roofing contractor in New Brighton, MN, who can do the job right.
Advantage Construction understands the importance of quality craftsmanship and customer service. With over 15 years of experience, our roofing experts have the skills and tools to get the job done right. We use only high-quality materials, so you can rest assured that your roof is built to withstand any extreme weather conditions.
Our team works hard to ensure each roofing job is complete to your satisfaction. We specialize in residential and commercial roofing services, so whether you need repairs or a brand-new roof, we are your go-to roofing contractor in New Brighton, MN.
We understand each townhouse complex is different, and we will work with you to find the best roofing solution for your needs. Our team of professionals will assess your property, discuss your options with you, and provide a free estimate.
We will also work with your townhome association to ensure all roofing work is done per your community's regulations. We go the extra mile to ensure our customers are always happy with our work.
To ensure quality roofing services, we only use the best materials from top manufacturers in the industry. We also do the following:
Use proper roofing installation techniques
Thoroughly clean up the job site when we are done
Offer a warranty on our craft
Use advanced roofing technology
Provide honest and fair pricing
Call Advantage Construction today if you need a roofing contractor in New Brighton, MN for your townhouse or townhome.
New Brighton Property Owners' Trusted Roofing Company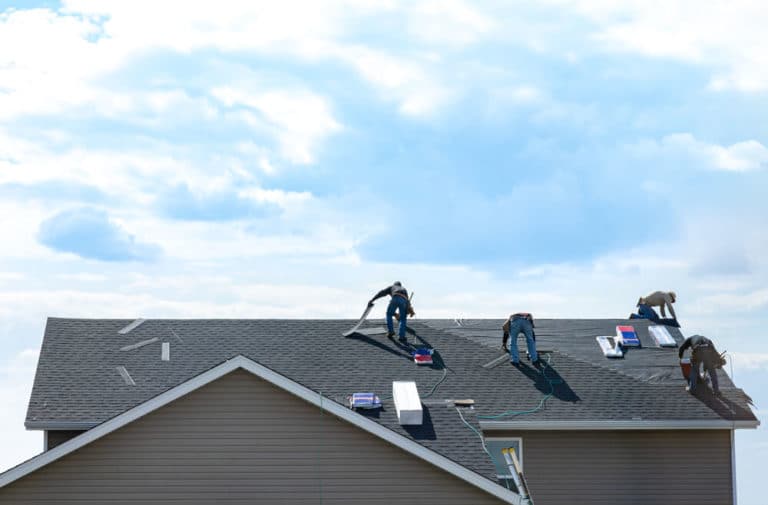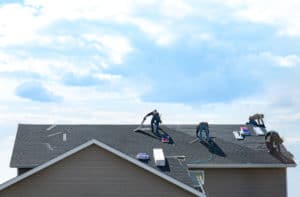 We have been providing top-notch roofing services to townhouse homeowners and businesses in New Brighton, MN since 2001.
We take the time to listen to our customers and understand their needs. We then provide a roofing solution that meets those needs while staying within their budget.
Our clients know they can count on us for honest advice and quality artistry. We always go above and beyond to ensure our customers are 100% satisfied with our work.
Advantage Construction is a fully licensed and insured roofing contractor. We are also a National Roofing Contractors Association (NRCA) member.
Whether you need a roofing contractor for a small repair or a complete roof replacement, we are here to help.
Insurance Claims Process Made Easy
If a storm has damaged your roof, we can help you file an insurance claim. We will work with your insurance company to get your roof repaired or replaced as quickly as possible.
We will also handle all the paperwork and documentation for your townhome insurance claim. We want to make the process as easy and stress-free as possible.
Whether you are filing insurance claims due to storm, fire, or water damage, we can help. We have extensive experience dealing with insurance companies and will fight to get you the compensation you deserve.
Digitally Design the Ideal Roofing Solution
We allow our clients to visualize what their new roof will look like before any work is done. Our state-of-the-art software makes it easy to select your new roof's materials, color, and style. It helps our clients make informed decisions about their roofing projects. It also allows them to see
You can try out the following tools to help you design your new roof:
High-Quality Roofing Materials
Our customers deserve the best, and we are committed to providing high-quality and durable roofing materials. We only use products that will guarantee customer satisfaction. Here are a few roofing options to consider for your next project:
Shingles
We offer a wide variety of shingles in different colors and styles. If you're looking for a classic look, we recommend our 3-tab shingles. For a more modern look, we suggest our architectural shingles. We also offer designer shingles that can give your home a unique look.
Your roof and shingle options will be determined by the style of your home, the climate you live in, and your budget.
Metal Roofing
Metal roofs are becoming increasingly popular due to their durability and energy efficiency. If you're looking for a roof that will last a lifetime, metal roofing is the way to go. Our metal roofs are also environmentally friendly and recyclable.
If you need help deciding which roofing material is right for you, our knowledgeable staff can help you.
Cedar Shakes
Cedar shakes are a beautiful and natural roofing option. They add curb appeal and value to your home. Cedar shakes are also very durable and can last up to 50 years with proper care.
Cedar shakes are a great choice if you're looking for an environmentally friendly roofing option.
Advantage Construction's High-Quality Roofing Materials
There are many reasons to hire a local roofing company for your next roofing installation. When you choose Advantage Construction as your roofing contractor in Cottage Grove, MN, our specialists ensure high-quality roofing services for all of our customers. We even want you to be part of the process and help design your new roof. This prioritization includes constructing your new roof with durable roofing materials that can withstand wear and tear from the elements for many years.
Take a look at some of these roof and shingle options if you're having trouble looking for a townhouse roofing material that matches your budget and the building's style.
Shingle Roofing
Our asphalt shingles are some of the most durable roofing materials around, and are ideal for roofs of many shapes and sizes. Townhouse property owners across Cottage Grove can choose from a wide selection of color options to give their homes a personal touch.
Our shingle roofing material is affordable, easy to install, can reduce noise travel, has a great fire rating, and is impact-resistant to most weather damage, offering year-round protection against Cottage Grove's harshest winters and summers.
Metal Roofing
Metal roofing is an excellent option for townhome property owners to consider if they prefer spending extra to install a low-maintenance yet weather-resistant roof. Metal roofs also have an industry-rated fire rating and are made of possibly the most durable roofing materials around, so they last longer than most shingle roofs.
Cedar Shakes
Our natural cedar shake roofing is an excellent solution for property owners interested in installing a stylish yet durable roof that protects townhouse residents from Minnesota's severe weather conditions, including harsh winds from summer and winter storms, while providing townhomes with enhanced insulation.
Cedar shakes require more maintenance than roofs made with other materials. The best way to keep them intact is to add a fresh coat of water repellant and stain them every 5 years.
Get Started On Your Perfect New Brighton Townhouse Roofing Project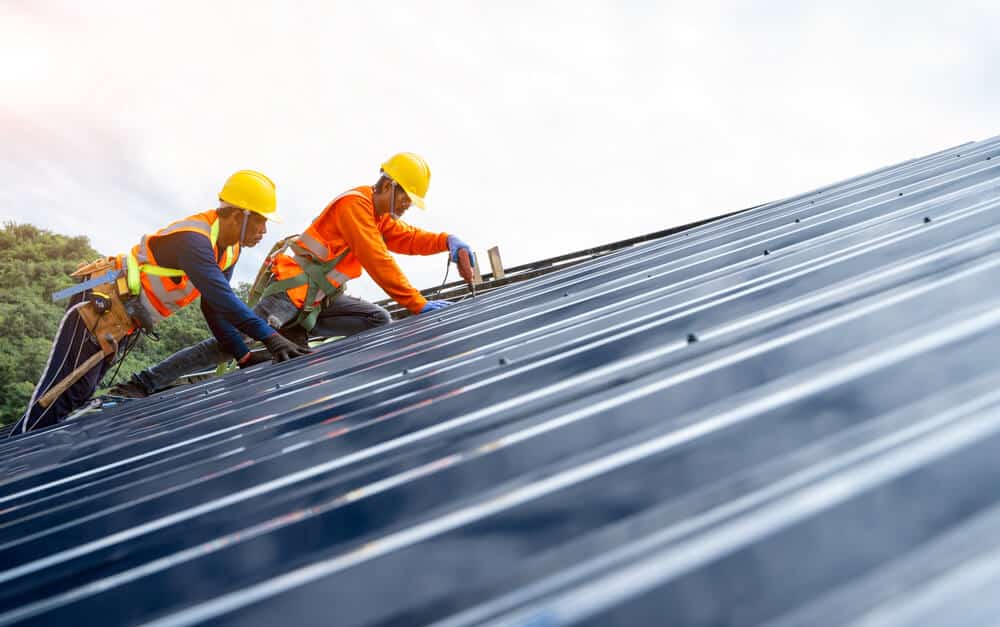 If you're ready to start your perfect New Brighton townhouse roofing project. We will work with you to design and build the perfect roof for your home. We offer various financing options to make your project more affordable. We also offer warranty options to give you peace of mind.
Don't wait any longer; call Advantage Construction today for the best roofing contractor in New Brighton MN for townhouses and townhomes.
**See actual warranty for complete details, limitations, and requirements.