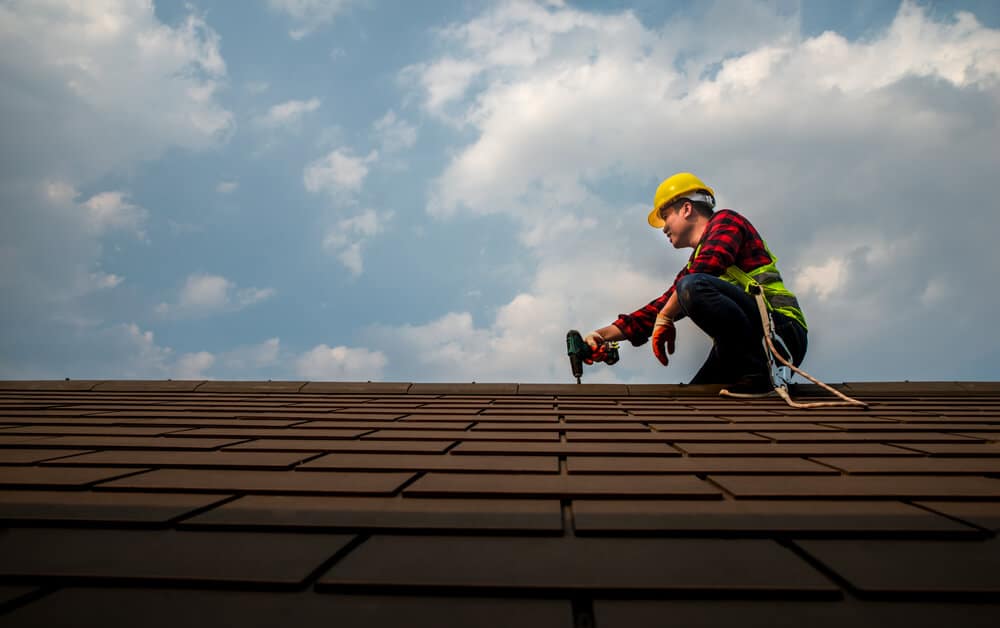 A Dependable Townhouse Roofing Contractor in Hugo, MN
Your roof plays a crucial role in protecting your home from the elements. This feature also has a significant impact on the value of your property.
As a townhouse or townhome owner, you always want your roof to be in good shape. From repairs to regular maintenance, the professionals at Advantage Construction can help you maintain this important feature.
For older homes, experts recommend a roof replacement every 30 years or so, depending on the materials. A roofing contractor for Hugo, MN townhouses and townhomes like Advantage Construction can help with roofing installation and offer a variety of roof and shingle options for your unique needs.
Hugo Property Owners' Trusted Roofing Company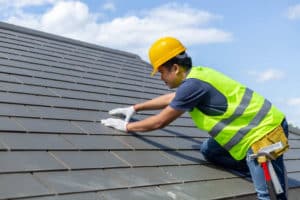 Why choose Advantage Construction? Our core values make us one of the best roofing contractors in Hugo, MN for townhouses and townhomes:
Communication: You can expect clear communication at every stage of the project as well as excellent customer support.
Transparency: We're upfront about our prices and your project manager will deliver updates throughout the project.
Careful Planning: Whether you need help with roofing installation or repairs, we always use durable roofing materials and recommend the solutions that make the most sense for your needs.
Respect: We respect your property and will perform daily dumpster removal while we work on your roof.
Insurance Claims Process Made Easy
Storms and other severe weather events can cause damage to your roof and require repairs or even a roofing installation project. At Advantage Construction, we have years of experience when it comes to assessing damage and helping customers file insurance claims.
We can walk you through the process of documenting the damages, contacting your insurer, and filing a claim to obtain reimbursement for the necessary roofing repairs. Our goal is to help you navigate the insurance claim process and restore your roof as quickly as possible.
We can do more than assess damages to your roof. We offer a comprehensive inspection service that looks for damages to your exterior walls, driveway, trees, soffits, and much more.
Digitally Design the Ideal Roofing Solution
We're one of the only roofing contractors in Hugo, MN that offers townhome and townhouse owners the option to design your new roof yourself.
We offer convenient digital tools that guide you through different roof and shingle options so you can choose the best durable roofing materials for your projects. Visualizing the results can help you select a solution that will boost your home's curb appeal.
Get started by uploading a few images of your home to see how different roofing options will match your exterior walls, trim, doors, and other home features. These design tools are a great way to make your project come to life and get a better idea of how a new roof will impact the curb appeal of your townhome.
We have a variety of tools that can help you design your new roof. Each is a fantastic option to show how a roofing contractor in Hugo, MN citizens trust might put together your roofing installation to your exact specifications. You will have access to the following user-friendly design tools:
Discover Our High-Quality Roofing Materials
At Advantage Construction, we earned our reputation as one of the best roofing contractors in Hugo, MN for townhouses and townhomes by using high-quality roofing materials.
Shingles
Shingles are a high-quality roofing solution on a budget. With proper installation, shingles will do a great job when it comes to insulating your home and protecting it from the elements.
Shingles will create an appealing and traditional look for your townhome. You can design your new roof by exploring the many colors and styles available. Repairs are also easy since a roofing contractor for townhouses and townhomes like Advantage Construction can replace shingles.
The main downside is that shingles aren't the most durable roofing materials. However, you can look for other durable roof and shingle options.
Metal Roofing
Metal roofs have been a popular solution for commercial properties for many years, and this material is emerging as an energy-efficient solution for residential customers.
As a roofing contractor Hugo, MN homeowners can trust, we recommend metal as one of the most durable roofing materials. A metal roof can help lower your heating and cooling bills. It's also an eco-friendly solution since some metal roofs are recycled metal. You can also recycle your metal roof at the end of its lifespan.
This high-quality roofing material comes with a higher upfront cost, but homeowners typically recoup the initial investment quickly, thanks to their reduced energy bills.
You should also know that homes with a flat pitch aren't good candidates for metal roofs, but this design isn't common in Minnesota since the state gets an average of 43" of snow a year.
Cedar Shakes
Cedar shakes are another material we work with as a roofing contractor in Hugo, MN for townhomes and townhouses.
Cedar shakes require more maintenance compared to other roofing materials. However, this stylish material will enhance your home's curb appeal by showcasing the natural beauty of wood.
This high-quality roofing material is also an excellent option to reduce your energy consumption, and they resist storms and other extreme weather events.
Get Started On Your Perfect Hugo Townhouse Roofing Project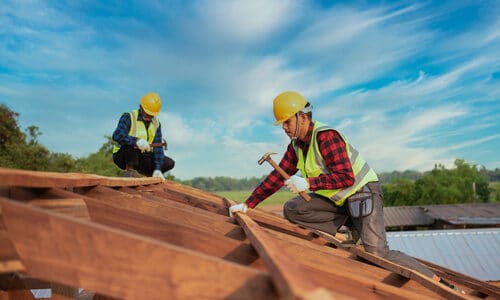 Do you need a reliable roofing contractor in Hugo, MN for townhomes and townhouses? At Advantage Construction, we offer unparalleled quality and outstanding customer service. We also allow you to review roof and shingle options to personalize your project.
Contact us today to discuss your roofing installation or repair project. We'll discuss your needs and recommend the best roofing materials based on your budget and goals.
We know your Hugo, MN home is an important asset, so we offer the best roofing materials available and take the utmost care when installing or repairing your roof.
**See actual warranty for complete details, limitations, and requirements.