Siding Installation Contractor Elk River
It's More Than Just Curb Appeal
Looking for a siding installation contractor in Elk River? Look no further than Advantage Construction. Our wide selection of top-quality siding options allows you to revitalize your home's exterior and minimize the effort needed for upkeep. We're confident you'll discover the perfect match. Let us help transform your home with our premium siding solutions.
As you decide on your new siding material, it's essential to consider both functionality and curb appeal. Opting for durable and high-quality siding ensures protection against various elements and potential hazards. Our team of siding experts is readily available to help you select the most suitable siding option that caters to your unique requirements. We take into account factors like climate, budget, and maintenance needs to provide a practical solution. At Advantage Construction, we understand that each homeowner is distinct, and we are dedicated to assisting you in turning your dream home into a reality. Let us be a part of creating the home you've always envisioned.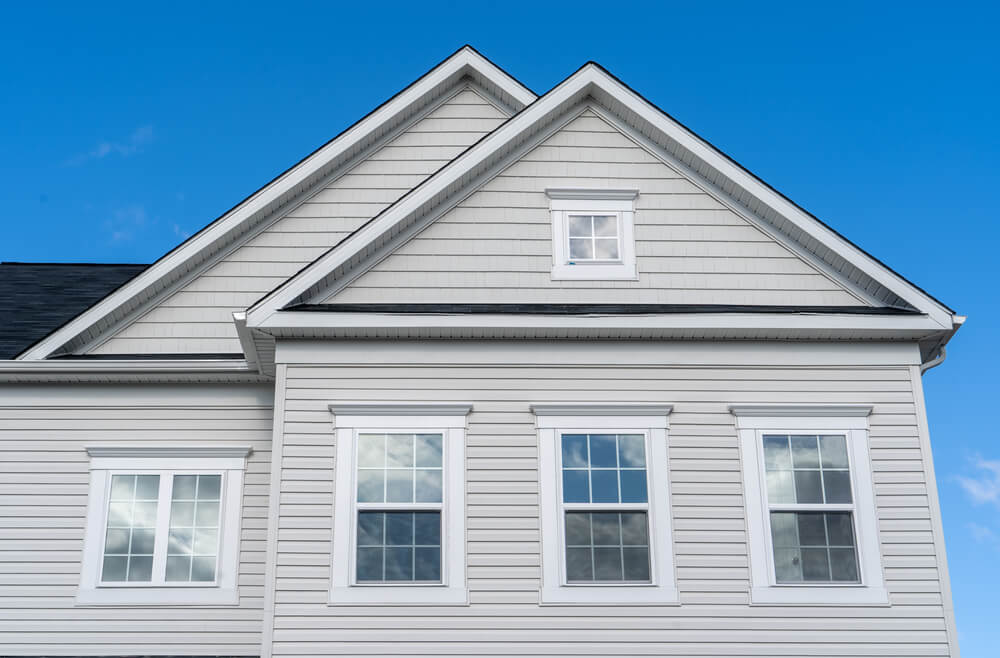 Protect Your Home With Functional Siding
The dynamic weather patterns experienced in Elk River highlight the significance of robust siding for homeowners. Damaged siding can result in costly repairs and potentially become more severe issues. Our skilled professionals are well-equipped to address damages and ensure your siding remains sturdy and resilient against challenging elements. Rest assured; we can keep your home well-protected and appealing throughout the changing seasons.
An Assortment of Siding Options
At Advantage Construction, we understand the individuality of every homeowner and aim to surpass their expectations. We take pride in presenting a wide range of top-tier siding options catering to our customer's unique needs and preferences. Our diverse selection of industry-leading siding materials ensures that each homeowner finds the perfect match for their home's appearance and protection. Our commitment is to deliver excellence in every siding project we undertake, turning your vision into reality.
Premium Vinyl Siding
Opting for premium vinyl siding is a wise choice for many homeowners due to its exceptional durability and low maintenance needs. Not only is premium vinyl siding cost-effective, but it also eliminates the need for regular painting. Thanks to continuous technological advancements, today's high-tech vinyl siding is significantly thicker and more robust than its predecessors, ensuring long-lasting protection for your home. With various vinyl materials available, homeowners can select from various styles, patterns, and trims to suit their preferences.
Advantage Construction takes pride in offering premium vinyl siding that stands out from the rest. Unlike traditional wood siding, our premium vinyl siding won't rot, and you won't have to worry about painting or staining it to keep it looking beautiful. The color pigment is infused throughout the entire material, guaranteeing a vibrant and enduring appearance. Maintenance is a breeze – a simple wash with a garden hose is all it takes to maintain its pristine look for years to come. Say goodbye to the hassles of regular upkeep and enjoy the beauty and convenience of premium vinyl siding for your Elk River home.
Insulated Vinyl Siding
Homeowners looking for an alternative to conventional premium vinyl siding consider insulated vinyl siding. This remarkable siding comes with contoured foam insulation, significantly improving your home's energy efficiency. Many homeowners choose insulated vinyl siding to boost energy efficiency and reduce outdoor noise and elevate the overall curb appeal of their properties. With a perfect blend of elegance, durability, and reliable exterior protection, insulated vinyl siding is an excellent option for homeowners in Elk River.
Steel Siding
Choosing steel siding provides Elk River homeowners with a remarkable exterior material that is durable and non-combustible and requires minimal maintenance. With steel siding, worries about painting become a thing of the past, as a quick wash with a garden hose is sufficient for easy cleaning, much like our premium vinyl siding. The environmentally friendly aspect of steel siding is also a major draw for homeowners, thanks to its recyclability, making it a greener option than traditional vinyl siding. With a lifespan of up to 40 years, investing in steel siding is a wise and long-lasting decision for homeowners in Elk River.
Engineered Wood Siding
Engineered wood siding offers the perfect solution for Elk River residents who desire the timeless charm of wood siding without cumbersome maintenance. This budget-friendly alternative, made from exceptional-quality composite wood, surpasses authentic wood siding in its resistance to pests, mold, and mildew. Keeping up with the latest advancements in siding options, Advantage Construction, a well-regarded siding installation contractor in Elk River, proudly presents LP SmartSide Siding, an innovative choice in engineered wood siding. LP SmartSide Siding brings the warm beauty of traditional wood siding and offers a range of additional benefits that appeal to many homeowners. Designed for durability and dimensional stability, LP SmartSide Siding ensures your home's exterior maintains its allure for many years to come.
Hardie Board
Elk River residents highly appreciate the dependability of Hardie board, a strong fiber cement siding that provides exceptional fire protection and enhances the safety and security of their homes. Advantage Construction, a respected siding installation contractor, highlights the enduring advantages of Hardie board siding. This siding option proves to be perfect for busy households as it requires minimal maintenance. Your home will remain well-protected even in challenging weather conditions thanks to its exceptional durability. With a lifespan of 50 years and a robust warranty, choosing Hardie board proves to be a wise and long-lasting investment for your property.
Boral Versetta Stone®
For those aiming to enhance the charm of their homes, Boral Versetta Stone® presents an alluring option. These exquisite stone veneers are highly sought after for their ability to achieve the desired aesthetic without needing additional concrete footings or enduring substantial wear and tear. With Boral Versetta Stone®, you can effortlessly incorporate a distinctive panelized design into your home using mechanical fasteners, saving you valuable time and effort.
Siding Repair
The harsh weather patterns in Elk River can influence the condition of your home. Apart from storm damage, various other factors can impact the durability of your siding. Various factors can contribute to the wear and tear of home siding:
Incorrect installation

Storm damage

Water damage

Extreme temperatures

Rot and rust

Mold and mildew
Advantage Construction Will Provide You With High-Quality Siding Every Time
As a trusted siding installation contractor in Elk River, we are fully committed to supporting you throughout every phase of your journey, whether building a new home, renovating your current one, or dealing with storm damage. Our team of skilled siding specialists is dedicated to helping you discover the ideal siding material that aligns perfectly with your unique preferences, objectives, and architectural style. At Advantage Construction, we hold our customers in high regard and recognize the significance of your property as a valuable investment. With our unparalleled services, you can rest assured that your home's siding is in capable hands. Contact us today to explore our extensive range of siding options, and allow us to be your trusted guide in turning your dream home into a reality.