Siding Installation Contractor Dayton
It's More Than Just Curb Appeal
Advantage Construction offers a comprehensive solution to enhance the aesthetics of your residence. Our dedication lies in providing an extensive array of top-tier siding options that will transform your house into a masterpiece while reducing the need for exterior upkeep. Thanks to continuous technological advancements, finding the perfect fit for your preferences has never been easier. Feel free to explore the myriad of possibilities we have available.
We give priority to functionality and curb appeal when choosing the ideal siding for your home. Our premium solutions are thoughtfully designed to withstand even the most challenging weather conditions, ensuring lasting protection for your property. Allow our team of experts to lead you through the selection process, taking into account your budget and individual preferences. You can rely on Advantage Construction as your trustworthy siding installation contractor in Dayton.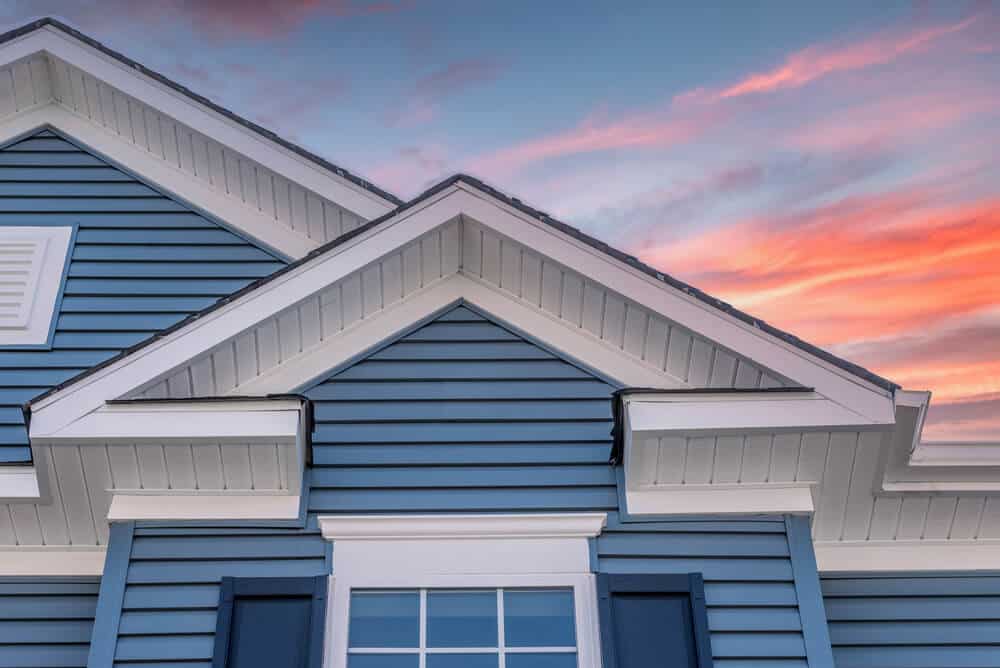 Protect Your Home With Functional Siding
The ever-changing weather conditions in Dayton shows the importance of having durable siding. Damaged siding can lead to costly repairs and potentially escalate into more severe problems. Our team of proficient experts is fully prepared to handle repairs and ensure that your siding remains strong and resilient against the harshest elements.
An Assortment of Siding Options
Our team appreciates and respects the unique preferences of every homeowner. Our dedication has no bounds as we consistently exceed expectations in each siding project. We take immense pride in presenting a diverse range of innovative siding choices, setting new industry benchmarks, and embracing the unique tastes of our valued clients.
Premium Vinyl Siding
Known for its remarkable durability and minimal maintenance needs, premium vinyl siding elevates homes with captivating charm. This siding option offers cost savings and eliminates the need for frequent painting. Thanks to continuous technological advancements, modern high-tech vinyl siding boasts exceptional thickness and strength compared to its predecessors. Homeowners have a wide range of vinyl materials to choose from, available in various styles, patterns, and trims to perfectly match their preferences. Advantage Construction's premium vinyl siding stands out with its color pigment infused throughout the entire material, ensuring a brilliant and long-lasting appearance for years to come.
Insulated Vinyl Siding
An alternative to traditional premium vinyl siding is insulated vinyl siding. This type of siding is equipped with contoured foam insulation, effectively enhancing its energy efficiency. Homeowners often opt for insulated vinyl siding to enhance their home's energy efficiency, reduce outside noise, and enhance curb appeal. With its combination of elegant beauty, remarkable strength, and reliable exterior protection, insulated vinyl siding proves to be an excellent choice for homeowners.
Steel Siding
Opting for steel siding offers homeowners a stunning exterior material that is durable and non-combustible and requires minimal maintenance. With steel siding, concerns about painting are eliminated, and a simple garden hose is all that's needed for easy cleaning, similar to our premium vinyl siding. The eco-conscious appeal of steel siding attracts homeowners due to its recyclability, making it a greener alternative to traditional vinyl siding. With a lifespan of up to 40 years, investing in steel siding proves to be a wise and worthwhile choice.
Engineered Wood Siding
Engineered wood siding presents an ideal solution for homeowners seeking the enduring elegance of wood siding without the burdensome upkeep. This cost-effective alternative, crafted from composite wood that combines the finest attributes, outperforms authentic wood siding in its resistance to pests, mold, and mildew. Embracing the latest advancements in siding options, Advantage Construction, a reputable siding installation contractor in Dayton, proudly introduces LP SmartSide Siding, an innovative choice in engineered wood siding. LP SmartSide Siding not only bestows the cozy beauty of traditional wood siding but also offers a range of additional advantages that captivate many homeowners. Engineered for longevity and dimensional stability, LP SmartSide Siding ensures your home's exterior maintains its allure for countless years ahead.
Hardie Board
Residents of Dayton value the reliability of Hardie board, a resilient fiber cement siding that offers remarkable fire protection and bolsters the safety and protection of their residences. Advantage Construction, a reputable siding installation company, underscores the lasting benefits of Hardie board siding. This siding option proves to be perfect for households with busy schedules, as it requires minimal maintenance. Even in the face of adverse weather conditions, your home will be well-shielded thanks to its exceptional durability. With a lifespan of 50 years and a robust warranty, investing in Hardie board proves to be a wise and enduring decision for your property.
Boral Versetta Stone®
Individuals seeking to elevate the allure of their homes may find Boral Versetta Stone® to be a captivating choice. These stunning stone veneers are in high demand for their capacity to achieve the desired aesthetic without requiring additional concrete footings or enduring substantial wear and tear. Boral Versetta Stone® provides a simple and efficient way to incorporate a distinctive panelized design into your home, utilizing mechanical fasteners that save you valuable time and effort.
Siding Repair
The ever-changing weather patterns in Dayton can have an impact on your home's condition. Beyond storm damage, various other elements can compromise the durability of your siding. Inadequately installed siding might necessitate urgent repairs or replacements, leading to avoidable expenses and disruptions. Multiple factors can contribute to the wear and tear of home siding:
Incorrect installation

Storm damage

Water damage

Extreme temperatures

Rot and rust

Mold and mildew
Advantage Construction Will Provide You With High-Quality Siding Every Time
As a reputable siding installation contractor in Dayton, we are fully committed to assisting you throughout every step of your journey, whether you are constructing a new home, renovating your existing one, or dealing with storm damage. Our team of experienced siding specialists is dedicated to helping you find the ideal siding material that perfectly complements your unique preferences, goals, and architectural style.
At our company, we value our customers and understand the importance of your property as a valuable investment. With our unmatched services, you can have peace of mind knowing that your home's siding is in capable hands. Contact us today to explore our extensive range of siding options, and let us be your trusted guide in turning your dream home into a reality.