Siding Installation Contractor Blaine
It's More Than Just Curb Appeal
Advantage Construction offers a seamless solution to elevate the appearance of your home. Our commitment lies in providing a wide array of premium siding choices that will give your home a stunning transformation and minimize the effort spent on maintaining its exterior. Thanks to continuous technological advancements, achieving an alluring exterior has become more accessible than ever before. With our vast selection of siding materials, you will discover the perfect match for your preferences. Feel free to explore the endless possibilities we have to offer.
We emphasize functionality and curb appeal when choosing the perfect siding for your home. Our premium solutions are built to withstand the harshest weather conditions, ensuring long-lasting protection for your property. Let our expert team lead you through the selection process, taking into account your budget and preferences. You can rely on us as your dependable siding installation contractor in Blaine.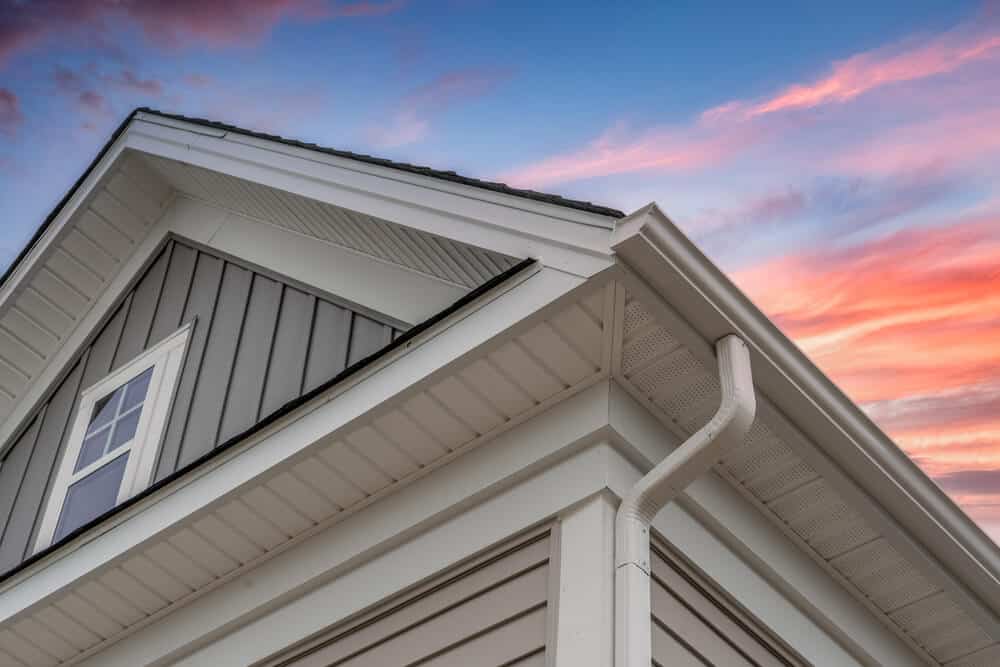 Protect Your Home With Functional Siding
In Blaine, the ever-changing weather highlights the significance of robust siding for homeowners. Damaged siding can result in expensive repairs and potentially worsen into more serious issues. Our team of skilled professionals is well-equipped to address repairs and guarantee that your siding remains resilient against the toughest elements.
An Assortment of Siding Options
At Advantage Construction, we understand and value the individuality of every Blaine homeowner. Our commitment knows no limits as we surpass expectations with each siding project. We proudly showcase a wide array of cutting-edge siding options, establishing new standards in the industry and embracing the diverse preferences of our valued customers.
Premium Vinyl Siding
Homeowners seeking to enhance their homes are drawn to premium vinyl siding due to its exceptional durability and minimal maintenance needs. It presents an appealing choice for its affordability and the added advantage of never requiring regular painting. Thanks to continuous technological advancements, today's high-tech vinyl siding is considerably thicker and stronger than its predecessors. With a wide range of vinyl materials available, homeowners can choose from various styles, patterns, and trims, ensuring a perfect match to suit their individual preferences. Advantage Construction's premium vinyl siding stands out with its color pigment infused throughout the entire material, ensuring a brilliant and long-lasting appearance for years to come.
Insulated Vinyl Siding
Insulated vinyl siding is often favored by homeowners as the top pick for siding. This exceptional premium vinyl siding boasts an intelligent addition of contoured foam insulation, significantly enhancing your home's energy efficiency. By opting for insulated vinyl siding, you improve energy efficiency, reduce outdoor noise, and elevate the overall appeal of your home's exterior. Its unique design adds an extra touch of elegance to your property's appearance.
Steel Siding
For residents of Blaine seeking a combination of aesthetics and durability, steel siding emerges as an excellent choice. This non-combustible material requires minimal maintenance, providing homeowners with peace of mind and saving them valuable time and effort. The hassle of painting becomes a thing of the past with steel siding, just like our premium vinyl siding, as a simple wash with a garden hose is sufficient to maintain its immaculate appearance. Moreover, steel siding makes an eco-conscious statement as it is more environmentally friendly than traditional vinyl siding due to its recyclability. By investing in steel siding, you make a smart choice for the long term, as it offers a lifespan of up to 40 years, ensuring your Blaine home remains well-protected and beautiful for decades to come.
Engineered Wood Siding
Engineered wood siding is the perfect option for Blaine homeowners who love the classic appeal of wood siding but want to avoid dealing with labor-intensive maintenance. Compared to real wood siding, this affordable choice offers better resistance to pests, mold, and mildew because it is made of composite wood, combining the greatest attributes. LP SmartSide Siding is a cutting-edge option in engineered wood siding, and Advantage Construction, a prominent siding installation contractor in Blaine, proudly offers it. You may enjoy the coziness and beauty of conventional wood siding with LP SmartSide Siding in addition to a number of other advantages. These features appeal to many homeowners. LP SmartSide Siding, designed for durability and dimensional stability, ensures that your home's exterior retains its appeal for many years to come.
Hardie Board
Hardie board is a durable fiber cement siding with an outstanding fire rating that adds extra safety and protection to their homes. Advantage Construction, a reputable siding installation contractor, takes pride in offering the enduring benefits of Hardie board siding. Its minimal maintenance needs make it the perfect choice for busy homeowners. Even in the harshest conditions, your home will remain well-protected, thanks to its remarkable weather resistance. With its durability and 50-year warranty, investing in Hardie board is a wise and long-lasting decision for your home.
Boral Versetta Stone®
Residents of Blaine who want to increase their home's appeal may discover Boral Versetta Stone® to be an alluring option. These magnificent stone veneers are well-liked for creating the appropriate appearance without requiring additional concrete footings or withstanding significant wear and tear. With Boral Versetta Stone®, you can give your home a unique panelized design that is simple to install with mechanical fasteners, saving you time and energy.
Siding Repair
Blaine experiences unpredictable weather that can impact your home's condition. Beyond storm damage, various other factors can undermine your siding's durability. Poorly installed siding may lead to urgent repairs or replacements, resulting in avoidable expenses and inconveniences. Home siding can deteriorate due to multiple factors:
Incorrect installation

Storm damage

Water damage

Extreme temperatures

Rot and rust

Mold and mildew
Advantage Construction Will Provide You With High-Quality Siding Every Time
As a trusted siding installation contractor in Blaine, Advantage Construction is fully equipped to cater to all your home siding requirements. Whether you're constructing, renovating, or dealing with storm damage, we've got you covered every step of the way. Our knowledgeable siding experts are ready to guide you in selecting the perfect siding material that aligns with your unique preferences, goals, and home design. At Advantage Construction, we prioritize our clients with a customer-centric approach, recognizing the value of your property as an investment. Rest assured that your home's siding is in capable hands, thanks to our unparalleled services. Contact us today to explore our extensive range of siding materials and make your dream home a reality.