Choose a Roofing Solution You Can Count On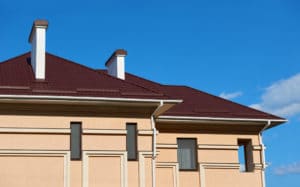 We offer homeowners in Prior Lake roofing solutions that are reliable and long-lasting. Your home needs a durable roofing structure to protect it from harsh Minnesota weather conditions. Advantage Construction is aware of the investment homeownership comes with, and you need to keep it in good shape all year round with a roofing structure you can rely on.
Advantage Construction approaches every roofing project with careful consideration and precision. Our team of experts uses premium materials to create a roofing structure you can count on. We understand the importance of constructing a quality roof for your property. Advantage Construction guarantees unmatched service and an assortment of options sure to fit your home's every need.
Architectural shingle systems are implemented into our roofing structures, offering a more robust, thicker, and more reliable option when compared to the traditional styles. These shingle systems weigh 50% more than three-tab shingles. Advantage Construction pairs premium materials with master installation to ensure you get a long-lasting roofing structure. We provide roofing structures that endure weather, hail, and storm damage while adding to your home's curb appeal.
The Dependable Roofing Partner in Prior Lake
Due to years of hard work and dedication, Advantage Construction has earned a spot as an Owens Corning "Top of the House" Certified Installer. From replacements and installations to prompt repairs, we aim to please every customer with outstanding service and clear communication. We've worked with several Prior Lake residential and commercial owners to provide reliable roofing services. Our roofing structures include:
Shingles
Ventilation
Attic Insulation
We're able to offer our customers with warranties lasting up to 50 years on our Owens Corning Shingles because we're an Owens Corning Platinum Preferred Contractor. Your home receives an energy-efficient roofing structure that provides long-lasting protection year after year.
*See actual warranty for complete details, limitations, and requirements.
Unmatched Roofing Installation
Our team of professionals eliminate disruptions and manage the project from start to finish, so you don't have to worry. We know roofing installation can be a complicated process. We provide complimentary cleanup services and devoted staff to make your experience with Advantage Construction an enjoyable endeavor. Every project we take on comes with:
A dedicated project manager to keep the job on track and is always available

Dumpster removal after each day

Unmatched communication and care
Design Your New Roof Online
You may be nervous that your new roofing structure won't be what you expected, which is familiar to many homeowners. While a new roof is exciting, many obstacles also must be overcome. Advantage Construction provides customers with uncomplicated, accommodating design tools to help you visualize your new roof before construction even begins. Below are a few of our excellent design tools that will allow you to see your new roofing structure digitally.
Our Variety of Shingles and Roofing Options
We believe providing customers with multiple options leads to a better result. At Advantage Construction, you will choose from a variety of roofing structures to find what best suits your home. Each option provides its own set of exceptional benefits and qualities — so you can find the most viable option for your home.
Shingles
Many homeowners in Prior Lake repeatedly choose shingles for their homes as they are a durable and reliable roofing option. Not only are they strong, but also versatile, with various applications used to fit houses of any shape and size. Additionally, they add to the curb appeal and increase the property value of your home.
Homes that encounter hail and other damaging weather need a reliable roofing structure, and asphalt shingles do just that. Asphalt shingles are known for their strength and impact-resistant qualities. Along with these attributes, they also have an outstanding fire-rating partnered with noise-blocking capabilities that provide you with incredible protection and comfort.
Metal Roofing
Metal roofing is a long-lasting solution that requires minimal maintenance — a roofing option homeowners love. While there is a substantial investment required when compared to other options, you won't regret it.
Your wallet and your home will be protected by choosing this long-term roofing solution. Metal roofing brings you peace of mind as the repairs are minor, and this material has an outstanding fire rating.
Cedar Shakes
Cedar shakes resist water and pests more effectively than other wooden shingling options, in turn giving your roof a longer life. Since the 1800s, cedar shakes have been a staple of some residential styles. Homeowners love the unique appearance and incredible appeal that accompany cedar shakes.
We encourage you to apply a fresh coat of water repellant and stain every five years to help your cedar shake shingles last longer. Our cedar shakes are attractive and provide your home with the improved curb appeal it deserves
Begin Your Prior Lake Roofing Project Today
Our variety of roofing solutions will give your home the level of protection it needs while standing the test of time. At Advantage Construction, we prioritize providing Prior Lake residents with roofing structures they can trust. Our master installation team will provide your home with a beautiful, energy-efficient roofing structure that will help you save on your utility bills. Reach out to the Advantage team and inquire about the variety of roofing structures for your home.
*See actual warranty for complete details, limitations, and requirements.