A Home Isn't Complete Without A Strong Roof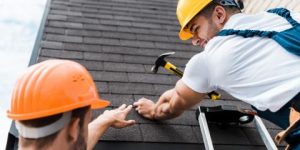 We provide premier roofing systems throughout the Maple Grove area. Your home is a substantial investment, and without the right roof, you're leaving your house exposed to the elements. A durable roofing system can offer fortification against storm damage and leaks that can wreak havoc on the rest of your home.
An expert roof installation is especially important for homes in Minnesota, where temperate weather can be a roofing system's biggest enemy. Here at Advantage Construction, we utilize optimal roofing practices and the toughest materials. We implement architectural shingles that are constructed with multiple layers, which make them far thicker and stronger than alternative solutions.
Our shingles weigh roughly 50% more than three-tab shingles to protect your home without constant maintenance. Not only are architectural shingles sturdy, but they also add incredible curb appeal to your home. A strong roof protects your home and saves you money through energy conservation while continuing to add value during the resale of a property.
The Most Trusted Partner for Roofing in Maple Grove
When it comes to your home, you need a roofing company that you can trust. Here at Advantage Construction, we work with our clients to make sure that they're needs are being met through transparency, excellent communication, and unparalleled service. It's for these reasons that we are an Owens Corning "Top of the House" Certified Installer. We host an entire suite of roofing services and installations for clients throughout the city of Maple Grove. Our complete roofing systems include:
Shingles
Ventilation
Attic Insulation
These three roofing components are the foundation for an energy-efficient, durable, and high-performance roofing solution. Our Owens Corning Platinum Preferred Contractor status allows us the unique ability to extend our roofing warranties up to 50 years on Owens Corning shingles. *See actual warranty for complete details, limitations and requirements.
With every roofing installation we undertake, we're always pushing the envelope with innovative ideas, methods, and materials that increase the lifespan of our work and keep our customers happy.
Seamless Roofing Installation
During a roofing installation, we make certain that our customers receive a stress-free process. We do our best to remove disruptions or hurdles that could make the installation unpleasant. For every roofing job Advantage Construction undergoes, we always treat every customer with respect and implement thoughtful methodologies for our roofing installations. During every project, you can expect:
A dedicated project manager to keep the job on track and is available at all times
Dumpster removal after each day
Unmatched communication and care
See Your New Roof
To make the shingle selection process easier, try out one of these design tools! These tools allow you to see what your home will look like with each brand, style, and color of shingle.
Our Wide Selection of Shingles and Roofing Options
Shingles
Traditional shingle roofing offers various benefits for homes of all shapes and sizes. With incredible versatility and design variety, shingles can adapt to many different shapes and forms to give your home a look you want.
Metal Roofing
For a roof that lasts a lifetime, metal roofing offers a durable and fire-resistant roofing solution for homes throughout Maple Grove. While metal roofing comes with the highest upfront costs, it's also the most durable roofing option available with an average warranty of 50 years or more. *See actual warranty for complete details, limitations and requirements.
Metal roofing is a sound investment for homeowners that want little to no maintenance or repairs associated with their roofing selection.
Cedar Shakes
Since the late 1800s, cedar shakes have offered a specialized look and feel for homes throughout the country. Compared to most wood alternatives, cedar shingles are far more water-resistant and ward off insects as well. With a wide variety of sizes and finishes to choose from, cedar shakes can truly set your roofing solution apart from the rest.
To properly maintain and get the most out of your cedar shakes lifespan, it's essential to give them a fresh stain and coat of water repellant sealer every five years to preserve their toughness.
Start Your Roofing Project in Maple Grove Today
The Advantage team is ready to help you decide which roofing option is best for your home. A new roof creates a safer, more enjoyable, and beautiful home. Contact us today and get started on your roofing project today.