Your Trustworthy Roofing Partner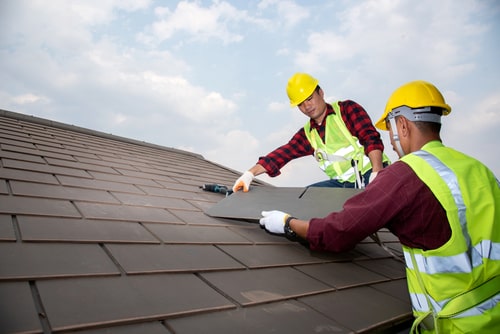 Small house or large, rectangular roof or multi-faceted, Advantage Construction is ready to install any roofing job in Golden Valley and across Minnesota. A new roof is a substantial investment, yet with it comes an increased value in your home. You need a durable roof but also want an attractive one. Advantage Construction offers the highest quality materials, outstanding service, and up-to-date techniques to cover your home for years into the future.
We are happy to work on projects, big and small. Whether you need a small repair, a roof replacement, or are looking to roof your new home, we offer every client expert care. You will get our full attention no matter the size of the project, and we will strive to exceed your expectations. We build roofs to last, no matter what type of weather Mother Nature wants to throw at it.
We have been providing Minnesota homes and commercial facilities with roofs for a long time. As such, we have curated partnerships with some of the best shingle suppliers in the business. We trust our suppliers in offering competitive pricing for quality merchandise. And we pass that along to you.
When you work with Advantage Construction, we offer you the finest shingles available with long-lasting results. Our architectural shingles are 50% heavier than traditional three-tabs providing the highest protection in today's market. Enjoy your home and rest comfortably, no matter what the weather is like outside. And you will know your family and home are safe and protected.
We Offer Expert Installation on Every Project
You know you need your roof repaired, or maybe even a whole new roof. That leak on the inside isn't going to tell you how extensive the repair is going to be. And how will you know who you call will be fair and honest with you?
What if you need your whole roof replaced? Do you go with the same type of shingles, or can you look for an upgrade? Let's face it. Having knowledge about roofing and the costs involved is not something a layperson generally knows. You need to call the experts. You need to call us.
Advantage Construction's contractors are the best in the business. We have the knowledge and expertise to handle your roofing needs. We will take the time to answer all your questions and assure you are comfortable with your decisions. We'll share our knowledge about various types of shingles while taking your ideas and budget into consideration. And we strive to start our roofing projects on time and keep them on schedule for all our Golden Valley clients.
With each project, we:
Assign a project manager dedicated to keeping your job moving in a seamless and timely manner
Clear debris from your property and empty our dumpster daily
Offer complete customer support from start to finish
Durable and Affordable Roofing Services in Golden Valley, MN
Advantage Construction offers its quality service to commercial businesses as well as homeowners. If you have a business, a barn, or a commercial warehouse in Golden Valley, Advantage Construction offers our expert skills and artisanship to any facility needing repair or re-roofing just as we do for homeowners.
Advantage Construction is an Owens Corning "Top of the House" certified installer. What that means for you is that we will include a focus on ventilation and attic insulation along with the installation of shingles to provide complete roofing systems with guaranteed energy efficiency and high performance. When installing an Owens Corning Total Protection Roofing System, you will be offered exclusive system warranties*, which will protect your new roof well into the future.
If you have concerns about your roof repair in Golden Valley, let us help you relax. Advantage Construction has you covered. Roofing can be expensive, but we offer competitive pricing for every project without skimping on quality. Need to file insurance claims due to storm damage? We will even help with that to see you get the maximum reimbursement possible.
*See actual warranty for complete details, limitations, and requirements.
Virtually Design Your Ideal Roof
With today's modern technology, you can see an adaptation of what your roof will look like before you make a final decision. Advantage Construction gives you access to user-friendly design programs, so you can see the outcome before we begin installing your new roof. This allows you to view various shingles and color options to aid in your decision-making.
An Assortment of Roofing Materials
We realize Golden Valley home and business owners have different tastes. No one wants their house to look like the one next door. Advantage Construction wants to accommodate your preference for an ideal roof by offering a variety of quality shingles. From a rustic look to a modern one, we are sure to have something to compliment your home.
Shingles
Today's shingles are more durable and attractive than ever. One reason Golden Valley home and business owners turn to Advantage Construction time and again is the extensive selection we have to offer in shingles.
Asphalt shingles are available in a wide array of colors from black and dark brown to hunter green, brick, light brown, or gray. And asphalt shingles have an excellent fire rating, they decrease noise infiltration and offer incomparable sturdiness. It is no wonder we recommend asphalt shingles as a first choice in roofing options for most of our customers.
Metal Roofing
Metal roofing is a low-maintenance option to shingles while maintaining a great fire rating to protect your home. We have installed many metal roofs in the Golden Village area which are an efficient, affordable, and attractive alternative to shingles. Whether for a business or home, metal roofing is a carefree choice.
Cedar Shakes
If you are looking for an eye-catcher, you may want to choose cedar shakes for your new roof. While being stylish, they are other reasons Minnesota homeowners choose cedar shakes. They are valued for being pest and water-resistance.
There is a small bit of a trade-off though. Cedar shakes do require occasional maintenance. It is easy though and nothing extreme. Every five years, a cedar shake roof requires a fresh coat of stain followed by a new water-repellent coat for that year-round protection while maintaining its good looks.
Ready to Start Your Forest Lake Roofing Project?
If you are ready to get those repairs done or to reroof your home, so are we. Building a new structure? Let us cover it. There are many reasons Minnesotans rely on Advantage Construction for their roofing needs. We will take on your project as if it were our own.
Residential or commercial, we strive to help you make the perfect choice for you and your budget. Why settle for just a run-of-the-mill roofing option when your home can stand out in the neighborhood while offering the overhead protection you and your family need?
Don't procrastinate any longer. Let's invest a little time to virtually create your perfect roof. When you find your right choice, one of our contractors and their experienced installation team can get to work for you. Give Advantage Construction a call today!