A Dependable Townhouse Roofing Contractor in Fridley, MN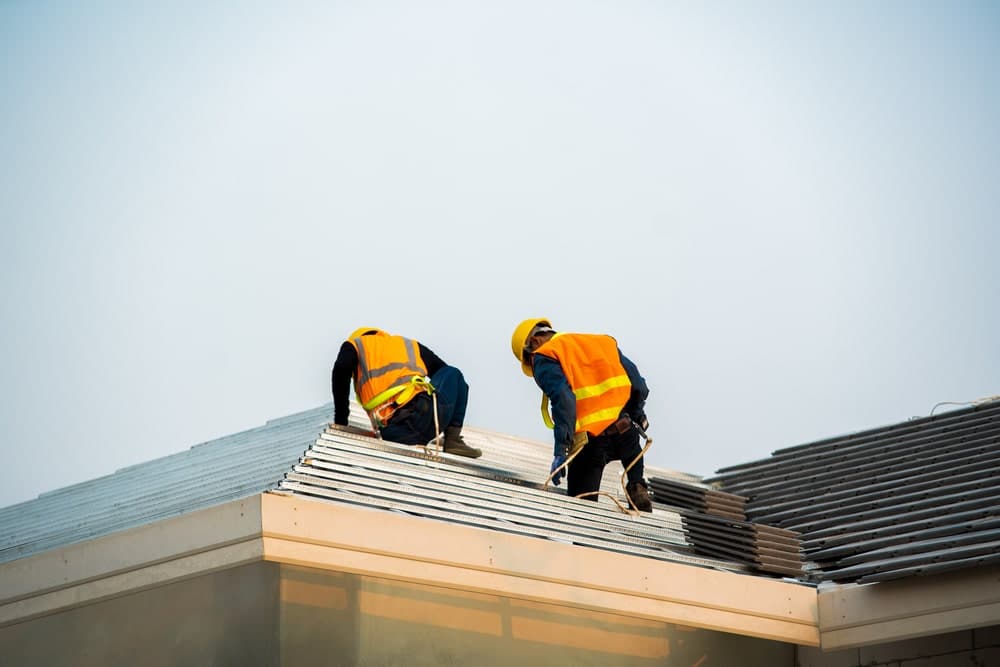 Mother nature can be demanding on your roof. Sudden storms, extreme temperatures, and year-round humidity can cause severe damage to even the best roofs. That's why it's crucial to have a reliable roofing contractor in Fridley, MN that you can count on for high-quality roofing.
There are many advantages to installing a new roof. Finding the right roofing installation contractor is essential to protect your townhouse's roof from the extreme Minnesota weather and maximize the value of your long-term investment. At Advantage Construction, we understand this need and specialize in townhome roofing services in the Fridley area.
Advantage Construction is a locally owned and operated roofing contractor serving Fridley, MN and the surrounding area. We specialize in rooftop installations and repairs for townhouses, condominiums, and townhomes. Our team of experienced professionals is dedicated to providing reliable and high-quality roofing services that meet your specific needs.
Townhouse owners in Fridley know Advantage Construction as a trusted name in roofing installations and repairs. We offer a wide range of roofing services, from shingle replacement to complete roof replacement. Our roofing teams know the ins and outs of complex townhouse designs and are familiar with everything Minnesota seasons can throw at you. Each roofing project gets:
A dedicated project manager

Daily site cleaning

Clear communication and customer support
Contact Us!
Fridley Property Owners' Trusted Roofing Company
The roofing on your townhouse is a serious project, and we understand your investment's importance and value. You don't want to trust just any roofing contractor with this undertaking.
At Advantage Construction, we are committed to providing the highest quality roofing services for townhomes, condos, and townhouses in Fridley, MN.
We use only durable roofing materials and employ experienced professionals to ensure that your roofing job is done right the first time. We also provide transparency in pricing and project management, so you can rest assured that you are getting great value. Additionally, we pride ourselves on excellent communication and customer support, so you feel like you are always in the loop.
Insurance Claims Process Made Easy
Accidents happen, and sometimes your roof is the victim. In the past, filing an insurance claim could be a real hassle. Advantage Construction will help you make the most of a bad situation.
If you need to file an insurance claim for roof damage, Advantage Construction can help. Our experienced staff is familiar with the insurance claims process and can make it easy to get the roofing repairs you need quickly and efficiently.
Learn More
Digitally Design the Ideal Roofing Solution
Advantage Construction is always looking for new technology to help make your roofing project easier. We use 3D digital technology to create a complete picture of your townhouse and the surrounding properties.
Digital design allows us to create the ideal roofing solution for your needs, from color to shingle selection. The ability to digitally design your new roof allows you to see all the possible roof and shingle options and what they will look like on your townhome. Plus, it makes it easy for us to share the more recent designs straight to your email so you can review them and give us a thumbs up.
You can start to design your new townhome roof today using the following:
High-Quality Roofing Materials
Advantage Construction only uses the highest quality roofing materials for each project. We understand the importance of durability and longevity and only use materials designed to withstand extreme weather conditions. Our durable roofing materials and products are stylish and fit perfectly on your townhome.
Shingles
Our roof and shingle options for roofing needs are among the most common selection solutions. Shingles provide your roof with flexibility and the strength to withstand falling debris. They also provide some noise insulation and fire resistance. Traditional shingles are a great way to improve your townhome's visual aesthetics and increase your property's value.
Metal Roofing
Metal roofing is an excellent choice for townhomes if you want your roof to last. Metal roofing materials are strong, long-lasting, and lightweight. They are also relatively easy to install and can help reduce energy costs in the long run. While expensive, they can give you a great return on investment due to their longevity and high fire protection rating.
Cedar Shakes
Cedar shakes are a popular choice for townhomes. Cedar shakes provide a unique look with textures and colors that will enhance the beauty of your townhome. Although they require more effort to maintain, their curb appeal can dramatically increase the value of your townhome.
Get Started on Your Perfect Fridley Townhouse Roofing Project
Advantage Construction has the expertise and experience to be your trusted roofing contractor in Fridley, MN. We specialize in townhome roofing projects and strive to provide the highest quality services with transparent pricing, communication, and customer support.
Contact us today to schedule your free inspections so we can get started on your Fridley townhome project.
**See actual warranty for complete details, limitations, and requirements.
Contact Us!