A Dependable Townhouse Roofing Contractor in Crystal, MN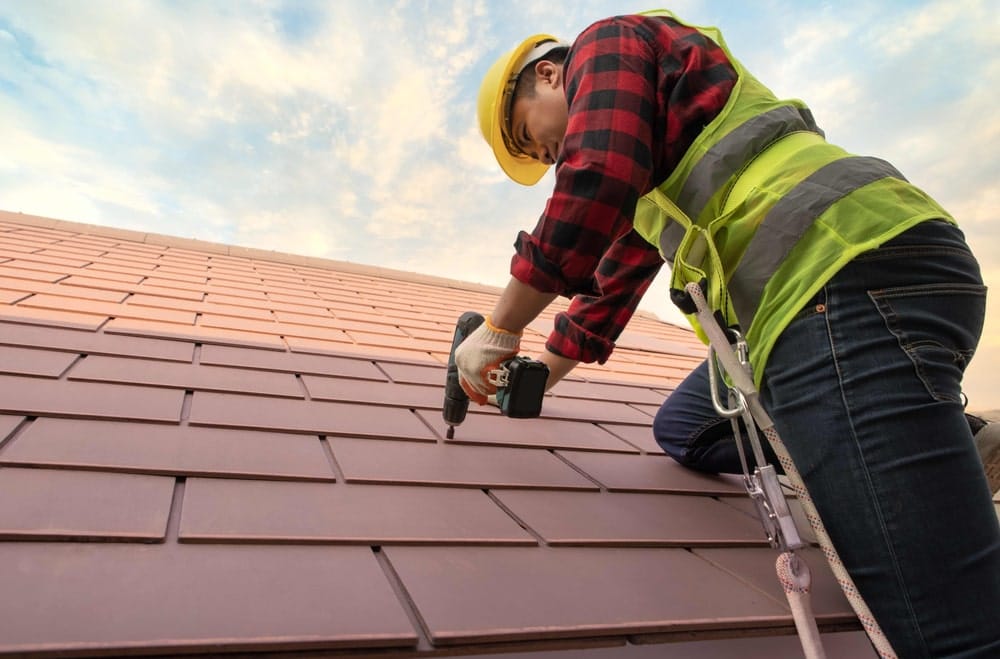 The weather in Crystal, MN can become brutal once warm and wet summers or freezing, snowy winters arrive. The best way to counteract damage without spending extra is to upgrade your townhome with high-quality roofing materials with the help of a reliable roofing contractor in Crystal, MN for your townhouse or townhome.
The specialists at Advantage Construction offer quality roofing installation services for townhome property owners and townhouse residents to keep them in top condition. We use durable roofing materials to protect townhouses from the elements and offer several design options to enhance their appearance. Contact our team today to get started on your Crystal, MN townhome or townhouse roofing project.
Contact Us!
Crystal Property Owners' Trusted Roofing Company
Choosing a reliable roofing contractor in Crystal, MN for townhouse and townhome roof repairs and renovation can be challenging on a tight budget, but Advantage Construction offers affordable roof and shingle options that match your preferences.
We consider every client's schedule when planning our townhome and townhouse roof repair appointments. Our team inspects every inch of your roof area, including attics susceptible to ice dam formation. Before scheduling our townhouse or townhome roofing installation, repair, or replacement services, we thoroughly inspect your roof.
Our experienced team is here to answer any questions you might have about our services throughout your Crystal, MN roofing project.
Insurance Claims Process Made Easy
Minnesota's unpredictable weather makes many townhomes and townhouses prone to damage, but claiming insurance for roof damage can be complicated and time-consuming. At Advantage Construction, we offer quality insurance claims assistance to any townhome property owners looking for affordable solutions. As a dedicated roofing contractor in Crystal, MN, our townhouse and townhome insurance claims assistance services help you save time as we streamline every step of the process.
After a storm damages your townhome roof, our team will perform a free, high-quality roofing inspection. After our inspection, we'll file an insurance claim and provide documented damage records to your insurance company's insurance adjuster. After your insurance claim gets approved, our Advantage Construction contractors can begin working on your townhome roof repair project with the best durable roofing materials.
Learn More
Digitally Design the Ideal Roofing Solution
Not all townhouses and townhomes have the same roof layouts, so it might be challenging to find a roofing contractor in Crystal, MN for townhouses and townhomes offering roof personalization. Advantage Construction offers plenty of roof customization options that suit any townhome property owner's budget and roofing material preferences. Our digital design solutions are ideal for anyone having trouble deciding on the best look for their property.
Our top digital design tools are essential for helping you decide on the best roof and shingle options to help you design your new roof. Our digital design tools include:
High-Quality Roofing Materials
One of the many reasons people reach out to Advantage Construction as their main roofing contractor in Crystal, MN for a townhouse or townhome is our selection of durable roofing materials. We offer several roof and shingle options for you to design your new roof, each with advantages against Crystal's weather.
Check out our most popular roof and shingle options for enhancing your property value and making them stand out from the rest of the townhomes and townhouses in Crystal, MN.
Shingles
Our asphalt shingles are one of the most durable roofing materials we offer for townhomes and townhouses across Crystal, MN. This popular and affordable roofing option is ideal for most roof sizes and shapes.
Our shingles have enhanced damage resistance against weather in Crystal, MN,, reduce outdoor noises, and have an excellent fire rating. They're also lightweight and easy to install, making them ideal for townhouse owners interested in fast roofing services. We offer plenty of shingle color options for you to design your new roof.
Metal Roofing
Metal roofing is another excellent material option to consider for your townhome or townhouse roofing installation. Despite being pricier than shingle roofing, it offers decades of durability, improves property value, and has excellent energy efficiency, making it an excellent alternative to shingles if you prefer townhomes with long-lasting roofing materials.
Cedar Shakes
Our cedar shakes are an excellent, high-quality roofing material option for townhouse property owners who prefer giving their roofs a natural look that boosts their property value. They're durable and offer quality insulation properties for combatting the state's frigid winters. The best way to keep cedar shake roofing in top condition is to treat them with water-repellent coating every five years.
Get Started on Your Perfect Crystal Townhouse Roofing Project
If you seek a quality roofing contractor in Crystal, MN for a townhouse or townhome, reach out to Advantage Construction to discuss your roofing installation project further. We prioritize using high-quality roofing materials to ensure year-round comfort and answering all questions you have throughout every step of your project.
If you want to design your new roof with our best materials, contact Advantage Construction today to learn more about scheduling a free inspection and discuss potential repair project plans that suit your budget.
**See actual warranty for complete details, limitations, and requirements.
Contact Us!