The Most Reliable Roofing Systems in Coon Rapids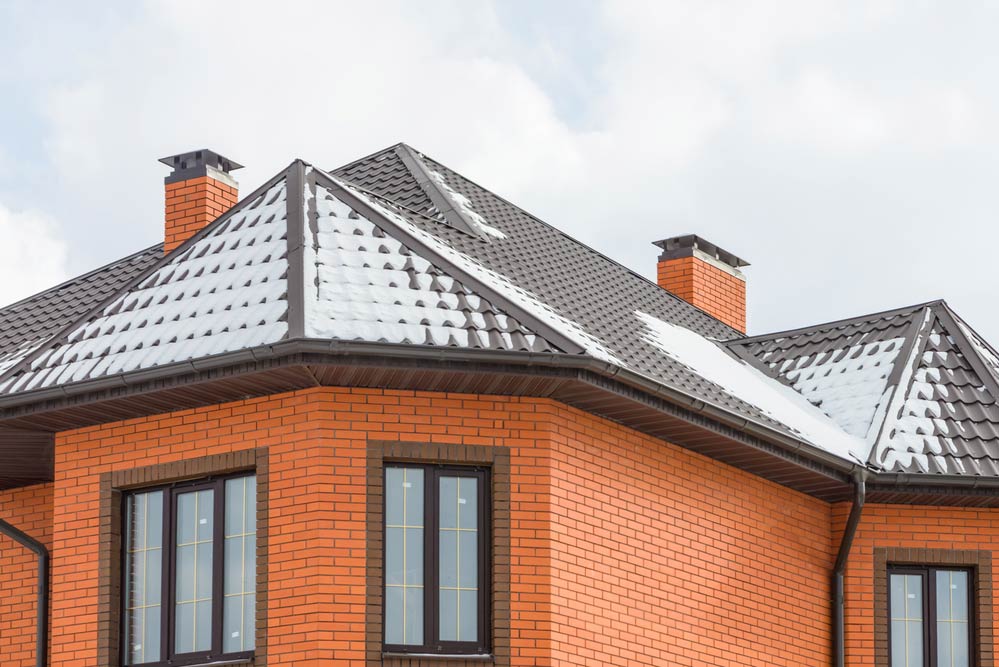 Owning a home is a generous investment, and one that requires long-lasting protection from a reliable roofing solution. Harsh weather can be detrimental to roofing systems. We utilize heavy-duty materials and adept techniques to install a roofing system that lasts. Advantage Construction provides homeowners throughout Coon Rapids with secure and reliable roofing systems.
We prioritize meeting and exceeding each client's expectations and needs. Each project Advantage Construction takes on receives outstanding care and clear communication — guaranteeing your home has our undivided attention. Our highly skilled team incorporates top-notch materials into every roofing system installation throughout Coon Rapids. Advantage Construction offers a variety of materials to choose from, each with exclusive benefits and features to enhance your property's curb appeal.
Our architectural shingles weigh roughly 50% more than three-tab shingle systems providing an impressive lifespan and heightened protection when facing the elements. Whether it's heavy snow or hail, the roof on your home can withstand. At Advantage Construction we partner with superior roofing brands to provide robust and durable shingle systems to our customers. Our roofing systems will withstand the elements and look stunning — saving you the worry year-round.
Your Roofing Companion in Coon Rapids
Whether you're in search of professional installation or repairs for normal wear and tear, Advantage Construction will provide you with support time and time again guaranteeing top-notch service and excellent craftsmanship. We're an Owens Corning "Top of the House" Certified Installer allowing us to combine superior roofing with energy conscious decisions. All throughout Coon Rapids, numerous homeowners have put their confidence in our roofing services to experience their project in the Advantage Construction way. Our roofing systems are comprised of:
Shingles
Ventilation
Attic Insulation
We combine excellence and curb appeal to create a long-lasting and energy-efficient roofing system for every customer. Our position as an Owens Corning Platinum Preferred Contractor authorizes us to offer our customers warranties lasting up to 50 years on our Owens Corning Shingles.
*See actual warranty for complete details, limitations, and requirements.
Unparalleled Roofing Installation
Advantage Construction makes resolving issues a priority to guarantee a stress-free and uncomplicated installation process. Roofing installations can be an exciting journey, but they can also come with issues — we know all about it. Advantage Construction offers highly skilled management staff and an organized cleanup to make your roofing project seem effortless. For every roofing project, we provide:
A dedicated, readily available project manager to keep the job on track
Dumpster removal at the end of each day
Unparalleled communication and care
Make Your New Roof Vision a Reality
What's the most demanding aspect of installing a new roof? Perfecting every detail. Homeowners throughout Coon Rapids have had trouble deciding on a roofing system because they can't imagine the finished product. Advantage Construction alleviates this by offering straightforward and easily accessible design tools that help you turn your vision into reality prior to construction even beginning. Below are two design tools you can utilize to create and view your roof virtually.
Our Variety of Shingles and Roofing Options
Advantage Construction provides an array of roofing options, all with exclusive benefits and qualities that you can select for your home. No matter the size or shape, we guarantee you'll find the right fit for your home.
Shingles
Shingles are a dependable and robust roofing option that many homeowners in Minnetonka have selected for their homes. Not only are they durable, but also resilient, with an array of applications that can be used to accommodate houses of any shape or size. Shingles also add to your home's curb appeal and increase property value.
Asphalt shingles are known for their toughness and impact-resistant qualities. Your home requires a strong roofing structure when enduring threatening conditions and asphalt shingles provide reliable protection. They also have terrific fire-rating and noise-reducing capabilities ensuring household members will have endless comfort.
Metal Roofing
Metal roofing is a long-term solution requiring minimal maintenance that many homeowners choose. While the initial costs are higher than alternative options, it's an investment that won't disappoint.
Metal roofing requires minor repairs and has an unmatched fire rating. This long-lasting roofing solution is an excellent way to give your home and wallet the protection they need.
Cedar Shakes
Homeowners have turned to cedar shakes since the 1800s. This roofing solution offers a unique appearance and top-notch quality that homeowners love. Cedar shakes have a higher resistance to water and pests than other wooden shingle options, giving your roof a prolonged lifespan.
Our cedar shakes are charming and add to your home's curb appeal. Applying a fresh coat of water repellant and stain every five years will add to the longevity of your cedar shake shingles — for a roofing structure you can count on.
We encourage you to apply a fresh coat of water repellant and stain every five years to help your cedar shake shingles last longer. Our cedar shakes are attractive and provide your home with the improved curb appeal it deserves
Start Your Roofing Project in Coon Rapids Today
Advantage Construction is your go-to for Coon Rapids roofing solutions. We'll create a roofing solution you can rely on with our variety of options. We'll assist you through the entire process by answering questions in a timely manner and addressing any concerns. Make the transition to an energy-efficient and durable roofing system that your home needs. Speak with the Advantage team today, and we'll help you bring your vision to life.
*See actual warranty for complete details, limitations, and requirements.