Your Trustworthy Roofing Partner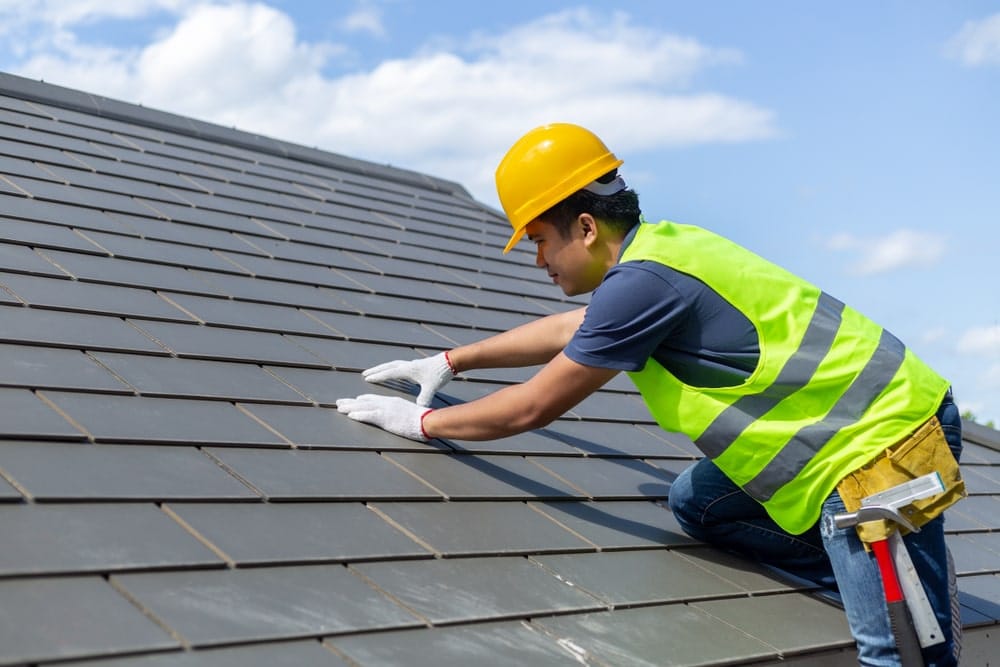 Homeowners in Columbia Heights and throughout the state of Minnesota trust Advantage Construction for their roofing projects. We know how important it is to you to keep your home in great shape, and a roofing project can be a significant investment. We want to make sure you get value for your money by providing you with outstanding service when it comes to your roofing needs. By using the highest quality materials, and using industry-leading techniques, Advantage Construction roofing contractors have proven they are the best roofing contractors in Minnesota.
No matter what size your Columbia Heights roofing project is, whether it is the first roof for a brand new home, a replacement roof, or simple roofing repairs, our roofing experts treat every project like it is their highest priority. Since we treat each and every one of our clients with the same respect and care, with careful attention to their roofing needs, we consistently find ourselves exceeding your expectations. When our roofing contractors build a roof, it is built to last while surviving the inclement weather Minnesota is known for.
When it comes to shingled roofs, Advantage Construction partners with only the best roofing shingle suppliers. We care about providing our clients with the most beautiful and long-lasting shingled roofs. If you are looking for the highest protection level on the market, our architectural shingles weigh 50% more than traditional shingles for a roof that is not only impressive to look at, but one that will keep your home and family safe from Minnesota rain, snow, and hail.
Expert Installation on Every Project
When you don't understand the process, any project can be stressful. This is especially true of roofing projects, and why it is so important to consult with experts. Advantage Construction has the expert knowledge to do things right. No matter what size your roofing project is, the Advantage Construction roofing installation team can help you make the right decisions as you navigate the details of your project. We can guide you on the materials that would work best for your situation as well as how big a job your project really is.
Whenever our team is confronted with problems on a project, they have the knowledge and experience to handle them with ease. We can answer any questions you may have about roofing both before and during the project. Our management team offers outstanding customer service to its Columbia Heights clients and is always available to make sure your project runs smoothly. For every roofing project Advantage Construction does, we make sure you have:
An accessible project manager who keeps the job flowing seamlessly
Daily dumpster removal
Exceptional communication and customer support
Durable and Affordable Roofing Services in Columbia Heights
It does not matter if your roofing project is commercial or residential, Advantage Construction offers all the various roofing services to meet your needs. Whether your project is a brand new roof or repairs or installing a replacement roof, we use our impressive expertise to make sure your project is done right. Our contractors come equipped with the skills, knowledge, and fine craftsmanship to build you an impressive commercial or residential roof.
Advantage Construction places a high priority on providing you with a roof that is durable. We have earned the title of Owens Corning "Top of the House" certified installer by providing our customers with complete roofing systems that include shingles, ventilation, and attic insulation that guarantee your roof will provide you with high performance and unparalleled energy efficiency. When we provide you with an Owens Corning Total Protection Roofing System, you can count on exclusive system warranties* that will protect your roof for years to come.
If you have financial concerns about your Columbia Heights roofing repair project, you have nothing to worry about. We proudly offer competitive pricing on all of our roofing services, and we never sacrifice the quality of our work. If you need help filing an insurance claim following storm damage, we will help you to make sure that you receive the maximum amount of reimbursement.
*See actual warranty for complete details, limitations, and requirements.
Design Your Ideal Roof Virtually
Are you wondering what your roof will look like? You can visualize your new roof before construction even begins when you access our free, user-friendly design programs to help you plan your project. Every one of our clients can access these applications so that you can see what your options are. You can try various colors and styles to discover what will look best on your property. Our design programs include:
Our Assortment of Roofing Materials
No matter what style you prefer, Advantage Construction has the roofing materials for your Columbia Heights home or business. Each of our products has the unique qualities and benefits that will best suit your lifestyle. Our installation team will collaborate with you to help you discover the best roofing material for all your commercial or residential roofing projects, no matter the size of the project.
Shingles
One of the reasons that Columbia Heights customers choose Advantage Construction is our extensive selection of shingles. All our shingle selections are attractive and durable and will instantly increase the value of your home. Our asphalt shingles will suit your aesthetic and give you a roof that looks fabulous for many years to come.
Asphalt shingles hold up against even the most severe weather conditions to protect your family and your home. Asphalt shingles also decrease noise infiltration, have an exceptional fire rating, and will withstand intense debris impacts, making them a roofing option that is one of our most highly recommended.
Metal Roofing
For the most low-maintenance roofing option, metal roofing might be the right choice for you. Metal roofing provides reliable protection and has high fire ratings. Columbia Heights property owners know that Advantage Construction will efficiently install an incredible and affordable metal roof structure that will protect your home and family for many years.
Cedar Shakes
If your first priority in roofing material choices is their aesthetics, then you will appreciate the cedar shake option. Cedar shake roofs are a popular choice for many American homeowners because of the uniquely beautiful appearance cedar shakes provide. The cedar shake option also proves to be pest-resistant as well as water-resistant which makes them a solid choice for Minnesota properties.
Cedar shakes do require more upkeep and ongoing maintenance than your other roofing options. To keep your roof looking new, you will need to have a fresh coat of stain and water-repellent coating applied every five years.
Start Your Columbia Heights Roofing Project Today!
When you are ready to upgrade your roof, repair any damage, or build a new roof structure, you can count on Advantage Construction to provide you with competitive pricing, expert craftsmanship, and exceptional customer service. From start to finish on your project, our installation team of contractors and project managers will build you the perfect roof for your commercial or residential Columbia Heights property. Our experts are always available to answer any questions you might have related to your project and offer recommendations based on your budget, preferred aesthetic, and unique property.
Are you ready to get started on your Columbia Heights roofing project? Don't waste another minute, and contact Advantage Construction today!