The Roofing Partner You Can Count On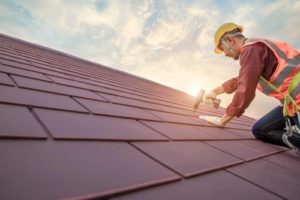 As a Buffalo, MN property owner, you need a reliable roofing contractor you can count on in every season. Advantage Construction has been the go-to for Buffalo and surrounding area residents for more years than we can remember. A quality roof takes expert tact and knowledge, so you need the best roofing experts in the industry. The roofing contractors at Advantage Construction are at the top of their field, meaning you'll always receive monumental techniques, reliable knowledge, and access to today's most popular materials.
Our responsive team dedicates itself to offering superior quality construction and first-class customer service. Whether you need a few repairs or an entire roof replaced, you will get the highest level of attention. We showcase our hassle-free process starting from the initial visit, with our dedicated staff walking with you at every step to ensure the installation exceeds your expectations.
Our complete range of roofing services covers both residential and commercial customers. We know that material is critical, and it marks the difference between a great roof and a terrible one. For this reason, we have partnered with acclaimed suppliers of roofing materials to ensure that you get only the best in durability, cost, energy efficiency, and maintainability. If you're ready to get started on your Buffalo roofing project, we encourage you to contact the team at Advantage Construction – you won't regret it.
Expert Installation on Every Project
Roofing projects are complicated, meaning it takes a lot of experience to work out the right materials or figure out the best roofing technique. While DIY can be exciting, a small mistake will be costly, and that's why we always advocate for roofing experts. You can save hundreds of dollars when a contractor helps you buy the materials.
Our team has been in the roofing industry for years, and we know where to get quality roofing items at the best rates in town. We have a wide selection of popular roofing materials for construction projects in Buffalo, Minnesota, and always consider your unique needs before recommending a product. For every roofing project, we provide:
An accessible project manager who keeps the job flowing seamlessly
Daily dumpster removal
Exceptional communication and customer support
Durable and Affordable Roofing Services in Buffalo
The unpredictable Minnesota weather can affect how long your roof will last. Running the correct installation guarantees longevity and long-term running costs. Advantage Construction has the required experience to help you choose and install suitable roofing materials anywhere across the state. When you're looking for energy-efficient options, we'll help find options that cut your energy bills in half.
At Advantage Construction, we are serious about quality. We are proud of our Minnesota roots, and believe in helping our surrounding communities to live better lives in properly sheltered homes. You will be guaranteed the highest craftsmanship, even for simple repair work. We have great testimonials across the state, coupled with A-grade warranties* through Owens Corning to secure your homes for years.
We are the right people to build for you if you need a roof for your Buffalo property that holds up during inclement weather. We can also handle roofing for commercial properties, from schools and barns to office blocks. If you're not sure what to prioritize when it comes to style and durability, our specialized staff are here to help.
*See actual warranty for complete details, limitations, and requirements.
Design Your Ideal Roof Virtually
One of the best feelings in construction is seeing your designs come to life, and we can help you do that with our easy-to-use design programs. They will let you try different styles and colors to find the best fit for your house. Our free-to-use design tools include:
Our Assortment of Roofing Materials
Getting materials that will endure Buffalo, Minnesota's climate should certainly be a priority, but it should also come at the expense of style and suitability. Advantage Construction has a wide selection of roofing materials that suit your taste without sacrificing durability. Our carefully selected materials can suit any building, from high-ceiling country homes to modern urban dwellings. Below are some of the most popular options used across the state.
Shingles
Our earth-toned, asphalt shingles add a classic look to vintage-style homes. They are reinforced for longevity and come in different colors to suit your taste. We always insist on quality from the manufacturer, and our asphalt shingles do just that with their impressive fire resistance and durability.
Metal Roofing
Our metal roofs have outstanding durability ratings, protecting your house for more than 50 years with good upkeep. They are also low on maintenance and perfect for areas that experience storms and inclement weather regularly. The slightly higher pricing is usually offset by impressive stability and energy efficiency. Metal roofing will keep your home insulated for years to come.
Cedar Shakes
Our cedar shakes are undoubtedly one of the more popular roofing solutions in Minnesota. Cedar shakes are a practical option because of their functionality and elegant appearance. This material is also pest and water-resistant, but requires above-average maintenance routines to maintain tip-top shape. Every five years, we encourage our customers to apply a fresh coat of stain and water-repellent coating.
Start Your Buffalo Roofing Project Today!
You can rely on Advantage Construction if you are ready to repair damages, install a new roof, or upgrade your existing one. Our team is composed of only experienced roofing contractors, meaning you'll always receive remarkable craftsmanship, unparalleled customer service, and competitive pricing. We'll take your project into our hands from the get-go, and you won't have to worry about a thing. Our experts will be available to answer questions and resolve any concerns, but rest assured, you won't be disappointed with our process. If you're ready to work with an industry-leading roofing company, we encourage you to contact Advantage Construction for your Buffalo roofing project.