Commercial Roofing Forest Lake
Commercial Roofing Contractor for Forest Lake, MN
At Advantage Construction, we're your trusted partner in maintaining and enhancing the durability of commercial roofs in the beautiful area of Forest Lake. We have an expert team of roofing professionals and offer a comprehensive range of services. We're dedicated to ensuring the long-lasting protection and functionality of your commercial properties.
Call Now!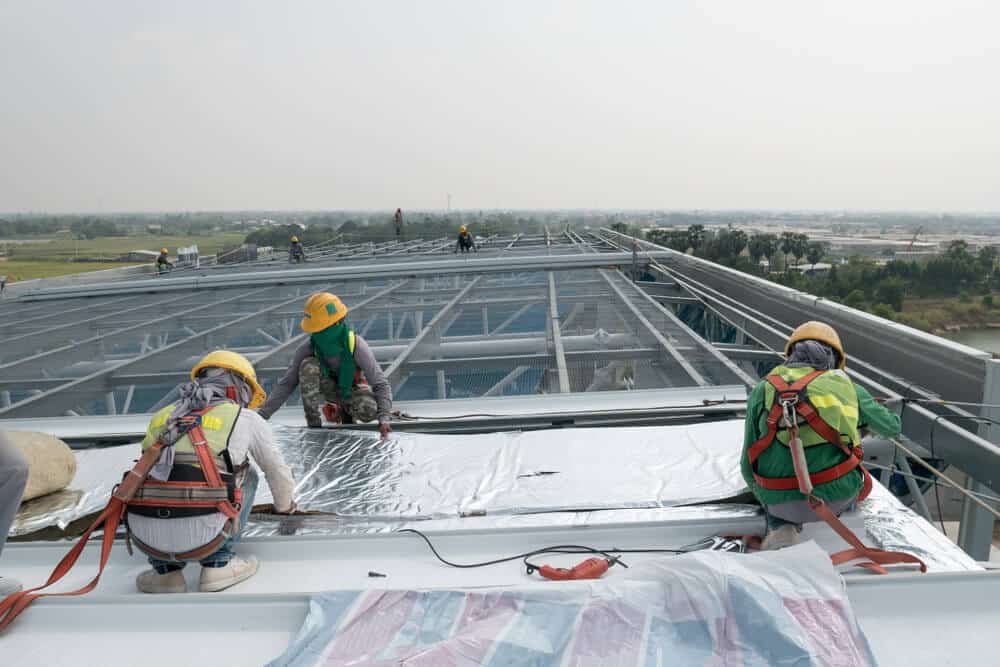 Dependable Commercial Roofing Contractor in Forest Lake, MN You Can Trust
Forest Lake is a vibrant community that boasts a thriving commercial sector. It's nestled in the heart of a picturesque landscape. With its diverse range of businesses and organizations, this area provides a fertile ground for growth and prosperity.
Our commercial roofing contractors in Forest Lake take great pride in serving this dynamic region. We offer top-notch roofing services that cater to the unique needs and challenges of local businesses. Whether you're starting a new venture or looking to upgrade your existing roofing system, our team is here to support your success.
Forest Lake Property Owners' Trusted Commercial Roofing Company
Our comprehensive range of roofing services covers everything you need to maintain and enhance the performance of your commercial roof. Our services include:
Commercial Roof Installation
Our team specializes in the installation of high-quality roofing systems tailored to meet your specific requirements. Whether you need a flat roof or a sloped roof, we handle all types of installations with precision and attention to detail. Rest assured that your new commercial roof will be expertly installed to provide optimal protection and durability.
Commercial Roof Repair
Roofs get damaged due to weather events, general wear and tear, and many other issues. Our expert roofers are here to efficiently restore its functionality and appearance. We understand the urgency of commercial roof repairs in Forest Lake and will promptly address any issues.
Commercial Roof Restoration
Is your roof showing signs of aging or deterioration? Our commercial roof restoration in Forest lake can breathe new life into your roof. We can extend its lifespan and improve its overall performance.
Through our comprehensive restoration process, we'll assess the condition of your roof. We'll identify areas that need attention and install the necessary repairs and improvements to revitalize its appearance and functionality.
Commercial Roof Maintenance
Regular maintenance is vital for keeping your roof in optimal condition and avoiding potential problems. Our team offers comprehensive maintenance plans designed to proactively address any issues before they escalate.
These plans include regular inspections, thorough cleaning, and proactive repairs. This ensures that your roof remains in excellent shape and can withstand the test of time.
Insurance Claims Process Made Easy
At Advantage Construction in Forest Lake, MN, our expert contractors are here to guide you through the insurance claim process effortlessly.
Step 1: File the Claim Promptly
Contact our commercial roofing company in Forest Lake, MN, and provide all necessary information to initiate the insurance claim process.
Step 2: Roof Inspection and Assessment
Our experienced roofing contractors will assess the extent of the damage and document it thoroughly for the insurance company.
Step 3: Coordinate with the Insurance Company
We'll communicate directly with your insurance company, providing them with the necessary documentation and supporting evidence for your claim.
Step 4: Obtain Estimates and Quotes
Our roofing experts will provide detailed estimates and quotes for the repair or replacement of your commercial roof, which will be submitted to the insurance company.
Step 5: Negotiate with the Insurance Adjuster
We'll work closely with the insurance adjuster to ensure fair compensation for the damage sustained, advocating on your behalf throughout the negotiation process.
Step 6: Schedule Repairs or Replacement
Once the insurance claim is approved, we will schedule the necessary repairs or replacement of your commercial roof at a convenient time for you.
Step 7: Finalize the Claim and Invoice Settlement
After completing the roofing work, we will assist in finalizing the insurance claim, ensuring proper documentation and facilitating prompt invoice settlement with your insurance company.
Digitally Design the Ideal Commercial Roofing Solution
Here at Advantage Construction, we want our clients to see their commercial roofing designs before the project even starts. When working with our team, you'll have access to the following state-of-the-art digital design tools:
High-Quality Commercial Roofing Materials
Ready to enhance the longevity and durability of your commercial roof? Don't hesitate to reach out to the Commercial Roofing contractor for Forest Lake. Our team is standing by, ready to provide you with a free consultation. Here are the high-quality roofing materials:
Shingles
Our shingle roof installation withstands the harsh Minnesota weather while adding a touch of elegance to your property. From classic to modern designs, we offer a wide range of shingle options that cater to your unique style and preferences. With their exceptional quality and versatility, our shingles not only protect your roof but also enhance its visual appeal.
Metal Roofing
Experience the exceptional strength and timeless elegance of metal roofing for your commercial property. Our metal roofs are installed to withstand the harshest elements, providing unmatched durability and long-term protection. With their sleek and modern aesthetic, they add a touch of sophistication to any architectural style.
Cedar Shakes
With their timeless appeal and warm aesthetic, cedar shakes create an inviting atmosphere that sets your business apart. Not only do they exude character and elegance, but they also provide excellent insulation and durability. Embrace the allure of cedar shakes and give your commercial property a touch of nature's artistry.
Get Started on Your Perfect Forest Lake Commercial Roofing Project
With our range of services, we're your one-stop solution for all your commercial roofing needs. Whether you need installation, repair, restoration, or maintenance. Our experienced team has the knowledge and expertise to deliver outstanding results.
Give us a call or fill out our online contact form to get started. Invest in the future of your commercial property with commercial roofing in Forest Lake, MN.
**See actual warranty for complete details, limitations, and requirements.
Contact Us!