Commercial Roofing Blaine
Commercial Roofing Contractor for Blaine, MN
Advantage Construction is a premier commercial roofing contractor for Blaine, MN. We offer various roofing services, including commercial roofing installation, design, repair, and replacement.
We use solely the highest quality materials and workmanship, and our team of experienced professionals is dedicated to providing our roofing customers with the best possible service in the industry.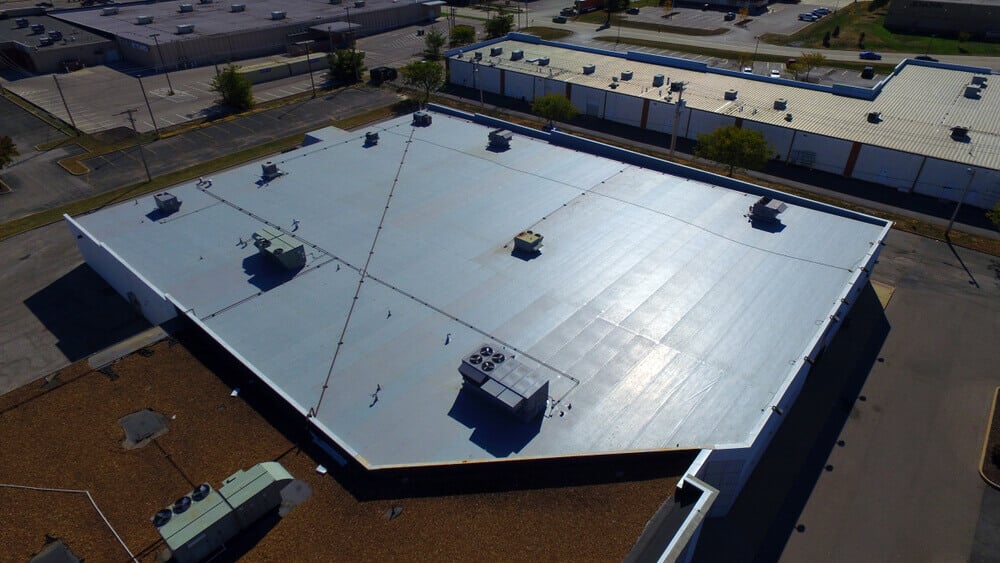 A Dependable Commercial Roofing Contractor in Blaine, MN
Dependability is our middle name. We understand that a commercial roof is an important investment, and we take significant pride in providing our customers with the highest quality roofing services, including contracting, roofing, siding, repair after storm damage, and more.
When you choose Advantage Construction, you're choosing a company with a stellar reputation for delivering exceptional results.
Advantage Construction has a reputation for quality and dependability as the ideal commercial roofing contractor for Blaine, MN. We are fully licensed and insured, and our membership in the Better Business Bureau further showcases our commitment to professionalism.
We offer various financing options for customers to fit a wide range of budgets. Additionally, Advantage Construction offers a 100% satisfaction guarantee.
Blaine Property Owners' Trusted Commercial Roofing Company
Blaine property owners have trusted Advantage Construction for all their commercial roofing needs for years. We understand the unique challenges of commercial roofing and are well-equipped to provide you with the best possible solutions.
We are the trusted choice for Blaine property owners looking for a reliable and experienced commercial roofing contractor. We offer a wide range of commercial roofing services, including commercial roofing installation, commercial roofing repair, commercial roof replacement, commercial roof maintenance, and commercial roof inspections.
Insurance Claims Process Made Easy
Dealing with insurance claims can be daunting for anybody. But worry not, as we have your back. If you have a commercial roofing claim, our expert team will guide you through the entire process and get your roof repaired or replaced quickly and efficiently.
We work closely with all major insurance companies to ensure a seamless experience. Rest assured; we will do everything we can to ensure you get the maximum benefit from your claim. We will also keep you updated on the status of your claim and make sure that you are fully compensated for your losses.
Digitally Design the Ideal Commercial Roofing Solution
Visualize your new commercial roof like never before with our cutting-edge design tools. At Advantage Construction, we offer innovative solutions to help you design the ideal commercial roofing solution for your Blaine property. Our industry-leading digital design tools empower you to explore various roofing materials and styles, making informed decisions that align with your vision.
High-Quality Commercial Roofing Materials
We understand that quality is paramount when it comes to commercial roofing. That's why Advantage Construction only works with the highest quality materials in the industry. Our selection of materials is engineered to withstand the harsh Minnesota weather and provide years of reliable protection for your property. We offer many options to suit your specific needs and preferences.
Shingles
Shingles are the most popular type of commercial roofing materials. They are available in a variety of colors and styles, and they can be installed on a variety of buildings.
Shingles are relatively inexpensive and easy to maintain. Our single options combine durability and aesthetics, giving your commercial property a sleek and professional appearance while providing excellent protection against the elements.
Metal Roofing
Metal roofing is a popular choice for commercial roofing because it's strong and energy-efficient. If you're looking for a durable, long-lasting roofing solution, metal roofing is an excellent choice.
It offers exceptional strength, energy efficiency, and a modern look that enhances the overall appeal of your property.
Cedar Shakes
Cedar shakes are a beautiful and natural type of roofing material. Cedar shakes provide natural beauty and charm to any commercial building for a classic and timeless look.
They are made from cedar wood, and they can be installed on a variety of buildings. They are known for their durability, resistance to decay, and excellent insulation properties. Cedar shakes are more expensive than shingles but are also more durable and can last many years.
Get Started on Your Perfect Blaine Commercial Roofing Project
Don't wait any longer to transform your commercial roof into a masterpiece. Advantage Construction is the ideal commercial roofing contractor for Blaine, MN for any project.
Our team of experts is ready to discuss your needs, provide personalized recommendations, and deliver exceptional results that will enhance the value and functionality of your property.
We will work with you to understand your needs and budget, recommend the best roofing solution for your property, and offer free estimates and financing solutions.
**See the actual warranty for complete details, limitations, and requirements.