Commercial Roofing Contractor for Anoka, MN
Are you on the hunt for an outstanding commercial roofing contractor for Anoka, MN? Well, look no further! Let us introduce you to our team at Advantage Construction, which specializes in commercial roofing projects in Anoka.
Whether you need roof repairs, a fresh installation, some maintenance, or help to handle a complicated insurance claim on pre-existing roofing, the team at Advantage Construction has got you covered.
We are all about quality, professionalism, and ensuring you are a happy and satisfied customer. Let's look at what sets Advantage Construction apart from the competition and see why teaming up with us is the best decision for your business.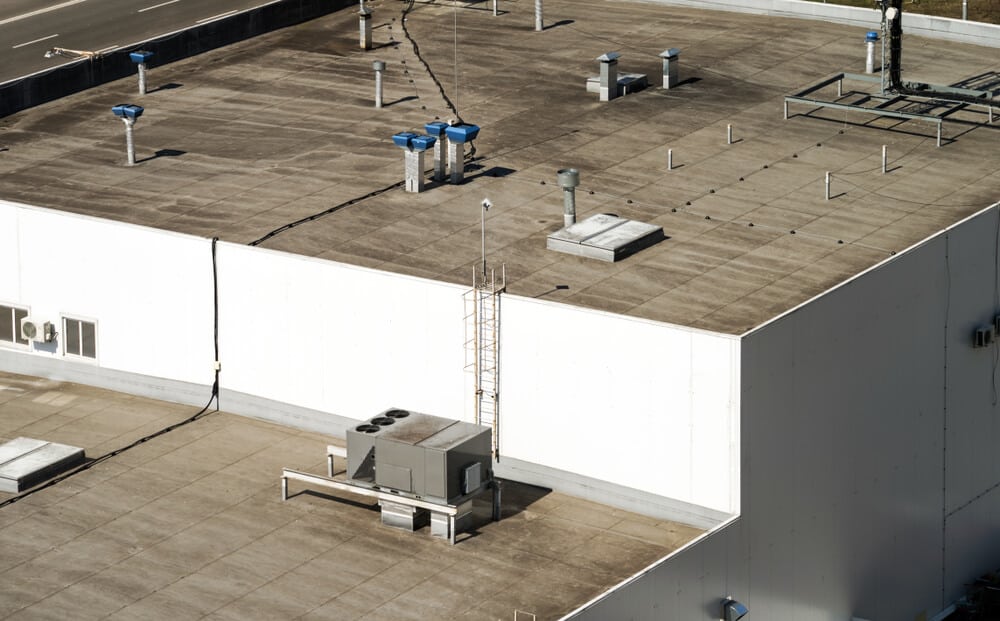 A Dependable Commercial Roofing Contractor in Anoka, MN
Advantage Construction is the dependable commercial roofing contractor you have been looking for in Anoka, MN. Our team has the expertise and education to excellence that you want to oversee your next commercial roofing project.
Our experienced team can handle anything from repairs to installations and everything in between. With our friendly and personal approach, you can rest assured that you will receive top-notch service tailored to your specific needs.
Trustworthy, reliable, and committed to your satisfaction, Advantage Construction can provide you with peace of mind and a roof that will stand the test of time. Stay goodbye to your roofing worries and hello to a partnership you can rely on. Our team is the best commercial roofing contractor for Anoka, MN
Anoka Property Owners' Trusted Commercial Roofing Company
With our track record of satisfied customers and glowing reviews, Advantage Construction has become the go-to choice when it comes to finding a commercial roofing contractor for Anoka, MN. Our client-focused approach guarantees that we understand your unique needs and surpass your expectations.
Our roofing teams have years of experience and have seen every problem imaginable. You can rest assured that when our commercial roofing contractor for Anoka, MN and their team arrives, they will be able to solve your roofing problems quickly and efficiently.
Join the ranks of our happy customers and experience firsthand why we are Anoka's most trusted commercial roofing company.
Insurance Claims Process Made Easy
Dealing with insurance claims can be a daunting task. However, with the help of Advantage Construction, your insurance claims worries can be a thing of the past. We understand the stress and confusion that can come with navigating insurance procedures, so we offer personalized assistance every step of the way.
Our friendly team is well-versed in insurance claims and will guide you through the entire process, ensuring a smooth and hassle-free experience. Whether it's documenting the damage, negotiating with the insurance company, or providing accurate estimates, we've got you covered.
You can rest assured that we will work tirelessly to maximize your insurance claim and get your commercial roofing project back on track. Trust our expertise and friendly support to simplify the insurance claims process and leave you peace of mind.
Digitally Design the Ideal Commercial Roofing Solution
If you have big dreams of designing a unique commercial roofing solution for your property, Advantage Construction is the right company to find the most reliable commercial roofing contractor for Anoka, MN
Our design team can bring your vision to life with the power of digital design. We use cutting-edge technology, including Design EyeQ, the GAF Virtual Home Remodeler, and CertainTeed Design Tools, to design your new commercial roof digitally.
We understand that every business is unique, so we take a personalized approach to meet your needs. From material selection to color options, our commercial roofing contractor for Anoka, MN will collaborate with you to ensure the final design matches your vision perfectly.
We will work with you throughout the process, offering expert advice and suggestions. Say goodbye to guesswork and hell to a tailored commercial roofing solution that exceeds your expectations.
High-Quality Commercial Roofing Materials
At Advantage Construction, we understand the durability and longevity of your commercial roof are crucial for the success of your business. That's why we work with only durable commercial roofing materials. From robust metal roofing to versatile and energy-efficient shingles, we offer a wide range of commercial roof and shingle options to suit your needs and budget.
We are ready to provide expert advice and help you make the best decision for your commercial property. Without the commitment to quality, you can rest assured that your roof will withstand the elements and protect your investment for years.
Shingles
Shingles are a versatile and visually appealing solution that can enhance the beauty and durability of your commercial property. Whether you prefer the classic charm of asphalt shingles or the elegance of architectural shingles, we have a wide range of styles and colors.
With our meticulous installation process, you can trust that your shingle roof will enhance the curb appeal of your business and also protect your business for years to come. Even if you choose to opt for traditional shingles, we only use high-quality commercial roofing shingles – built to last for decades.
Metal Roofing
Metal roofing offers a winning combination of durability, longevity, and aesthetic appeal that can elevate the look and performance of your building. With a wide range of styles, colors, and finishes to choose from, our team can help you find the perfect metal roofing option.
Whether it's standing seam, corrugated panels, or metal shingles, we have the expertise to install the ideal solution. Say goodbye to worries about leaks and frequent repairs.
Cedar Shakes
If you want to add a touch of natural elegance to your commercial property, then cedar shakes are a great option. They provide a charming and timeless opportunity to make your building stand out. Cedar sharks produce a warm and rustic aesthetic that brings character and beauty to any structure.
Get Started on Your Perfect Anoka Commercial Roofing Project
If you are ready to get started on your commercial roofing installation, contact Advantage Construction today. Whether you need repairs, replacements, or a brand-new roof, we're the number one commercial roofing contractor for Anoka, MN, with the expertise and passion to get the job done right.
Our friendly team provides personalized service tailored to your needs and preferences, and we'll work closely with you to understand your goals and deliver exceptional results that exceed your expectations.
Our attention to detail, top-quality materials, and skilled craftsmanship will transform your commercial property into a safe, secure, and aesthetically pleasing space. Let's get started on our commercial roofing project today!
**See actual warranty for complete details, limitations, and requirements.