A tree falling on your home can be a scary occurrence. However, there is no need to fear as long as you follow a few essential safety steps and have an emergency plan laid out just in case.
5 Actions to Take if a Tree Falls on Your Home
Here are the steps to take if a tree falls on your home, so you can secure your valuables and have your roof damages covered via your homeowner's insurance.
Evacuate everyone from the home
Call 911
Call your homeowner's insurance company
Find a roofing contractor
Get your home ready for repair
Evacuate Everyone From the Home
The first thing to do when a tree falls on your home is to evacuate everyone from the dwelling before even considering roof replacement or repairs. Everyone's safety is the top priority when a tree falls onto your house. As you hear the tree make an impact on the roof, jump into action, and gather everyone to exit the house. If you have pets, secure them and quickly leave. If you have time to get their pet carrier, do so.
Have everyone grab their most important belongings. It's a good idea to get each person's smartphone and wallet if they can be found quickly before evacuation. As long as the belongings are not caught where the tree hit, go ahead and grab them. These are the only couple of things that at least one household member should retrieve for contact and identification purposes.
Call 911
Call 911 once you and your family have found a safe location away from your home to stay until emergency services arrive. The dispatcher will ask how the tree falling incident occurred, where your family currently is, and their health conditions. They will advise on what to do from there.
Electric company representatives will come to your home to assess if any power lines were down and if your home is still habitable after determining how much impact the tree had on your home. You may likely have to stay with other family members or a hotel for a few days to a couple of weeks, depending on how much damage the tree did to your home.
Call a Homeowner's Insurance Company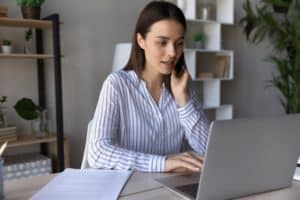 Our homeowner's insurance experts can cover damage to your home from a tree if it was caused by a storm or debris hitting the home from a tornado or a hurricane. We cover tree damages as well. Depending on your homeowner's insurance policy, most, if not all, of the damages will be monetarily covered.
However, if the tree was already in a bad state and could have been removed on your behalf, your insurance company could rule that they cannot cover the damages based on the homeowner's negligence. An insurance representative will come to your home to investigate how the tree fell, the amount of damage it caused to your home, and how much your policy will cover.
Find a Roofing Contractor
Finding a reputable roofing contractor with years of experience in the industry is essential. Advantage Construction has many experienced contractors available. Before anything happens, write down our contact information so that you're prepared to contact us in case of an emergency.
Advantage Construction knows the roofing materials, procedures, and safety measures to reassure you that your new roof is up to living standards. If the tree did more damage than to your roof, you might also need vinyl and siding work to be done. We also provide this invaluable service.
When speaking with your roofing contractor company, always ask the following questions:
What materials do you use for roof repair?
What is the average cost for my roof repair?
How long will it take to repair my roof?
What procedure do you follow for repairing different types of roofing?
Get Your Home Ready for Repair
Once the storm is over and it is safe to re-enter your home, emergency personnel will assess the situation to see how long it will take to repair the damages. To prevent further damage, you should check other trees and debris around your property. Lock all windows and doors before leaving. If you have anything of high value, you should remove it from your home or have it locked up for security purposes.
Thieves may see a house with a tree as abandoned and possibly try to break in to steal valuables since no one would be inside. Your best bet would be to remove the valuables to keep safe wherever you go.
FAQs
As you go about servicing your home after a tree fall incident, there are many steps to the procedure. We imagine that you have more questions about the process. Here are some answers to frequently asked questions about fixing a damaged home after a tree fall.
What Are the Chances of a Tree Falling on Your Home?
There is about a 12% chance in any year that a tree could fall on your home. Even though this is a low percentage, as a homeowner, you should be prepared for this incident just in case it does happen.
Of course, the percentage could be higher depending on how much of the tree is hanging over your home. If trees are farther away from your home, there is a much lower chance that one will fall on your home.
What Happens if a Tree in My Yard Falls Onto My Neighbor's Home?
If a tree goes from your yard onto your neighbor's house, then you may be liable for any damage it causes. Since the tree is on your property, you are still legally responsible for the damages. Your property insurance should be able to cover these damages.
What Happens if a Tree From My Neighbor's Yard Falls on My Home?
Alternatively, if a tree falls from your neighbor's yard onto your home, they would be liable for the damages. They would have to speak to their property insurance company to pay you for the damages incurred.
How Can You Tell if a Tree Is Going To Fall?
Look for these signs to get ready for a tree possibly falling on your property:
Fungus growing on the tree roots
The soil around the tree is either cracked or raised
Any branches that are dead or falling off
The trunk has cracks
The bottom of the trunk is splitting at the seams
The tree is leaning and not upright
Get Advice From the Experts
Do not panic if a tree falls on your home. Take the necessary steps to secure your home and have your roof serviced. While the process may take time, be patient and know that you will be back in your home as soon as possible. Call Advantage Construction today for a free roof damage estimate.