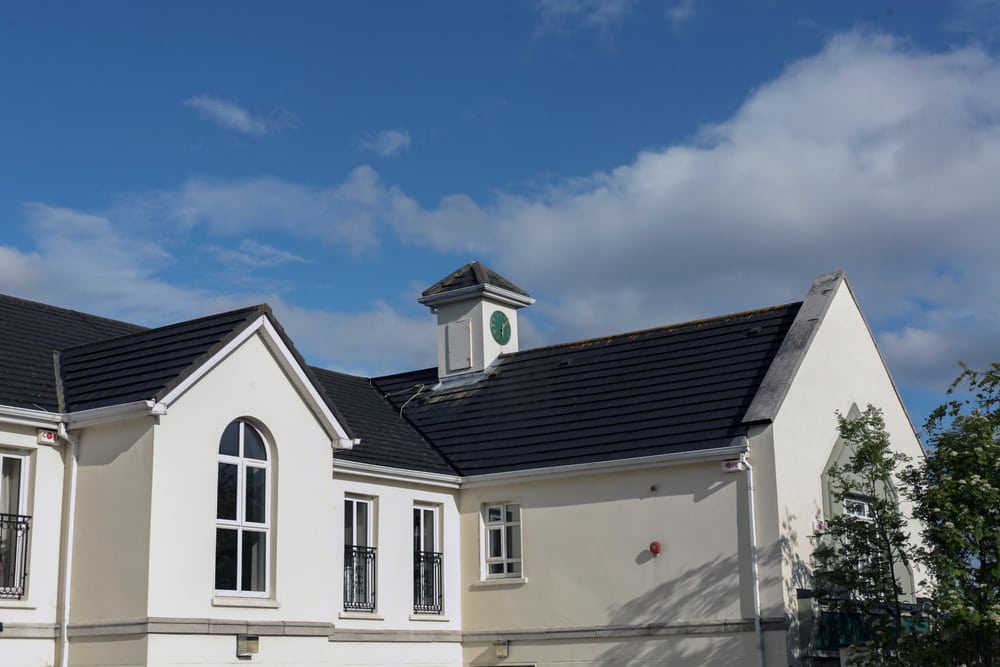 Durable and Affordable Roofing for Your Townhomes
When it comes to protecting a Bloomington, MN townhome from Minnesota weather, finding a knowledgeable, trustworthy contractor to repair an integral part of your home can be exhausting.
Bloomington residents experience hot, humid summers that reach more than 90 degrees. A few months later, freezing, snowy winters dipping below 10 degrees. In the extreme heat, roof shingles on your townhome can crack and bend. In extreme cold, the shingles can expand and make cracks in your roof even larger.
As temperatures fluctuate throughout the year between two Minnesota extremes, your townhome roof has to be able to withstand all of it. This is why high-quality roofing materials and superior roofing installation are so vital.
*See actual warranty for complete details, limitations, and requirements.
Trusted Roofing Contractor Bloomington MN Company
To design your new roof on your home is an investment that people do not take lightly. For Bloomington, MN property owners, the contractors you work with on your projects need extensive experience. Roofing contractors in Bloomington MN should also keep your needs and budget in mind from consultation through the high-quality roofing installation itself.
At Advantage Construction, we know that your townhome roof may need repair at an inconvenient time of the year. Historically, construction in your home would interrupt your daily routine. It could be a headache if you had to manage an unexpectedly large construction project on top of your day-to-day life.
We work hard to make this pain a thing of the past. We agree your family's needs, concerns, and safety should be the top priority, which is why Advantage Construction's installers are accredited and highly rated. Advantage Construction is also an Owens Corning "Top of the House" Certified Installer.
When you choose Advantage Construction to work on your new roof, you receive:
A close-up home inspection to rule out any problem areas before the new roof installation
Strong, protective, durable materials guarding your home against the elements
Efficient and courteous contractors
An Advantage Construction project manager keeping you in the loop every step of the way
Work that meets and exceeds code requirements
CONTACT US!
Insurance Claims Process Made Easy
We also help Bloomington townhome owners with insurance claims to help ease the process and make life easier. Our experienced managers have helped countless families identify storm damage and manage related documents to ensure that everything goes smoothly with your insurance claim.
LEARN MORE
Digitally Design Your New Roof Perfectly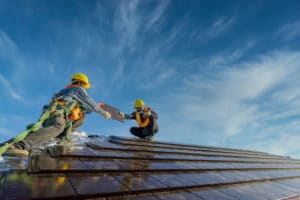 Are you aware you need a new roof on your townhome but are not sold yet on how you want the finished product to look? If this is a worry you have, you are not alone!
To design your new roof, you need to choose materials for your home, which can be nerve-wracking for a single townhome or a multi-unit property. Now, you can ease your concerns by using virtual technology to help you visualize your new roof. As you consider your roof and shingle options, as well as their style options, you will be able to see color combinations and materials all come to life.
Get started imagining, and design your new roof today by utilizing these helpful virtual remodeling tools from the comfort of your home:
Our Durable and High-Quality Roofing Materials
There are many ways to tell when a roof needs repair, but problem signs to look out for are curled shingles, cracked shingles, soft spots, mold growth in the home, or multiple leaks inside your home. Though these are typical issues seen in many aging homes in Minnesota. This means choosing the best roof and shingle options varies from home to home.
Though every townhome is different, one thing remains the same: high-quality and durable roofing materials will go the distance when it comes to townhome roof repair in Minnesota. After the decking is inspected, there are tons of roof and shingle options for materials from the underlayment to the flashing and every layer in between.
Shingles
Traditional shingles are one of the most cost-effective options for a new roof. They are made from a variety of durable roofing materials. All roof and shingle options have appealing qualities, but no matter what you pick, shingles are historically easy for roofing installations, come in a variety of colors, and add instant curb appeal to any home once refreshed.
It is common to see high-quality shingles last for decades with proper maintenance.
Metal Roofing
Metal roofing is a fantastic option for townhome owners seeking a long-lasting roof with a stylish finish. These durable roofing materials also come in a variety of sleek finishes. Though they are more expensive than shingles, the price is justified to many homeowners when they consider the recyclability, extreme weather resistance, and 50+ year life span.
A metal roof may be perfect for you if you need an extremely durable yet eco-friendly roof for a Bloomington townhome.
Cedar Shakes
The beautiful, weathered, hand-crafted look of a cedar shake roof is hard to match in any other roofing style. Cedar shake roofs are timeless and have been a popular high-quality roofing material for many generations.
These roofs require a few extra steps for safety in areas like Minnesota where wildfires are common. They also need more maintenance than other durable roofing installation options due to their reaction to long-term wet weather.
Be sure to consider the long-term needs and safety requirements of this durable roofing material if it is a classic, rustic finish you have your heart set on.
Get Started on Your Bloomington Townhouse Roofing Project
When it is time to repair or replace your townhouse roof, choose the best roofing contractors Bloomington MN has to offer. We understand your roof has to protect both the structure of your home and your family that lives inside. Reach out to Advantage Construction today to start designing and planning the roof your townhome needs.
CONTACT US!