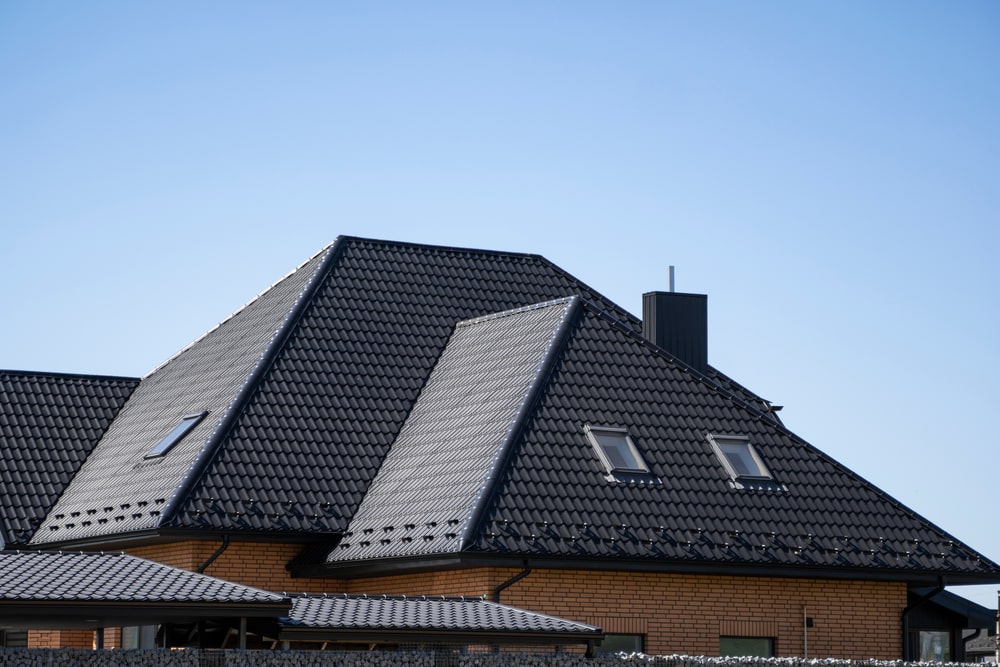 Durable and Affordable Roofing for Your Townhomes
Townhomes in Brooklyn Park, MN are on another level. They aren't quite like other homes. Their distinct designs express unique character and an artistic edge that you will find nowhere else across the globe. Advantage Construction is known for its rich culture, diversity, and craft.
Our contractors offer quality service and unwavering craftsmanship any time you trust us to work on your townhome or other residential property. We are the best roofing contractor in Brooklyn Park, MN. You can count on us for quality roofing and exterior contracting services.
Roofing is one of the essential parts of any townhome. A well-built roof can tough out the harshest weather, impact, and other external factors that may threaten its stability. Choosing the right roofing contractor in Brooklyn Park, MN saves you the worry of wondering if your roof can take the punches during a storm.
At Advantage Construction, we leave nothing to chance. We choose durable, quality roofing materials to guarantee a long-lasting roof that needs little maintenance over the years. We pride ourselves on being a top-tier Owens Corning "Top of the House" Certified Installer.
CONTACT US TODAY!
Roofing Company Trusted by Brooklyn Park Property Owners
The process of developing your property is an exciting experience. But, will your excitement be short-lived or lasting? The only way to know the answer is by taking a close look at your contractors.
Our company has had plenty of experience developing and building roofs for townhouses and residential properties in Brooklyn Park, MN. Partner with us for your upcoming roofing construction or repair plans.
We guarantee high-level customer service and are excellent communicators. You'll remain fully updated on the progress of the project. Each project gets a project manager and daily dumpster removal. We do a clean job, and our results speak for themselves.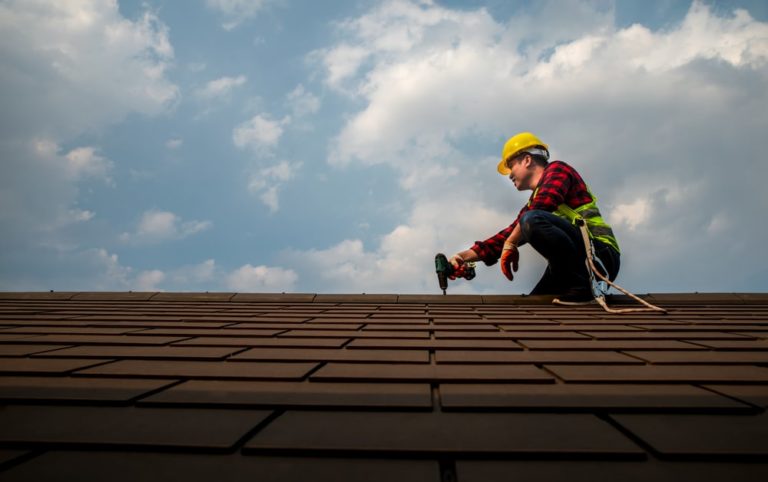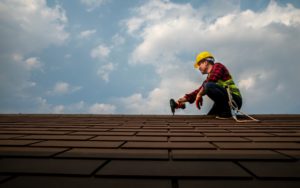 Digitally Design the Perfect Roof
Do you want to see what your roof will look like before construction begins? Thanks to advanced technological systems in the construction industry, there are elaborate applications like Design EyeQ and Certain Teed Design Tools that can help you digitally design your new roof.
Our High-Quality Roofing Material Options
Many people wonder about the secret behind our success. Well, it's all in the materials that we use. We use the best quality roofing materials on all our projects. Whether it's a simple repair contract or new construction, we promise the same level of craftsmanship and quality services.
We are an experienced roofing contractor in Brooklyn Park, MN well-versed in installing different types of roofs using different materials.
Below are some of the roofing material options we use:
#1. Shingles
Shingles are flexible, attractive, and tough enough to give you unparalleled impact resistance. Asphalt shingles are your best bet to increase your townhome's curb appeal and townhome value. Our asphalt shingles come with noise-dampening features and have a fire rating few other materials can compete with.
#2. Metal Roofing
Metal roofing is one of the most durable roofing materials available. Metal roofs may come at a higher cost, but they boast minimal maintenance needs and have a high fire rating. We have a track record in installing eye-catching, durable metal roofs in Brooklyn Park, MN.
#3. Cedar Shakes
Cedar shakes are derived from cedar trees. These wood tiles come in the most stunning shades of brown that make your roof appear distinctly elegant, bringing you instant curb appeal. Note that cedar shakes require more maintenance. Plus, you must ensure you apply a water repellent coat every five years.
Why Choose Advantage Construction?
Advantage Construction is a renowned roofing professional with a rich portfolio and a strong reputation in the industry. We have a unique construction method that assures our clients quality results and value for money. Below are some of the reasons why you should choose us.
#1. Your Townhome's Protection Comes First
The roof is your town home's first line of defense whenever there's a strong wind, heavy rains, scorching sun, or too much snow. We build a sturdy roof that assures protection for you and your loved ones.
#2. Old Materials Are Inspected and Removed
To avoid facilitating costly maintenance services in the future, you need a contractor who can install or repair your roof correctly. Whether you are replacing or repairing a part of your townhouse's roof, we conduct a thorough inspection of your roof. After that, we remove all the old and worn-out parts of your roof before starting the repair process.
#3. New Installation Preparation
The Advantage Construction team is ever keen on updating you on the obstacles and overall progress of the construction. We offer valuable recommendations if we realize better ideas to make your roof look even better and provide superb service.
#4. Incorporating Your New Roofing Materials
Structural integrity is key to your townhome's roof. Before work commences, our roofing experts thoroughly inspect the state of your roof. We note your roof's unique needs and go ahead to bring in new, durable roofing materials for the construction or repair of your roof.
As a respected roofing contractor in Brooklyn Park, MN, we work with care and precision to offer you the best roofing installation services.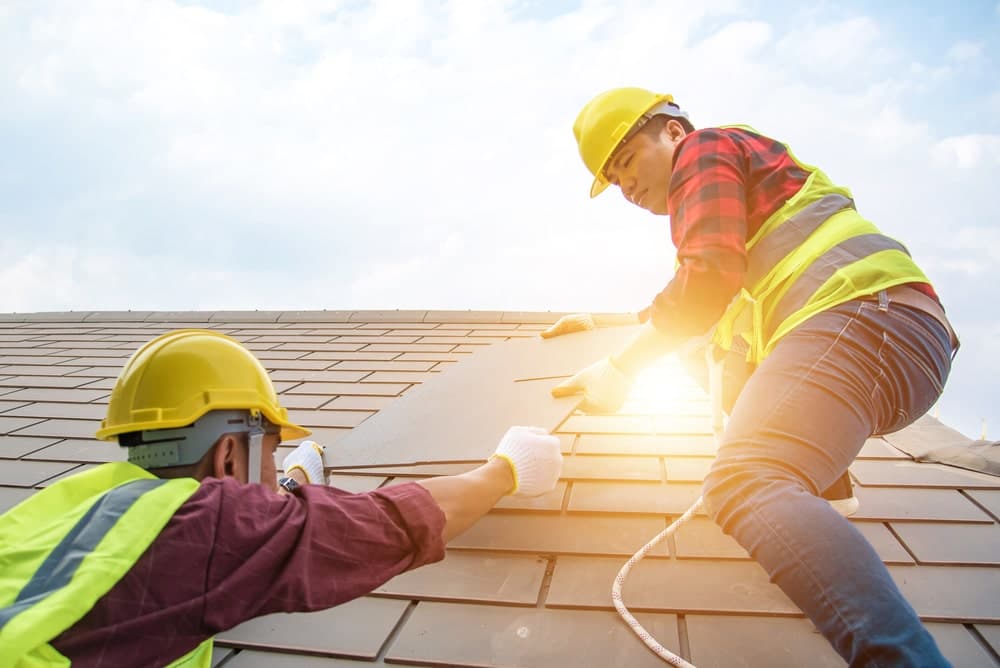 Get Started On Your Brooklyn Park Townhouse Roofing Project!
Advantage Construction contractors have finally made affordable, high-quality roofing services accessible to all townhouse owners in Brooklyn Park, MN. We have the knowledge and skill it takes to work with any roof and shingle options to get you the dream house you have always fancied.
Ready to work with the number one roofing contractor in Brooklyn Park, MN? Contact us for inquiries or to schedule an appointment.
*See actual warranty for complete details, limitations, and requirements.
CALL NOW!