Siding Installation Contractor Bloomington
It's More Than Just Curb Appeal
Advantage Construction takes immense pride in offering a wide variety of top-tier siding options that will significantly transform your Bloomington home's exterior and reduce maintenance efforts. With continuous technological advancements, achieving an appealing facade has never been more accessible. We encourage you to explore our extensive assortment of siding materials, as we are confident you will discover the perfect fit for your preferences.
We emphasize functionality and curb appeal when deciding on the ideal siding material for your Bloomington home. Our premium siding solutions are meticulously designed to endure the harshest weather conditions and potential risks, ensuring long-lasting protection for your home. Our team of siding experts is dedicated to assisting you throughout the selection process, considering essential factors like Bloomington's unique climate, your budget, and maintenance needs. We recognize that every homeowner is distinct, and our goal is to make your dream home a reality. Trust us as your reliable siding installation contractor in Bloomington.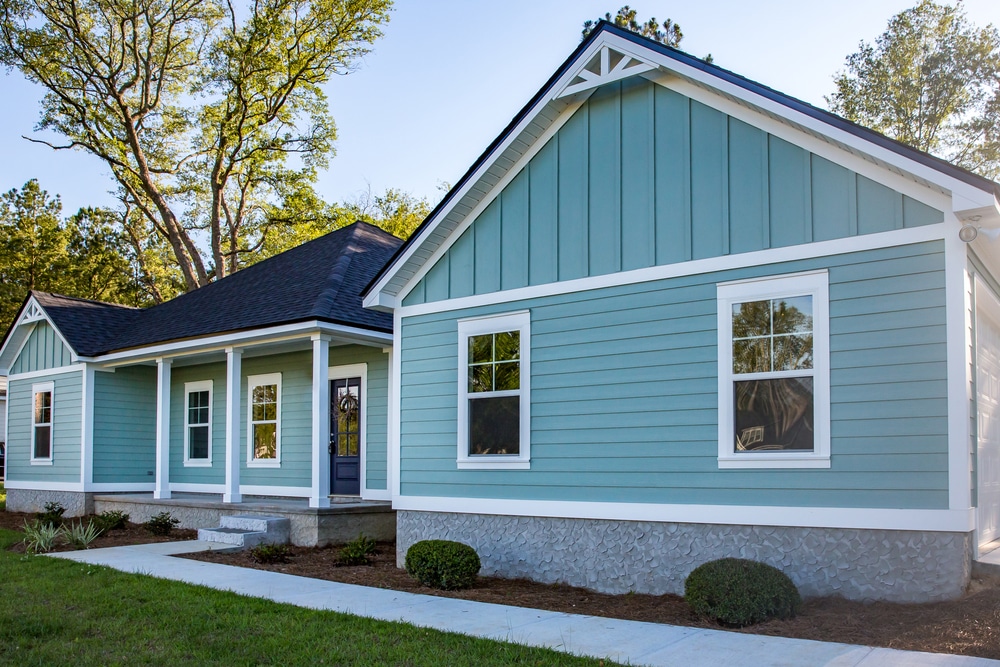 Protect Your Home With Functional Siding
The weather in Bloomington can be unpredictable, making your siding essential. Damaged siding can result in expensive repairs and potentially lead to more significant issues. Our skilled professionals are well-equipped to handle repairs and ensure your siding is installed and maintained to withstand the toughest elements.
An Assortment of Siding Options
At Advantage Construction, we value the individuality of each homeowner in Bloomington, Minnesota. Our commitment is unwavering as we strive to go above and beyond in meeting our customers' expectations every single time. With great pride, we showcase a wide array of cutting-edge siding options, setting new industry standards and embracing the diverse preferences of our clients.
Premium Vinyl Siding
When it comes to enhancing their homes, many Bloomington homeowners opt for premium vinyl siding due to its exceptional durability and low maintenance requirements. The affordability and the added advantage of not needing regular painting make it an attractive choice. Technological advancements have made today's high-tech vinyl siding much thicker and stronger than its predecessors. With a wide range of vinyl materials, homeowners can choose from various styles, patterns, and trims, ensuring a perfect match to suit their unique preferences.
Advantage Construction's premium vinyl siding stands out as it incorporates color pigment throughout the entire material, ensuring its vibrant appearance lasts for years. Say goodbye to worries about wood rot or the hassle of repainting or staining. With our premium vinyl siding, you can enjoy a beautiful exterior that only requires a simple wash with a garden hose to maintain its pristine look.
Insulated Vinyl Siding
Insulated vinyl siding is a top pick for siding choices. This premium vinyl siding type includes contoured foam insulation, which boosts your home's energy efficiency. Insulated vinyl siding is ideal for enhancing energy efficiency, minimizing outdoor noise, and elevating curb appeal. Its distinctive design enhances the elegance of your home exterior.
Steel Siding
Opting for steel siding gives homeowners a winning combination of aesthetics and durability. This non-combustible material requires minimal maintenance, granting you peace of mind and saving valuable time and effort. With steel siding, the burdensome task of painting becomes a thing of the past. Just like our premium vinyl siding, a simple wash with a garden hose suffices to maintain its pristine appearance.
However, that's not all – choosing steel siding also makes an eco-conscious statement. Its recyclability makes it a more environmentally friendly alternative than traditional vinyl siding. By investing in steel siding, you make a smart choice for the long term, as it offers a lifespan of up to 40 years, ensuring that your Bloomington home remains well-protected and looks fantastic for decades to come.
Engineered Wood Siding
For homeowners who admire the classic charm of wood siding but seek to avoid its demanding upkeep, engineered wood siding emerges as an ideal solution. This budget-friendly choice combines the best features. Crafted from composite wood, it exhibits exceptional resistance to pests, mold, and mildew, setting it apart from natural wood siding. As your trusted siding installation contractor in Bloomington, Advantage Construction proudly introduces LP SmartSide Siding—an innovative option in engineered wood siding. With LP SmartSide Siding, you can relish the warmth and attractiveness of traditional wood siding, which holds considerable appeal for numerous homeowners, while enjoying a range of additional advantages. Engineered for longevity and dimensional stability, LP SmartSide Siding ensures your home's exterior maintains its allure for years.
Hardie Board
Hardie board, made of enduring fiber cement and with an outstanding fire rating, adds an extra layer of security and protection for your house. The long-lasting advantages of Hardie board siding are something Advantage Construction, a reputable siding installation company in Bloomington, takes great delight in giving. For busy homeowners, this siding option is a dream come true because it needs little upkeep. Because of its exceptional resilience to bad weather, your home will stay well-protected even in the worst circumstances. Hardie board is also a prudent and long-lasting investment for your property, with a 50-year warranty ensuring its durability.
Boral Versetta Stone®
Boral Versetta Stone® is an attractive alternative for homeowners looking to add a touch of particular refinement to the appeal of their home. Many homeowners pick these gorgeous stone veneers to obtain their desired aesthetic without having to pour additional concrete footings or put up with a lot of wear and tear over time. Boral Versetta Stone® adds a distinctive panelized design to your home, enabling simple mechanical fastener installation and saving you precious time and work.
Siding Repair
We know the impact of Minnesota's harsh weather on your home. Beyond storms, a number of other factors could compromise the strength of your siding. Inadequately installed siding may require hurried repairs or replacements, incurring unnecessary costs and difficulties. A variety of factors can cause home siding deterioration:
Incorrect installation

Storm damage

Water damage

Extreme temperatures

Rot and rust

Mold and mildew
Advantage Construction Will Provide You With High-Quality Siding Every Time
As a reputable siding installation contractor in Bloomington, Advantage Construction is available to meet all your home siding requirements. We're here to help you every step of the way, whether you're constructing a new home, remodeling your current one, or repairing damages caused by weather. Our trained siding specialists are here to help you choose the ideal siding material that flawlessly matches your particular needs, goals, and home design.
We are committed to providing your home with the best protection possible since we recognize its value as a substantial investment. Satisfaction is our first concern since we take a customer-centric approach. The siding on your home is in the best hands with our unparalleled services at Advantage Construction. At Advantage Construction, we provide unmatched services, ensuring your home's siding is in the most capable hands. Contact us today to explore our diverse siding materials and let us transform your dream home into a reality.