Your Reliable Roofing Partner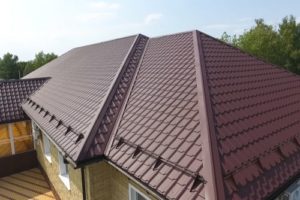 Property owners throughout St. Michael, MN and surrounding suburbs continue to turn to Advantage Construction for their roofing needs. Our team is familiar with the hefty investment a roofing project requires, and we're here to offer only the best services every time. Advantage Construction has earned its name in the Minnesota roofing industry by using industry-leading techniques, high quality materials, and applying expert tact to every project.
Whether you are building a brand new St. Michael home, need repairs, or a full roof replacement, your project will be our focus. Every client that chooses to work with Advantage Construction receives our undivided attention, so your expectations are exceeded every time. Our roofing structures are leading in the industry, and are designed to endure even the most severe weather.
Over the years, Advantage Construction has had the opportunity to partner with renowned shingle suppliers, so we can provide our clients with only the best materials. Our architectural shingles offer reliable protection as they weigh over 50% more than traditional three-tab shingles. We guarantee you won't find better material on the market. When Minnesota's unruly seasonal weather attempts to take a toll on your St. Michael property, you won't have to worry with Advantage Construction on your side.
Expert Installation on Every Project
Deciding to undertake a new roofing project can be stressful, especially if you're unsure of where to start. From choosing materials and identifying areas needing repair to determining pricing for your project, our roofing professionals can take care of it all. Advantage Construction has a team of qualified roofing experts that are ready to get your project off the ground.
We train our team to be able to successfully manage unexpected obstacles with ease, and respond to any questions or concerns you may have about your project. Our management team is equipped to keep your project moving forward in a timely manner. For every St. Michael roofing project, we provide:
An accessible project manager who keeps the job flowing seamlessly
Daily dumpster removal
Exceptional communication and customer support
Durable and Affordable Roofing Services in St. Michael
Are you a residential property owner? What about a commercial property owner? Regardless of the type of your St. Michael property, Advantage Construction offers a variety of services that are sure to meet your needs. From repairs and replacements to new installations, our outstanding team can take on your project with quality workmanship. Each of our contractors are leading in the industry, meaning they have the expertise and knowledge to complete your residential or commercial roofing project.
It is our goal to provide materials that are durable and built to last. As an Owens Corning "Top of the House" certified installer, we install roofing structures that guarantee high performance and energy efficiency. From shingles and ventilation to attic insulation, we'll handle it all! If you decide you want an Owens Corning Total Protection Roofing System installed, we can offer you industry-leading warranties* that will protect your roof for many years.
St. Michael roofing projects can be expensive, but we're here to alleviate this worry once and for all. Advantage Construction offers competitive pricing for all of our roofing services, and you'll never have to question the quality. If your St. Michael home has been damaged during a storm, we have insurance claim experts onboard that can help you get the maximum amount of reimbursement.
*See actual warranty for complete details, limitations, and requirements.
Design Your Ideal Roof Virtually
Do you already have an idea of what you want your home to look like? Have you been struggling to put your vision on paper? Well, you're in luck. We offer a variety of comprehensive, online design tools that make it easy to bring your ideal roof to life. You can easily access these applications at any time, so try out the variety of styles and colors Advantage Construction has to offer in real-time.
Our Assortment of Roofing Materials
Advantage Construction has the largest selection of roofing materials to suit every client's needs. Our experts are available to help you choose the best option for your St. Michael home, no matter the project size. Explore our variety of roofing materials, so you can get started on your project.
Shingles
St. Michael property owners continue to turn to Advantage Construction for their shingle needs. We offer a robust selection of industry-leading shingles that offer a variety of benefits, from durability and aesthetics to curb appeal and more. Asphalt shingles are one of our most popular materials, and will make your St. Michael property the home of your dreams.
Asphalt shingles hold up against even the most severe weather conditions, and as a St. Michael resident, you're likely familiar with how quickly Minnesota weather can change. Our asphalt shingles withstand impact from debris, decrease outdoor noise, and have an excellent fire rating.
Metal Roofing
Are you in the market for a low-maintenance roofing option? If so, metal roofing is the way to go. From impressive fire ratings and reliable protection to many more benefits, metal roofing is an affordable solution that will bring your St. Michael property to life.
Cedar Shakes
At times, homeowners wish to catch the eyes of passersby with eccentric roofing materials. If you are hoping to add to the curb appeal of your St. Michael property, cedar shakes are the perfect option. Homeowners across the country are drawn to cedar shakes because of the materials unique, breathtaking appearance. Aside from these noteworthy features, cedar shakes are also pest and water-resistant.
While cedar shakes are a wonderful choice for many St. Michael homeowners, it's important to know that this material requires more maintenance than our other roofing materials. In order to keep cedar shakes looking like new, a fresh coat of stain and water-repellent coating must be applied every five years.
Start Your St. Michael Roofing Project Today!
You can rely on the Advantage Construction team for all your roofing needs, from upgrades and repairs to replacements and new installations. We pride ourselves on competitive pricing, outstanding customer service, and expert craftsmanship. You won't find it anywhere else. By choosing Advantage Construction for your roofing project, you will receive a top quality solution that is built to last for years to come. Contact us today for solutions that will transform your roof and bring out your property's beauty.