A Safe Home Needs a Strong Roof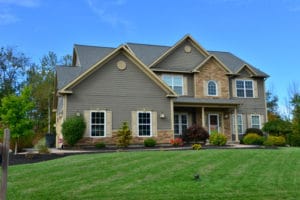 We offer long-lasting, durable, and reliable roofing solutions within the Shoreview area. Homeowners like you rely on these roofing systems to protect your home. Without a proper roof, your home could be exposed to the elements and undergo costly damage. Storm, wind, and hail all pose a threat against your home. A strong roofing system is often the best defense against weathering and wear.
Here in Minnesota, temperate weather and seasonal changes require veteran roof installers. At Advantage Construction, we implement innovative and unparalleled roofing practices — paired with incredible service. We only use the most robust materials that stand up strong against the elements. Our architectural shingles are made with multiple layers, so they are far stronger and thicker than traditional shingling.
Weighing roughly 50% more than three-tab shingles, our roofing systems are not only beautiful but tough as well. A roof is often a first impression, and Advantage Construction is here to help give your home a lasting look with incredible curb appeal. We'll be your roofing partner to help protect your home, save big on energy bills, and add value to your home through the right roofing solution.
The Most Trusted Partner for Roofing in Shoreview
At Advantage Construction, we know that you need a trusted roofing company for your home. We work with clients throughout Minnesota to provide exceptional service that exceeds expectations. We work closely with our clients, always implementing thoughtful and respectful communication throughout every phase of a project. Through our years of excellent service, we have been named an Owens Corning "Top of the House" Certified Installer. Our roofing systems are top of the line, including:
Shingles
Ventilation
Attic Insulation
Through these three pivotal components, we construct efficient and high-performance roofing systems that our customers can rely on. As an Owens Corning Platinum Preferred Contractor, we're able to extend our warranties up to 50 years on Owens Corning Shingles.
*See actual warranty for complete details, limitations, and requirements.
Every roofing project matters to us. We're committed to providing our customers with the most durable materials and devoted installation staff for an optimal roofing solution that will last.
Seamless Roofing Installation
Our roofing installations are a stress-free process for our customers. We remove disruptions that may make the installation process uncomfortable. At Advantage Construction, you get the advantage. We are always going above and beyond to make sure every customer feels respected and taken care of. During your roofing installation, you can expect:
A dedicated project manager to keep the job on track and is available at all times

Dumpster removal after each day

Unmatched communication and care
Envision Your New Roof
Sometimes, it can be hard to make a decision on your ideal roof without getting a chance to see it first. That's why we offer design tools that help you visualize your roofing system and make your choice a whole lot easier. Please take a look at our two simple tools that help you envision your roof and avoid making the wrong decision.
Our Wide Selection of Shingles and Roofing Options
For homeowners in Shoreview, we know that you want options when it comes to your roofing system. We offer a wide variety of unique solutions that you can choose for your home.
Shingles
For homes of all shapes and sizes, traditional shingles offer trusted quality and design diversity. Shingles are adaptable and can fit many different shapes and forms for a customizable roofing solution.
One of the most popular reasons for going with shingling is its impact resistance. For homes in Shoreview that inevitable deal with heavy snowfall and hail, shingles are a great defense against the elements. Asphalt shingles also have sound dampening qualities and amazing fire ratings to protect your home.
Metal Roofing
Metal roofing is a long-lasting and resilient roofing system that lasts a lifetime. Although metal roofing costs more upfront, it's a sound investment. For homeowners in Shoreview looking for a sturdy and fire-resistant roofing option, metal roofing is a great choice.
Because of its robust nature, metal roofing typically needs little to no maintenance or repairs throughout its lifespan with proper upkeep.
Cedar Shakes
Cedar shakes have been around since the late 1800s — providing homes with a unique look and feel that homeowners love. Cedar shingles are more water-resistant and pest resistant than other wooden shingles, making them a great selection. Cedar shakes can set your home apart from the rest with their specialized look and curb appeal. We offer various sizes and finishes for the perfect look and feel.
We'll help provide you with all the information you need to maintain your cedar shake roofing system properly. A fresh coat of water repellant and a reliable stain every five years will do the trick.
Start Your Roofing Project in Shoreview Today
We're here to help you choose which roofing system is a perfect fit for your home. At Advantage Construction, we provide a wide variety of roofing solutions to make your home safer, energy-efficient, and beautiful all year round. Contact the Advantage team to learn more about your next roofing system.
*See actual warranty for complete details, limitations and requirements.