Your Trustworthy Roofing Partner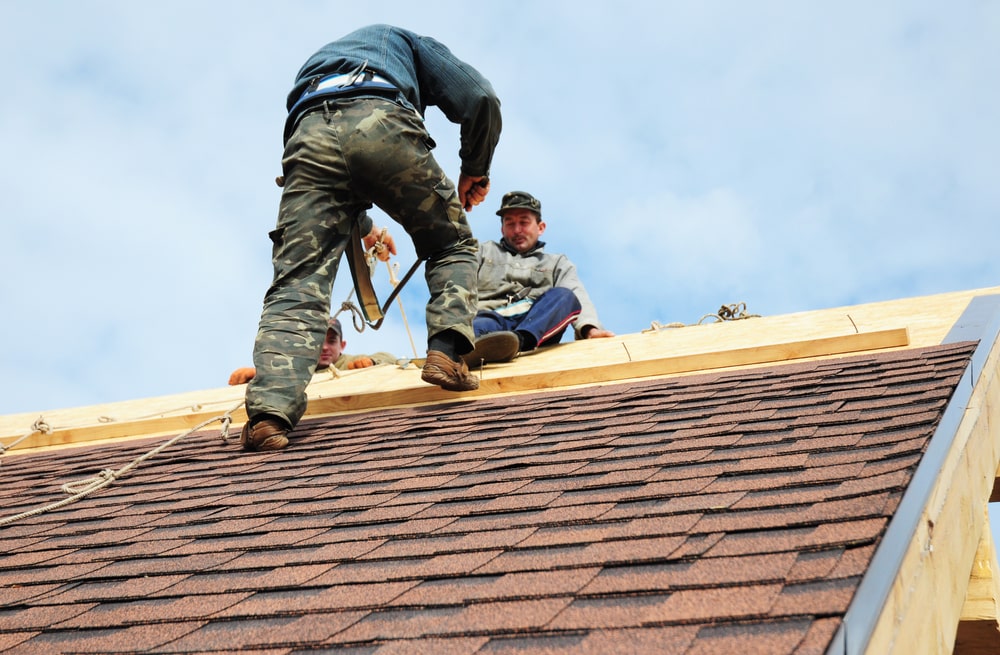 Homeowners in New Hope and across the greater Minneapolis area routinely rely on the experts at Advantage Construction for roofing projects of all shapes and sizes. When it comes to making a substantial investment into your home, our expert staff understands how important it is to build a long-lasting roof that can handle Minnesota's tough weather. The top-notch roofing contractors at Advantage Construction are the best in the business. Our skilled team uses the latest industry-leading techniques, relies on high-level expertise, and uses only the best supplies and materials.
Whether you are constructing a brand new home, just need a few minor repairs, or require a complete roof replacement on an existing home, our experts at Advantage Construction will treat your roofing project with the highest priority. We treat each and every client and their project with the same care and attention as if it were our own home. We strive to exceed the expectations of every single client we work with. Our roofing designs are built to last, so your home can withstand the toughest blizzards and hottest summers that Minnesota is known for.
Advantage Construction is pleased to partner with some of the very best roofing shingles and material suppliers. This allows us to provide our clients with the very best and most beautiful roofs available on the market. Our top-of-the-line architectural shingles provide some of the highest endurance levels available. The shingles we use weigh more than 50% of the commonly used three-tab shingles. When the clouds darken and bring the threat of rain, hail, or snow, you can count on the roofs from Advantage Construction to withstand the most brutal of weather environments, keeping your home and family safe.
Expert Installation on Every Project
While roofs are vital to any structure, starting a new roofing project can be incredibly stressful if you don't know where to start. Many homeowners are intimidated or too busy to learn about roofing materials, when a roof needs repairs, or what a reasonable quote in the market is. Fortunately, the top-notch contractors at Advantage Construction have all the knowledge needed to guide homeowners through any of their roofing needs.
Our excellent team has all the skills needed to handle unexpected problems with ease. We are able to answer any questions or inquiries you might have about roofing throughout the whole process. Our management team is dedicated to always being available to keep all New Hope clients satisfied and informed. We strive to offer outstanding customer service to each and every client. Whether it's your first home or your retirement home, our management team is there for you. For each and every roofing project we undertake, Advantage Construction provides:
An accessible project manager who keeps the job flowing seamlessly
Daily dumpster removal
Exceptional communication and customer support
CONTACT US!
Durable and Affordable Roofing Services in New Hope
Regardless of whether you need roofing services for a residential property or a commercial building in New Hope, Advantage Construction provides a variety of services to suit your needs. From repairs, replacements, or even brand new installs, our dedicated team can handle any project with our extensive expertise. Our team members have all the skills, know-how, and dedication to craftsmanship to build an incredible roof on just about any residential or commercial property.
Here at Advantage Construction, we take longevity and durability seriously. As proud holders of the Owens Corning "Top of the House" certification, we install 100% complete roofing systems. This includes all the shingle work, proper ventilation, and any needed attic insulation to guarantee top performance and energy efficiency for any building. If you ask your project manager to install an Owens Corning Total Protection Roofing System, we can include an exclusive system warranty* to keep your new roof protected for years to come.
If you require a roof repair but are concerned about the cost, don't worry. Advantage Construction believes that everyone is entitled to having a fair price to keep a roof over their heads. Our company is proud to provide competitive pricing on all our roofing projects without cutting corners on quality. We can even help you submit an insurance claim after any storm damage so you can have the best roof quality possible.
*See actual warranty for complete details, limitations, and requirements.
Design Your Ideal Roof Virtually
You can start designing your new roof before construction begins. With our free, user-friendly design programs, you can start drafting your own roofing project from the comfort of your own home. Every client of Advantage Construction can use these tools at their leisure to experiment with different roofing designs. Mix and match different colors and styles to see what will look best on your home.
Our Assortment of Roofing Materials
No matter which style you prefer, Advantage Construction can obtain the materials needed for your home or business in New Hope, MN. All of our products and construction selections have unique qualities and strengths to best suit your lifestyle and preferences. Our managers will work with you to get the best roofing material for your project, regardless of size.
Shingles
Property owners in New Hope continue to choose Advantage Construction because of our large selection of shingle choices. All of our shingle options are long-lasting, appealing, and can quickly boost the value of your property. Our durable asphalt shingles will complement your home's appearance, and your roof will last for many years to come.
Asphalt shingles are quite durable, safeguarding your family even in the worst weather situations. Asphalt shingles also reduce noise intrusion, can endure severe debris hits, and have an excellent fire rating, making them one of our top roofing recommendations.
Metal Roofing
Metal roofing is great for those who want something with low maintenance. Metal roofs have exceptional fire ratings while providing excellent protection for your family. New Hope home and business owners can expect Advantage Construction to install a fantastic metal roof quickly and economically.
Cedar Shakes
If appearance is important to you, cedar shakes may be the best choice for your roof. Due to the material's distinctive and attractive look, cedar shakes have become a favorite choice for many American homes in the Midwest. Beyond their aesthetic appeal, cedar shakes are resistant to water and pest infestations, making them ideal for many Minnesota homes.
Do keep in mind that cedar shakes will require more maintenance than other roofing options. Generally, cedar shakes require a new coat of stain every five years to maintain their function. While certainly the most beautiful option, it won't be the cheapest in the long run.
Start Your New Hope Roofing Project Today!
When you need a new roof, roof repairs, or a roof on a brand new building, you can count on Advantage Construction to deliver professional craftsmanship, fair pricing, and superior customer service. Our team of contractors and project managers will provide the perfect solution based on your needs and wants from start to finish. Our professionals can answer any questions you have regarding your project and make recommendations based on your budget, stylistic preferences, and specific property.
Don't put off starting your New Hope roofing job any longer. Our team at Advantage Construction is ready to start working for you now.
CALL NOW!