Your Trustworthy Roofing Partner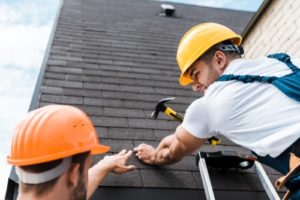 Advantage Construction is widely relied upon for roofing needs in Forest Lake, no matter the size of house, barn, or business. We know re-roofing a home is a sizable investment, and that is why you need a long-lasting roof provided by top-notch contractors. We stand by our crews at Advantage Construction for providing the best service with top-quality materials.
From restoring and re-roofing an old Minnesota farmhouse to building a new home in the Forest Lake suburbs or fixing damage to the roof of your office building, your roofing needs are our top priority. Advantage Construction treats every client as our only client offering you, and your roofing needs our team's undivided attention from start to finish. We pay attention to every detail, and our roofs are built to last.
Through the years we have become proud partners with roofing material suppliers who provide us with the longest-lasting shingles for our clients. We all know how brutal Minnesota winters can be, that's why we offer shingles with the highest protection levels, weighing up to 50% more than traditional three-tab shingles. With a roof from Advantage Construction, you can rest assured your home will be safe from the harsh elements of winter every year.
We Offer Expert Installation on Every Project
Investing in a new roof or even making repairs is a big step, but a necessary one. For a repair, you may wonder how large the area is that needs repair, how long it will take, and how much it would cost. When investing in a new roof you will want to consider whether to choose the same type of roof or change it to something new. And if you want something new, how will it look?
There are many reasons people call on Advantage Construction in Forest Lake, and all over Minnesota, for their roofing needs. Besides being friendly and honest, we have the expert knowledge to take care of your roofing needs correctly, and we'll discuss the project with you every step of the way.
We pride ourselves on customer service from the men laying down the shingles through to our management team. With every job, we strive for:
Accessibility to your project manager at all times
Keeping your property neat and tidy with dumpster removal daily
Customer support and communication whenever you need it
Durable and Affordable Roofing Services in Forest Lake, MN
At Advantage Construction, we offer flexibility. Whether you need commercial or residential roofing in Forest Lake, we offer a variety of roofing services to fit your budget and your needs. Our expert team will take on repairs, replacements, or new installations all with the same commitment to quality. Through their experience, skill, and artisanship, we are sure our contractors will build an impressive roof of which you can be proud.
Advantage Construction is an Owens Corning "Top of the House" certified installer. What does that mean for you? We strive for durability and longevity. Our roofing systems are installed with ventilation, attic insulation, and shingles guaranteed to be energy efficient. When you request an Owens Corning Total Protection Roofing System, we offer exclusive system warranties* to help protect your roof for many years.
We know roofing is expensive. If you are concerned about finances over the roof repair you need in Forest Lake we have you covered. We offer competitive pricing on all our quality roofing jobs. And if your roof has suffered from storm damage, we will even help you with your insurance claims to get the maximum reimbursement for you.
*See actual warranty for complete details, limitations, and requirements.
Virtual Design Programs for Your Ideal Roof
You can design a new roof for your home virtually before any work begins. Advantage Construction offers a free, user-friendly design program so you can design and view your roof in advance. This allows you to explore roofing options and decide just what is best for you and your home. You can look at new styles and colors to give your home an updated style while assuring you will have roof protection and durability in the years to come.
An Assortment of Roofing Materials
In this day and age, roofing shingles have seen advances into many options. Advantage Construction offers the highest quality roofing materials in a variety of options for your Lake Forest business or home. No matter how large or small your project is, we will work with you to find the best fit in a style you will be proud to own.
Shingles
Advantage Construction offers one of the most extensive shingle selections around. Why? Lake Forest property owners continue to make shingles their go-to roofing choice, and why not? Shingles are attractive, durable, and will increase your property value. Check out our asphalt shingles that offer durability and safety while creating that special look you want for your home.
Asphalt shingles have been proven time and again to hold up in the most severe weather conditions, and we all know Minnesota can produce some pretty hefty storms. But there's more. Asphalt shingles are proven to withstand major debris impacts, have the best fire ratings, and help to tone down noise infiltration. Asphalt shingles are one of the highest-rated roofing options that we recommend.
Metal Roofing
Looking for minimal maintenance? Metal roofing may be the option you choose. Metal roofing offers high protection against fire. Metal is reliable and will protect your family and your belongings for years to come. In Forest Lake, Advantage Construction will install your metal roofing affordably and efficiently.
Cedar Shakes
Cedar shakes have long been the choice for homeowners and business owners who want their home, or business, to stand out from the crowd. Cedar shake has a unique, stylish appearance desirable in Forest Lake neighborhoods. But more than that, cedar shakes are water and pest-resistant. They are a perfect choice for the roofing of any Minnesota home.
When choosing cedar shakes, you need to weigh the options. Cedar does require more maintenance than other traditional roofing options. The maintenance is pretty easy though. A fresh coat of stain and water-repellent coating every five years will ensure a long-lasting roof that will continue to function and look new well into the future.
Ready to Start Your Forest Lake Roofing Project?
Let Advantage Construction get to work for you today! Whether you need repairs, an upgrade, or are building a new structure, trust Advantage Construction to provide you the best in customer service, competitive pricing, and expert artisanship.
Ready to discuss your options? We are! Our team will walk you through your project from start to finish sharing all the options and providing a timeline for your roofing project. We are available to answer questions and walk you through our virtual design program to explore your options.
Why wait? If you are, we are ready to get you started on your Forest Lake roofing project. Contact Advantage Construction now!