Your Trustworthy Roofing Partner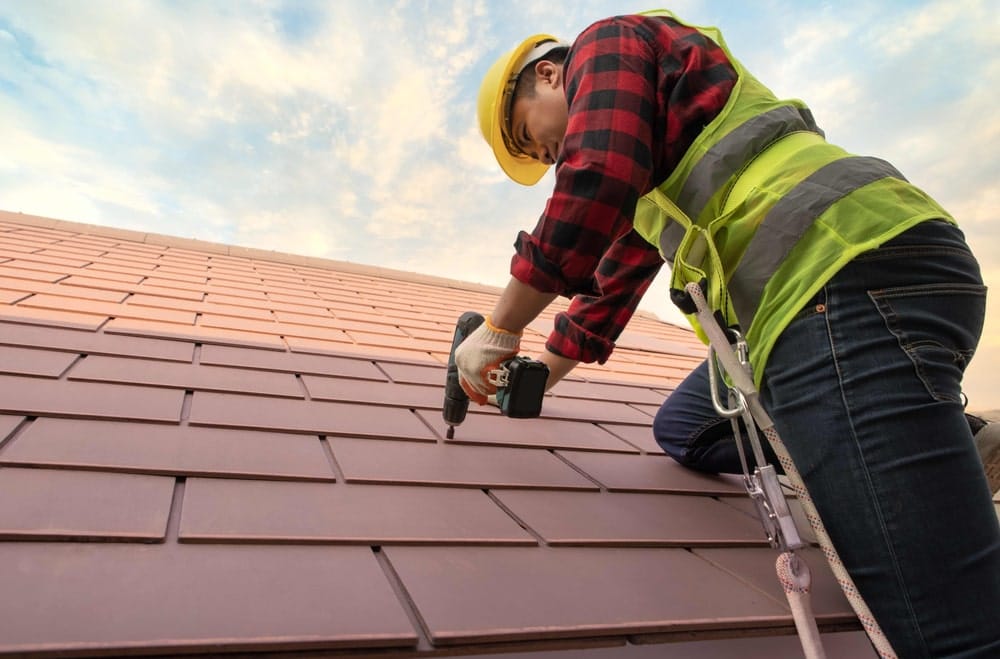 Nothing is more important for the health and longevity of your home or commercial building than a strong roof. For that reason, you want to be absolutely certain that your roof is up to par with the right materials that are properly installed and maintained by a professional roofing contractor like Advantage Construction.
We are your full-service roofing contractor in Crystal, MN, who you can rely on for quality roofing services. We are equipped to handle any sized project, from residential roof repairs to large-scale commercial roof installation. Our roofers are trained in the latest techniques, and we keep up with the innovations and advancements in the industry to ensure your new roof can protect your home or commercial property from the wild Minnesota weather―and increase its value―for many years to come.
We don't cut corners to make a quick buck, and we treat our customers with respect and want them to be as proud of our roofing installation and repair services as we are. Whether you need a new roof, roof repair, or roof replacement, you can count on Advantage Construction for high-quality workmanship and exceptional customer service.
Expert Installation on Every Project
When starting a new roofing project, you need to work with roofing experts to help you navigate the entire roofing process. Advantage Construction is the go-to roofing contractor in Crystal, MN, because of our extensive experience and expertise. We're fully licensed, insured, and certified and install only the highest-quality roofing materials, backed by strong manufacturer warranties and our own exceptional workmanship. From choosing the right roofing material for your new roof to picking the perfect brand for your needs, you can count on us to guide you through the roofing installation process.
Our team cares about protecting your landscaping and the rest of the home during the roof replacement or repair process. Our goal is to leave your property spotless before it's all said and done – we leave your home or commercial property just as we found it (other than the new roof, of course). For every roofing project, we provide:
An accessible project manager who keeps the job flowing seamlessly
Daily dumpster removal
Exceptional communication and customer support
CONTACT US!
Durable and Affordable Roofing Services in Crystal
As an Owens Corning Top of the House roofing contractor in Crystal, MN, we have been certified by Owens Corning as a roofing system expert specifically trained on how roofing, ventilation, and attic insulation work together to improve your home's energy efficiency and comfort. As a certified installer, we also offer exclusive system warranties* that last up to 50 years to protect your new roof, gaining you an impressive return on your investment.
When you work with Advantage Construction, you can expect unmatched professionalism, dependability, and top-notch craftsmanship. We're committed to ensuring that all our roofing projects are durable, affordable, and expertly executed.
Our prices are competitive without compromising quality, and if you need a roof repair because of storm damage, we can guide you through the insurance claim process and help you get the reimbursement you deserve. We will document the damage to your roof and provide the necessary paperwork, including repair estimates, to help the claims process move as smoothly and quickly as possible.
*See actual warranty for complete details, limitations, and requirements.
Design Your Ideal Roof Virtually
On average, a roof will last more than 20 years, so you want to make it a choice you can live with for a long time. Fortunately, our preferred manufacturers, Owens Corning, GAF, and CertainTeed, provide user-friendly, interactive online tools to help you see a preview of your new roof before the first nail is ever driven. Click the links below to design your ideal roof virtually:
Our Assortment of Roofing Materials
At Advantage Construction, we strive to provide our customers with the best products possible. This means offering various roofing options, so Crystal homeowners can choose the best roof for their home or business. Our team is here to help you choose the best roofing material for your home to ensure it suits your unique style and budget and delivers the functionality and performance you need. We know what it takes to give you a new roof that'll last for decades.
Shingles
Asphalt shingles have been the industry standard for over 150 years, and for good reason. They're incredibly cost-effective and easy to install, maintain, and repair, making them a great roofing material for your Crystal, MN home. At Advantage Construction, we have a wide range of asphalt shingles to choose from based on your budget and your architectural design.
Our asphalt shingles are also highly versatile and can be made to resemble tile, wood, or slate shingles. They can withstand Minnesota's muggy summers and frigid winters, ensuring you and your family stay safe and comfortable. You can expect your asphalt shingle roof to last for 20 years, but in some cases, it can last as much as 30 years with proper care and maintenance.
Metal Roofing
Metal roofs are gaining in popularity in Crystal and throughout Minnesota because they're low maintenance, lightweight, versatile in style and design, and are one of the most environmentally friendly roofing materials available. They can be made in any color needed and can be designed in many styles, including shingles, panels, sheets, and even tiles.
While metal roofing may cost a bit more initially to install, it lasts a long time (up to 50 years) with minimal maintenance or repairs, is resistant to extreme weather conditions, and can greatly increase the value and appeal of your Crystal home, making them a worthwhile investment. You can count on Advantage construction for a flawless installation of your metal roof.
Cedar Shakes
A cedar shake roof is a premium roof system made of natural wood (cedar) materials and is one of the most aesthetically pleasing roofing materials on the market. Since no two shakes are the same, a cedar shake roof is a mosaic that cannot be replicated. The color of a cedar shake roof ages to a distinguished silver-gray color in time and the thickness of cedar shakes adds texture and dimension you can't get anywhere else.
With a cedar shake roof from Advantage Construction, you get a stunningly rustic and beautiful roofing system, setting your home apart from all the indistinguishable and uninspired houses in your neighborhood. With proper installation and maintenance from our roofing experts, these roofs can stand the test of time, often lasting up to 50 years. Cedar shake maintenance must include protective treatments every one to three years to protect them from degrading.
Start Your Crystal Roofing Project Today!
At Advantage Construction, we have the experience and expertise to solve any roofing problem – both residential and commercial – from repairs, replacements, and inspections to new roof installations and even filing insurance claims. You can count on us for exceptional customer service, outstanding craftsmanship, and competitive pricing. Contact us today to request a quote, and let's get started on your new roofing project!
CONTACT US!