Durable and Affordable Roofing for Your Home or Business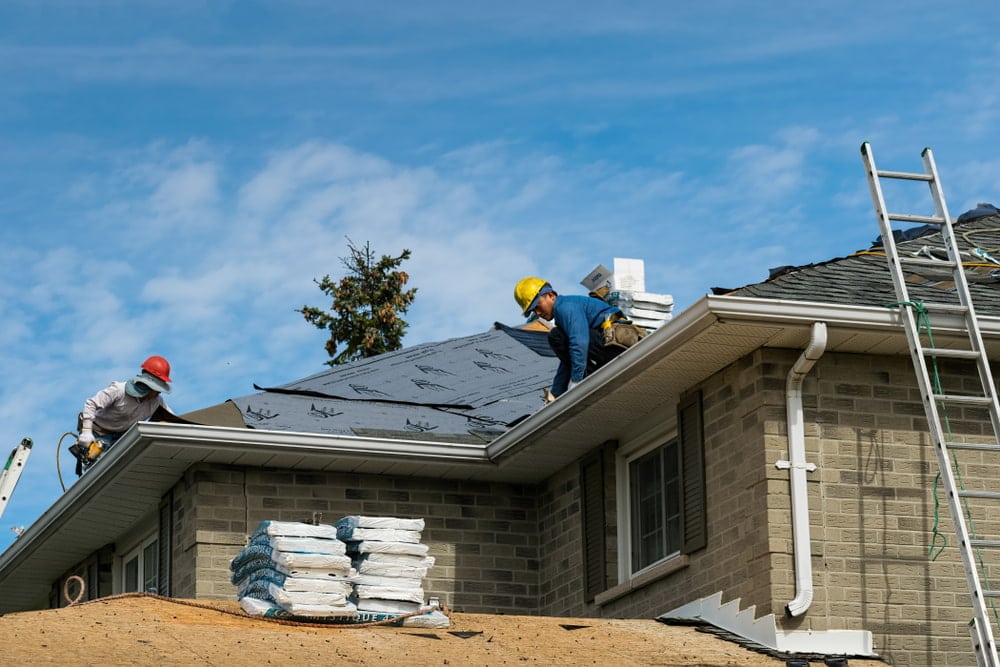 Whether you are looking for roofing installation services for your residential or commercial property, you cannot compromise on quality. You need high-quality, durable roofing materials for a roof that will serve you for a long time. Advantage Construction has a team of highly skilled roofing contractors who are familiar with the Chanhassen, MN area. We'll give you professional advice on durable roofing materials and the best roof and shingle options for your home or business. We leverage our extensive knowledge and expertise in the industry, top-rated products, and state-of-the-art equipment to make sure your commercial or residential building in Chanhassen, MN will be safe and secure after project completion.
Here at Advantage Construction, we pride ourselves as the top-quality roofing contractor in Chanhassen, MN because we always put our customers first. We understand that roof repairs, roofing installations, and replacements require an investment and that you're likely working with a budget. However, we'll help you choose the best roof and shingle options that meet the mark without compromising quality. Once you settle on the right roofing material for your project, we'll handle it from there so you don't have to worry. We're an Owens Corning "Top of the House" Certified Installer, meaning we only guarantee the best materials, service, and workmanship every time.
Are you ready to get started on your next roofing project? If so, Advantage Construction is here for you. We encourage you to contact our talented roofing contractors in Chanhassen, MN today to get started.
Chanhassen's Trusted Roofing Company
Advantage Construction is a reliable roofing contractor in Chanhassen, MN, with a robust local presence and a customer-centric approach. Our team receives regular training, so we can provide every customer that comes our way the ultimate customer experience. Over the years of gaining traction in and familiarity with the Chanhassen, MN roofing industry, we've finessed our approach to a strategy that our clients love. When choosing Advantage Construction for your Chanhassen roofing project, you'll receive:
An accessible project manager who keeps the job flowing seamlessly
Daily dumpster removal
Exceptional communication and customer support
CONTACT US!
Design Your Perfect Roof Online
Are you unsure of which roofing design option is best for your property? Don't worry; we have user-friendly online design tools that allow you to design your new roof on your own! As you design your new roof, you'll be able to see what it will look like with various roofing materials, roof and shingle options, and colors. This allows you to choose the type of roof you want before the project even begins – even better, the online design tools also provide cost estimates. You can use the following programs to design your new roof today:
Our High-Quality Roofing Materials
Here at Advantage Construction, we know every property owner's preferences are different. Because of this, we work with industry-leading roofing material manufacturers so you have a wide variety of durable roofing materials to choose from. We pride ourselves on offering only the best materials on the market, and we can guarantee you'll get a roof you love by working with our outstanding roofing contractors in Chanhassen, MN. Let's explore a few options below.
Shingles
Shingles are a popular durable roofing material across the country today. Their aesthetic characteristics are sure to improve your curb appeal and home value. Besides, they are flexible and can take different shapes, making them easy to use for many roof designs. Shingle roofs are impact-resistant, meaning you won't have to worry about unruly weather elements and conditions.
Property owners in Chanhassen adore asphalt shingles because of several excellent properties, including versatility, exceptional fire ratings, and high noise dampening qualities.
Metal Roofing
Metal roofing materials are also popular among property owners for their noteworthy characteristics, including impermeability, high resistance, and durability. There are two different styles to choose from: profiled panels and flat sheet-like panels. Metal roofs require more of an investment than traditional roofing materials, but are popular for impressive insulation, low maintenance needs, and a high fire rating.
Cedar Shakes
Cedar shakes are a premium durable roofing material crafted from natural cedar wood. A cedar shake roof will protect your house just as effectively as a metal or asphalt shingle roof. Cedar shakes are known for their elegant and attractive appearance which will improve your home's curb appeal. However, keep in mind that this durable roofing material requires regular maintenance to uphold its natural look that many enjoy. Maintenance includes removing leaves, debris, and moss. Additionally, a water-repellent coat must be applied every five years to keep your roof looking like new.
Get Started On Your Chanhassen Roofing Project!
At Advantage Construction, we bring high-quality roofing expertise and outstanding craftsmanship experience in various steps of the installation process to the table. Our highly trained team will walk you through all steps of the roofing installation process and even help you design your new roof to ensure you make the best investment for your property.
As a lifelong roofing contractor in Chanhassen, MN, we commit to improving the community by offering high-quality roofing services to property owners in the region. Contact us today for a free quote.
**See actual warranty for complete details, limitations, and requirements.
CONTACT US!