Roofing Contractors Brooklyn Center, MN
Your Industry-Leading Roofing Partner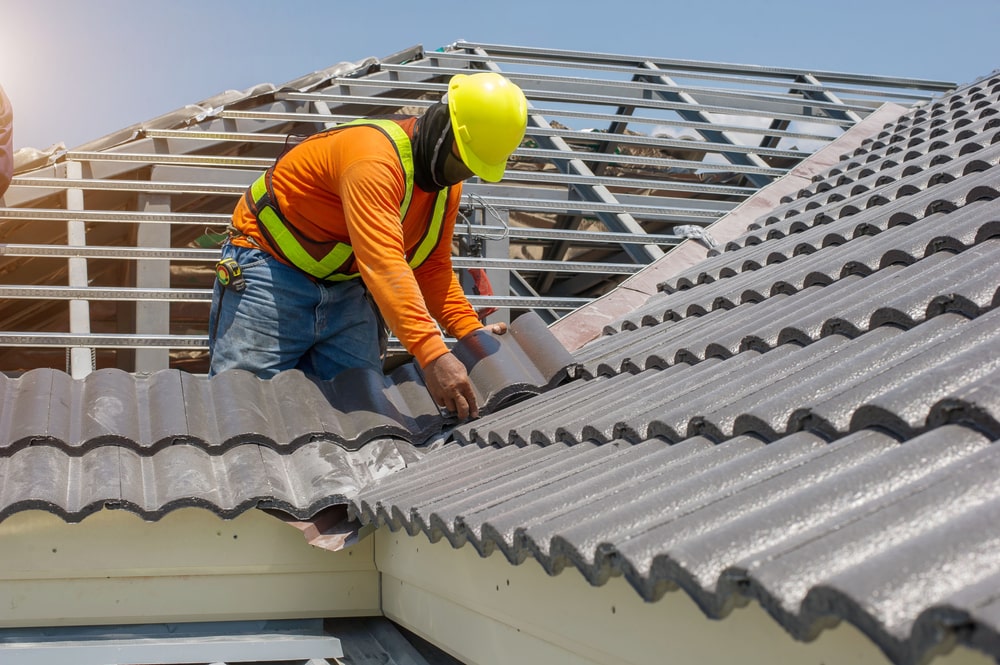 Regardless of the shape or size of your new roof, homeowners in Brooklyn Center, MN and the surrounding area continue to turn to Advantage Construction for their roofing projects. We have a team of roofing experts that know the importance of outstanding customer support and top-notch work. After all, your home is a substantial investment.
Our team members here at Advantage Construction can provide you with insightful knowledge that you can trust through industry-leading techniques and high-quality roofing materials. This allows us to deliver a long-lasting, aesthetically-pleasing finished product every time.
If you're in the process of repairing, replacing, or building a new roof in Brooklyn Center, MN, Advantage Construction will treat your project as if it's their own. We strive to do an excellent job and exceed your expectations – every time. We are committed to every client and project we take on, and handle all projects with the utmost care. We understand the importance of a long-lasting and durable roof that is built to withstand the Midwest elements.
Advantage Construction partners with only the best Brooklyn Center, MN roofing suppliers. Therefore, we're able to offer you roofing project materials that are of the highest quality. Our architectural shingles provide the best protection for your home since they weigh 50% more than standard three-tab shingles. When you have a roof replacement or repairs completed by Advantage Construction, you can be assured your new roof will last.
High-Quality Work on Every Project
If you require a roof repair or replacement, this can surely overwhelm you, particularly if it's your first time working with a roofing contractor. Questions will likely come to mind, surrounding what materials will be used, project pricing, and size of the repair. These are all normal reactions and our expert team here at Advantage Construction is ready to help you through the process of getting your new roof.
Every one of the team members at Advantage Construction has extensive roofing knowledge, and the experience required to create solutions to any roofing problems. If you have any issues or questions, we're here to help. We're committed to providing a high level of quality work, customer service, and outstanding final results. We offer each of our clients the following benefits:
A knowledgeable project manager who supervises project needs
Organized dumpster removal
Remarkable communication and unmeasurable support
CONTACT US!
Roofing Services You Can Count On in Brooklyn Center
When you're seeking reliable and credible experts to handle your Brooklyn Center, MN roofing project, Advantage Construction will provide you with reliable roofing services, so you can choose the best solution for your unique needs. We bring training and experience to the table to handle each roofing job with ease, from installation and repairs to full replacements. Our knowledge, skills, and craftsmanship are an important part of completing any roofing project.
The longevity and durability of a roof is of major importance here at Advantage Construction, and we make it our priority to construct roofing structures that last. We are an Owens Corning "Top of the House" certified installer. Therefore, our priority is to provide far better services than simply hanging shingles. The jobs we complete always involve roofing material installation, attic insulation, and ventilation. A high-quality roof helps improve the energy efficiency of your home. Plus, you'll receive exclusive system warranties* with the Owens Corning Total Protection Roofing System that will give you peace of mind.
We acknowledge that when you require a roofing project in Brooklyn Center, MN, you may have concerns about being able to afford the project and finances. We always do our best to provide each and every one of our customers with rates they can afford, without sacrificing the quality of our work. If you have any roof damage because of a storm or other incident, we'll even assist you in filing a homeowner's insurance claim to obtain the maximum possible benefits.
*See actual warranty for complete details, limitations, and requirements.
Draft a Virtual Version of Your Roof
Now you can actually design the right roof for your home virtually before any construction starts. We offer a user-friendly, free design program that allows you to plan your project in advance. Each one of our clients has access to this program to experiment with and explore different roofing options. You can try out various colors and styles and identify what you like best. Our programs include:
Our Assortment of Durable Roofing Materials
After you decide on your new roof design, we can use your desired roofing materials to complete your roofing project. Our team will work closely with you to create a project that will provide you with an affordable roof, regardless of the size of the roofing project. There are roofing materials that suit every budget, including:
Shingles
We provide a large selection of shingle options to choose from, which is why many Brooklyn Center, MN homeowners hire our roofing company. This includes shingle options that improve the value of your home because they enhance beauty and durability. When you look at our asphalt shingles and decide on the look you want, you'll be left with a long-lasting roof.
Asphalt shingles are designed to protect your home from harsh weather conditions. They are also strongly recommended because of their ability to withstand debris, fire rating, and reduced noise infiltration.
Metal Roofing
Metal roofing is the ideal choice if you're seeking a roofing option that provides minimal upkeep throughout the years. Also, metal roofing offers an outstanding fire safety rating to ensure you and your family stay protected. Our team at Advantage Construction is ready to start your new metal roof installation quickly at a rate that's friendly to your budget.
Cedar Shakes
If your roof's appearance is the first thing you are looking to address, you may want to choose cedar shakes for your roofing project. A lot of homeowners in Brooklyn Center, MN choose cedar shakes because of their stylish and unique appearance. They're also water and pest-resistant, which makes them the ideal choice for Midwest roofs.
However, they do often require a little more maintenance than other types of roofing materials. To keep your roof looking great and properly functioning, you'll need to apply a new coat of water-repellant coating and stain every five years or so.

Begin the Build for Your Brooklyn Center Roof Today!
Here at Advantage Construction, we provide competitive prices, incredible craftsmanship, and unprecedented customer support when you're ready to have your roofing project started. Our team provides unparalleled project management and expertise to oversee your residential roofing project. The Advantage Construction team is standing by to address any concerns, answer all your questions, and provide you with advice about your property and budget. Contact us today when you're ready to have your Brooklyn Center, MN roofing project started.
CONTACT US!