When it comes to fixing roof damage, you may be wondering if you should consider replacing your roof. But how do you know if a roof replacement is the best choice for your property? You'll likely need to have a professional examine the damage before making a decision, but either way, the value of your home will increase once the damage is fixed. On average, a roof replacement increases the value of a home by $12,000, and you get the bonus of new roof energy savings. It's a huge investment, but the overall increase on the value of your home can save you around 62.9% of the installation costs.
What Is Roof Replacement?
Like the name suggests, a roof replacement is when you have your entire roof replaced with new shingles or metal roofing. The old layer is completely removed, and an underlayer is placed beneath the new shingles to protect the deck from weather elements. A whole roof replacement can even last for over 20 years. It's definitely worth the money put into it, especially when you can save 60% of the cost due to the increase of the value of your home.
When Do I Need a Roof Replacement?
Now that you know what a roof replacement is, you may be asking yourself this question: when is it time for a new roof? If you're experiencing roof leaking, poor ventilation, or your roof is over 20 years old, it may be time to consider getting a whole roof replacement. You'll want to get it taken care of before any major problems start happening. If the condition of your roof continues to deteriorate, a whole could actually appear. This could mean more leaks, a higher energy bill, and a wide array of other problems.
Advantages of Roof Replacement
There are several pros to getting a whole roof replacement done. From saving money on your electricity bill to doing away with rotten wood, replacing an old roof can save you a lot of money in the long run.
New roof energy savings: Did you know an old or damaged roof can raise your electricity bill? A poorly maintained roof can result in poor ventilation, which not only causes your roof to rot, but can also cause it to trap hot air inside. You could have your AC going all day with your home not getting any cooler. And, when the temperature falls in the winter, you may have a harder time keeping yourself warm. Replacing your old roof can majorly help in keeping those costs down.
You don't have to worry about unnoticed damages: Since all shingles are removed during a roof replacement, any wood rot or other damage will be noticed right away. Chances are, you won't have to worry about major damage to your roof for at least 20 years.
It is long-lasting: Although simple repairs might be cheaper, a whole roof replacement can preserve the life of your property. It may be better to spend the extra money and be sure there's no damage to your roof already. In most cases, you'll be offsetting the overall cost by about 60% anyway.
Disadvantages of Roof Replacement
Just like any construction job, there are a few cons to getting your roof replaced, with the most obvious being the overall cost. On average, replacing an old roof can cost anywhere between $10,000 to over $20,000. This is because you're paying for more labor, materials, and the disposal of the old roof. It will also take more time to replace an entire roof, meaning you may have to stay in a hotel during the construction period thus adding an additional cost.

How Often Should I Replace My Roof?
The life of your roof depends on a variety of factors, from the type of materials used and installation procedures to ventilation and overall structural integrity. More often than not, a well-constructed and durable roof will last between 12 to 15 years. However, depending on the skills of your roofing contractor, the quality and type of shingles utilized, and the underlayment of your roof, a new roof could last longer than 30 years if properly maintained.
What Roofing Materials Should I Use?
A variety of details can factor into the roofing materials you choose. The shape and style of your current roof will help you determine whether a shingle or flat roof is best for your property. From there, it gets down to budget and the type of material you can afford. There are numerous roofing materials available on the market today, from asphalt shingles and metal roofing to cedar shakes and more. Each ranges in price, so you can find the option that suits your budget best. Aside from shingles, you will also have to consider the following when it comes time for a roof replacement on your property:
Decking
Drip edge
Ice and water barriers
Underlayment
Flashing
Ventilation
Is Roof Replacement Right for Me?
When it comes to roof replacement, the decision entirely depends on your situation, budget, and the current age of your roof. It is likely time for a roof replacement when you start to notice other problems. If your energy bill suddenly gets higher, or you experience a concerning amount of roof leaking, then it's likely time for a whole roof replacement. It may be hard to tell how much damage those things have done, but both can cause wood rot or holes to appear in your roof.
Either way, a roof replacement will increase the value of your home and provide extra protection from the elements. Plus, you'll have a more aesthetically pleasing home to live in, without the fear of your roof suddenly failing.
Ask the Roofing Pros at Advantage Construction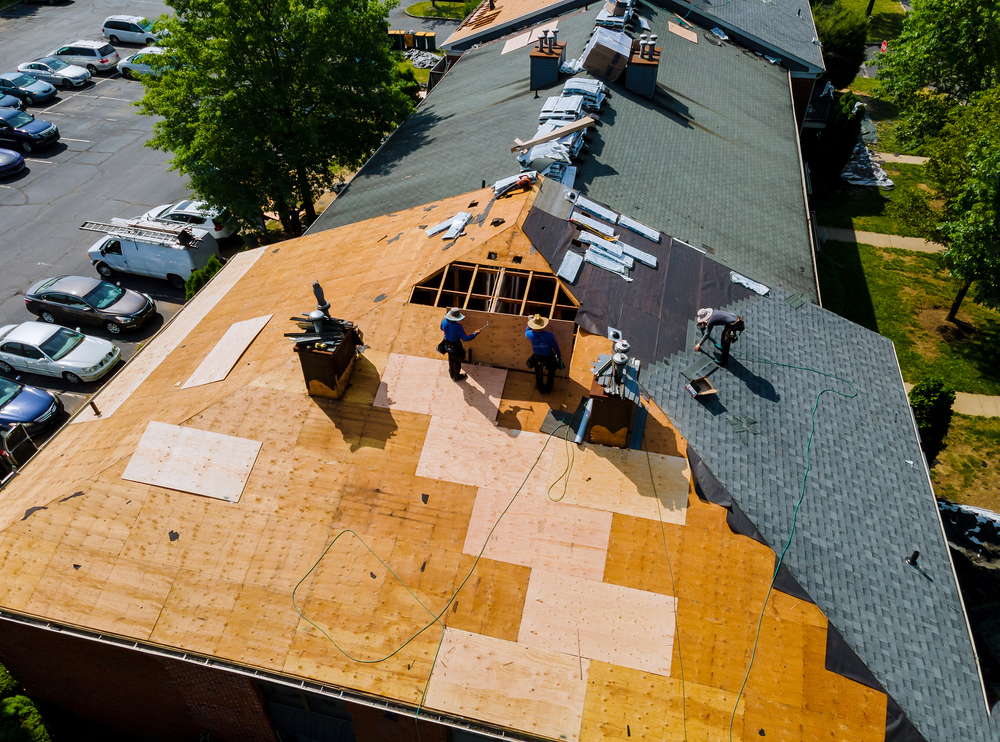 If you're wanting to fix up your old roof, consider getting your roof replaced. There are so many benefits that come with professional roof replacement. Be prepared to save money, be safe, and have one of the nicest homes in your Minnesota neighborhood. Though the weather may be rough, you can trust your roof to last for many years to come.
As soon as you notice damage to your roof, contact the experts at Advantage Construction. Let the professionals assess the damage and advise you on the best choice to make regarding roof replacement. Once the decision is made, they'll handle all the hard work for you, making your roof the safest and most aesthetically pleasing as it can be.