Replacing windows is a significant investment, and you want to ensure you're getting the most energy-efficient windows possible. There are many aspects to consider when selecting replacement windows, including energy efficiency.
This article will cover energy efficiency ratings, why they're important, where you can find them, and what the best scores mean.
Replacement window energy efficiency ratings are important because they can help you save money on your energy bill. You can find ratings for windows on the National Fenestration Rating Council (NFRC) website.
The NFRC is a non-profit organization that rates the energy efficiency of windows. This organization provides ratings for solar heat gain, air leakage, condensation, and visible transmittance.
Energy Star is an NFRC testing procedure that displays NRFC certification and overall energy performance. The NRFC provides details related to specific energy efficiency factors. Windows that are Energy Star certified have been independently tested and verified to meet or exceed energy efficiency standards set by the U.S. Department of Energy.
Windows with high energy efficiency ratings will have lower solar heat gain, less air leakage, and less condensation. They will also have higher visible transmittance, which means they will let in more natural light. These are all important, especially in older or historic homes.
Energy efficiency is essential because it helps keep your home comfortable in both hot and cold weather. It also helps reduce your carbon footprint. When you are looking for replacement windows, make sure to check the energy efficiency ratings. Not only will it help you save money in the long run, but your new windows may provide home safety and security.
Energy Efficiency Ratings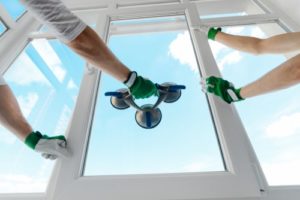 These are the energy efficiency measurements rated by the NFRC:
Solar Heat Gain Coefficient (SHGC)
U-Factor
R-Value
Air Leakage (AL)
Condensation Resistance (CR)
Design Pressure (DP)
Visible Transmittance (VT)
Light-To-Solar Gain (LSG)
Solar heat gain coefficient (SHGC) determines the amount of heated sunlight coming through the window. The lower the number, the less heat comes through the window. Good windows block infrared rays and reduce heat generation. SHGC is a decimal value between 0 and 1.
U-factor identifies the amount of heat escaping out of a window. The lower the U-factor, the better the window prevents heat from escaping. Adding insulation lowers the U-factor. A low U-factor is preferable if you get a lot of direct sunlight. The normal range is 0.20 to 1.25.
The R-value determines the resistance of heat flow through the window. If the value is higher, then the window will be able to resist heat flow better. The normal range is 2.0 to 5.9. R-value is the inverse of the U-factor.
Air leakage (AL) measures the air coming through a window. This rating measures cubic feet of air moving through one square foot of a window. The lower the AL, the less air can come through the window. A low value is ideal for windy areas.
Condensation resistance (CR) determines how much condensation forms on the inside of a window. If the rate is greater, you have a lesser chance of condensation forming. This rating is a 0 to 100 scale.
Design pressure (DP) measures the maximum pressure a window can take before breaking. The greater the pressure, the greater the resistance to damage from wind, debris, and other storm damage. This rating measures pounds per square foot (PSF). A standard rating is between 30 and 50.
Visible transmittance (VT) measures the amount of light that comes through a window. A high level of VT means you'll get a lot of natural light through your windows. This rating is a value between 0 and 1. VT can affect how much heat comes into your home. The lower the VT, the less heat that comes in.
Light-to-solar gain (LSG) is the rate of how much light comes into a window vs. the heat that generates as a result. This number compares windows with different SHGCs and VTs. A larger rate means you get more light without adding too much excess heat.
Other Energy Efficient Replacement Window Options
Low-E glass stands for low emissivity. This glass has an invisible metallic oxide coating that allows light through while blocking heat transfer. Low-E glass is a type of glass with a special coating reflecting heat into the room rather than letting it escape through the window.
This can help keep your home warmer in the winter and cooler in the summer. Low-E glass will save money on energy bills and make your home more comfortable year-round.
Some companies add a layer of argon gas between the panes of glass to improve the energy efficiency of their windows. Argon is a non-toxic, odorless gas used in many industries. It is denser than air and slows down heat transfer. The only problem with this is that argon is invisible, so you can't know if the gas escapes.
Replacement windows can improve your home's energy efficiency in several ways. You can find windows with lower solar heat gain coefficients, U-factors, and air leakage ratings by checking the energy efficiency ratings. This, just like adding insulation to your attic, will help keep your home comfortable in both hot and cold weather and reduce your carbon footprint.
Energy-efficient windows may cost more upfront, but they will save you money on your energy bills in the long run. They can also make your home more comfortable by helping regulate indoor temperatures.
Contact Advantage Construction today to learn more about installing energy-efficient replacement windows in your home.