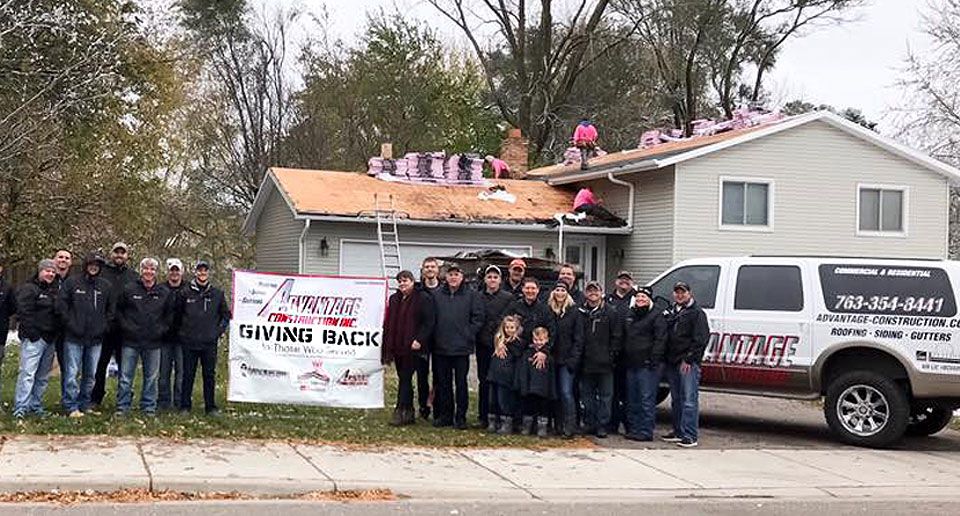 A Commitment to Heroes: Advantage Construction and Roofs for Troops
At Advantage Construction, patriotism is alive and well and pride in our armed forces runs deep. Honoring the service and sacrifice of our troops is firmly rooted in both our company mission and core values.  We have a strong commitment to recruiting former military service men and women, and are proud to have several veterans on our team. We also believe it is essential to find ways to give back to those who have secured our freedom and security, and continually strive to find ways to donate our time, talents and efforts to those who have given us so much.
We were thrilled to be approached by Owens Corning as one of their Platinum Preferred Providers to be their Twin Cities Roof Deployment Project partner.  Recognizing that needed home repairs often get overlooked when a service member is deployed, the project provides a new Owens Corning roof to a service member and the family that supports and sacrifices with them. Working in conjunction with Purple Heart Homes, we were able to reach out through our network and find a veteran in the Twin Cities area in much need of a new roof.
We were honored to provide the crew who installed the new roof for this deserving soldier and his family, and happy to have our contribution recently shared at the 2019 Owens Corning Annual Conference.  We hope our story helps encourage other builders and contractors to participate in this program, and to actively seek out deserving candidates in their own local areas as we did. Our hope is that connecting the Owens Corning Roof Deployment Project with organizations like Purple Heart Homes will spread the word about this worthy endeavor, and help connect veterans to home builders more quickly in the future.  We can't wait to work on our next "Roof for Troops"!
Gratitude for Our Community: Advantage Construction Holds First Annual Food Drive for NACE
We are proud Minnesotans here at Advantage Construction, and are filled with gratitude to be part of the wonderful Northern Anoka County community.  When it came time to build our new headquarters last year, there was no other place we wanted to be! Thankful to be a part of this thriving and vibrant area, we wanted to find a way to express our appreciation for the generous support we received from our neighbors and friends as we constructed our new "home base" here in East Bethel.  With that in mind, the Advantage Construction First Annual Food Drive for NACE (Northern Anoka County Emergency Food Shelf) was born!
Held in conjunction with our new building's Open House in October, the Advantage team accepted food donations and encouraged participation by offering a FREE giveaway of an Evelyn Leaf Guard for Gutters system.  Anyone who donated to the food drive was eligible for the giveaway.
With the matching contributions of Advantage Construction owners Chris and Heidi Amiot, we were thrilled to be able to donate several pounds of needed items to NACE in time for Thanksgiving dinner, as well as provide many additional lunch items to NACE in support of their local children's lunch programs.  We are incredibly thankful to be a member of this wonderful community, and are excited for our second annual food drive coming this autumn!